Two dozen faith leaders from around the United States resurrected an ancient Biblical custom of covering themselves with sackcloth and ashes in a powerful demonstration of prophetic urgency and grief over their fellow Christians who make excuses for racial hatred and sexual abuse rather than fighting oppression.
The action by Christian theologians, who are grieving over the corruption of U.S. Christianity, took place outside a meeting in Boston, Mass., of the American Academy of Religion and the Society of Biblical Literature, the largest annual gathering of religious scholars and leaders in the U.S. In conjunction with the physical demonstration, the group of faith leaders and theologians launched The Boston Declaration at the Old South Church at 12:30 pm on Monday, November 20th. That church, established in 1669 and considered the "mother church" of Congregationalism in America, played a significant role in the American Revolution. From it, in 1773, Samuel Adams gave the signal that started the Boston Tea Party.
The Declaration is a ringing call for the country to turn toward honest, reflective self-examination and a spur to action to end oppression.
Over 100 theologians, bishops, and leaders in Christian seminaries and denominations originally signed the Boston Declaration to protest the demise of core values, at a time when favored politicians are exposed as blatant racists and sexual predators. In the days since the Declaration was posted online, the number of signatories has grown to over 2,000.
Rev. Dr. Pamela Lightsey, associate dean at Boston University School of Theology, contrasted the Gospel teachings with what is being peddled as Christianity today in some conservative circles, both religious and political. She said: "We are here because Jesus taught us to 'love our neighbor as ourselves.' We are here because we take the parable of the Good Samaritan to heart. We are here because we refuse to allow Christianity to be co-opted by the likes of people who support abuse of women, the closing of our nation to the immigrant in need, and the normalizing of lie after lie after lie.
"Finally, we are here because we believe our nation yearns to hear from us this day and to watch for how our commitment as Christian theologians continues into the election season of next year."
"We're trying not to be dramatic," said Rev. Dr. Susan Thistlethwaite, teacher at the Chicago Theological Seminary and a spokesperson for the Declaration in an interview with People's World, "but to bring some kind of repentance for conservative Christianity which has been hijacked by political hacks."
The statement is modeled on the Barmen Declaration of 1934, when Christian theologians like Karl Barth, Martin Niemöller, and Dietrich Bonhoeffer spoke out against the German subjugation of all churches under Adolf Hitler. Thistlethwaite wrote about the Declaration in a Huffington Post article, "When we have torch-carrying right-wing radicals marching around in Charlottesville, Virginia, yelling 'Blood and soil!' and 'Jews will not replace us!' it is time to confront this kind of Nazism with the historical courage of those who confronted the Nazis in the 1930s in Germany."
"Today, too many Christians are placing party politics over the foundational teachings of Jesus," said Rev. Lightsey. "They make excuses for racial hatred and sexual abuse, and some have even said that it would be better to vote for a pedophile than a Democrat. This is the basest kind of tribalism that feeds hatred. It is the opposite of love, the opposite of Jesus' teaching of love and mercy."
Without mentioning Prosperity Gospel by name, the Declaration criticizes those forces in contemporary Christianity that emphasize material success—and excess—as evidence of God's favor.
"Far too many Evangelical Christians have embraced the politics of exclusion, exploitation, and hatred," said the self-identified Evangelical Rev. Dr. Peter Goodwin Heltzel of the New York Theological Seminary, "such that the Good News of Jesus has become a cover for a social and economic order that can only be understood as bad news for far too many. Responding to Jesus' courageous call to love 'the least of these,' we need to put our prayers into action with revolutionary love. We pray for the conversion of the converted."
Thistlethwaite believes that "If you speak the language people use in their faith, you have a chance of reaching them."
Rev. Dr. David Wilhite, professor of theology at George W. Truett Theological Seminary at Baylor University in Texas, professed at the Boston demonstration that "Evangelical is a category I can't use any more. Evangelicals have come to misrepresent Christianity. The heart of Evangelicalism is keeping the Gospel call at the heart of all we do."
He noted that Evangelicals "are supposed to have a 'come to Jesus' moment." And this time in American life, he argued, is clearly such a moment. "Evangelical Christianity has become white, male Christianity. And for this we need to repent."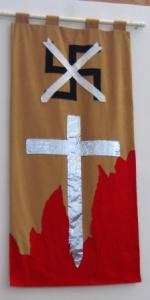 Rev. Dr. Reggie Williams, professor of ethics at McCormick Theological Seminary, talked of the heavy hearts carried by himself and other African Americans in this moment. "These are sinister times, but they are not new. As a black person educated in Evangelical Christian institutions, I am familiar with a Christianity that has a history of ignoring my being, and providing theological justification for my non-being."
How can people say it is Christianity, he asked, to "proclaim good news to the rich or push the differently embodied person to the margins? Now is the time to follow Jesus the poor Jewish prophet whose teaching of the Kingdom was the inspiration for the Boston Declaration."
"Jesus said, 'Love one another,'" says Rev. Thistlethwaite. "And we say, 'Amen.'"
The signers of the Boston Declaration will strategize throughout the U.S. to interrogate both Democratic and Republican 2018 candidates on their commitment to the concerns addressed in the pronouncement. For example, with respect to the current race in Alabama for the U.S. Senate, "To support Roy Moore cannot possibly be Evangelicalism," Thistlethwaite said. "We have to stick to the basics," quoting the essential passages of the Hebrew and Christian Testaments.
"Is Roy Moore a hill on which Evangelicals are prepared to die?" asked the Rev. Heltzel. He answered his own question: "As for me and my house, Hell no, we won't go!"
The Boston Declaration in its entirety, with all the original signatories, can be found here.
Excerpts from the Boston Declaration:

As followers of Jesus…we are outraged by the current trends in Evangelicalism and other expressions of Christianity driven by white supremacy, often enacted through white privilege and the normalizing of oppression.

Following Jesus today means choosing life, joining the Spirit-led struggle to fight the death-dealing powers of sin wherever they erupt. Whenever one of God's children is being oppressed, we will fight with them for liberation with the power of the Holy and Life-Giving Spirit. And yet, we live in a moment when death and evil seem to reign supreme in the United States…. We believe followers of the Jesus Way are called to renounce, denounce, and resist these death-dealing powers which organize and oppress our world, not to embrace or promulgate them.

As followers of Jesus, it is vital that we take action when our government seeks to continuously harm life made in God's image by cutting social safety nets and forcing the poorest and most powerless among us to spiral into an abyss of desperation.

We reject the false ideology of empire building and the myth of racial laziness and substance abuse that harms the people of Puerto Rico, the Virgin Islands, the U.S. territories.

We reject the patriarchal and misogynistic legacies that subject women to continual violence, violation, and exclusion. We stand strongly against sexual abuse and harassment in the highest offices of power.

We reject economic policies that are grounded in an illusion of extreme individualism and favor the accumulation of wealth for a few to the detriment of the many.

We reject Islamophobia and anti-Muslim bigotry.

We stand in solidarity against antisemitism and the use of any language and actions that threaten the lives of our Jewish sisters and brothers while standing with the plight for human rights with our Palestinian brothers and sisters..

We reject homophobia and transphobia and all violence against the LGBTQ community.

May we embrace a future where the legacies of white supremacy are dismantled. We refuse to dehumanize any individual, reducing their identity to singular markers and possibilities. May we work towards a radical openness for every individual as we fight together for a better today and tomorrow.