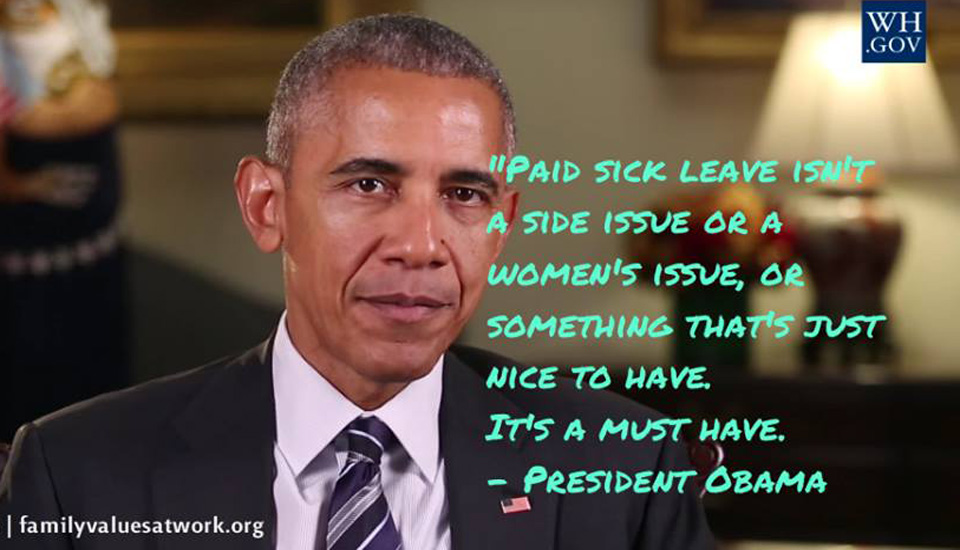 "The Break Room" is the new name for People's World's column on the happenings of the labor movement – across the country and around the world. If you or your organization have a story or event that should be featured here, contact Roberta Wood.
Overheard in the "Break Room" this week…
This should make you feel better
A million workers will be newly eligible for paid sick leave come January 1 after executive action by President Obama. Rule 13706 is the latest initiative by the Obama administration to expand worker benefits and protections, issues that the anti-worker Republican majority Congress has refused to move on. Earlier this year, new regulations, also carried out by executive order, increased workers' income by making millions of Americans eligible for overtime pay.
Under Rule 13706, employees of companies with federal contracts for construction as well as many types of services will be due one hour paid sick time for every 30 hours of work on Federal projects, accumulating up to seven paid sick days a year. Part-time and part-year employees can also claim the benefit. Subcontractors whose employees perform the contracted work are bound to provide the benefit. The time can be used for the employee's own illness or medical care or that of family.
The Department of Labor requires covered employers to post notices. Enforcement is by its Wage and Hour Division.
The new rule may be of special interest to union construction workers who get good hourly pay, but can't take off when they're sick without losing income. This rule may help set new standards for the industry, since contracts covered by the Davis-Bacon Act are among those included.
"Paid sick leave can allow working families to focus on what really matters without having to worry about the next paycheck," said U.S. Secretary of Labor Thomas E. Perez.
Power of black women in elections
Black women voters are the leading demographic when it comes to voter turnout. According to Black Girl Magic: The Power of Black Women in Elections, a new report from the AFL-CIO, 83 percent of African American women who are registered to vote show up at the polls.
In the 2012 presidential race, in three battleground states – Ohio, Florida and Pennsylvania – this super participation provided the margin of victory for President Barack Obama. Furthermore, the report revealed, these women drive turnout. As sisters, mothers, aunts and daughters, they reliably bring their families and co-workers along to the polls.
In a press call Sept. 27, Carmen Berkley, AFL-CIO Director of Civil, Human, and Women's Rights, described the Federation's plans to do "large scale outreach to all women union members across the country this election cycle" in Florida, Nevada, North Carolina, Ohio, Pennsylvania, and Wisconsin.
The plan sees the potential for even more impact from African American women voters. Currently black women are more likely than any other group to skip down-ballot races, losing the potential to be a political force in local races, which directly impact the day-to-day lives of people in their communities. The federation plans to address dual challenges of further increasing black women's turnout, and through voter education, ensuring that they vote down ballot.
The report concludes by calling on the labor movement to "look to black communities and black women organizers as a potential base for power… incorporating black communities into long-term strategic thinking and lifting up the most progressive voice of the Democratic base."
IBEW volunteers make sparks fly
Four hundred union electricians arrived with their tools a day early to IBEW's 39th International Convention, held last week in St. Louis, the 125-year-old union's birthplace. Gathering before dawn on Sept. 15 they spread out to 26 sites to apply their expertise to community service projects.
At Our Lady of Holy Cross Church in north St. Louis, it took the skilled workers just a few hours to transform a large unused space into an afterschool and community center. The church's program director Antoinette Cousins said, "Now 40 kids a day learn programming, cooking, gardening, boxing, and basketball."
The IBEW's Electrical Workers Minority Caucus pioneered the practice of making community service a component of union gatherings, but this is the first year that the union's international convention has adopted the program. IBEW International President Lonnie R. Stephenson, himself an inside wireman, spoke about the importance of "giving back" to the community.
"We're only here for a short time, but the people of St. Louis are going to remember the work we did here today for a long time to come," he said.
Photo: Family Values at Work Facebook page