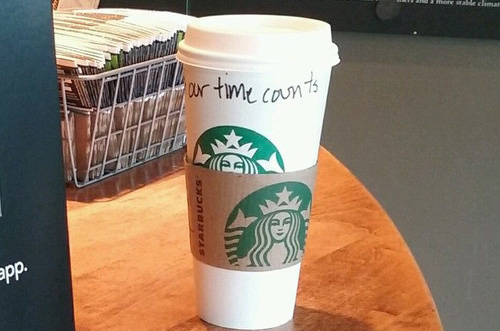 "The Break Room" is the new name for People's World's regular column on the happenings of the labor movement – across the country and around the world. If you or your organization have a story or event that should be featured here, contact Roberta Wood.
Who owns your time?
Having a work schedule you can depend on has joined raising the minimum wage as a winnable demand for America's millions of low-paid workers.
On Sept. 19 Seattle's City Council unanimously passed the Secure Scheduling Act requiring large employers to provide two weeks' advance notice of work schedules. The legislation also calls for a minimum of 10 hours between the end of a shift and the beginning of the next. Workers will be compensated when the number of scheduled hours is changed: an extra one hour pay for an added shift and half pay for scheduled hours that have been cut.
Barely more than one in 10 U.S. workers have the protection of union contracts that would put limits on the demands of employers for them to be available 24/7. Workers complain that erratic schedules wreak havoc on family life, the ability to go to school, or to work second jobs. "Clopenings" – back-to-back shifts requiring food, retail, and coffee workers to close a facility down late at night and then return a few hours later to open up – are notoriously brutal.
The drive for the secure scheduling ordinance was kicked off just a year ago when baristas with Working Washington rallied outside Starbucks corporate headquarters, calling on the hometown coffee giant to address unstable and unpredictable scheduling practices.
Secure scheduling is the first new labor standard to address weekly work schedules since overtime pay became law in the 1930s according to Working Washington Executive Director Sejal Parikh.
Adding immigrant co-workers to the voting rolls
Thousands of immigrant Nevadans will be added to the voting rolls in this battleground state as a result of extraordinary efforts of the state's Culinary Union 226. The 57,000-member union calls itself the state's largest immigration organization.
In a grassroots-based "Stand up to hate" drive, hundreds of cooks, housekeepers, and servers recruited co-workers, neighbors, and family to attend one of four citizenship fairs across the state earlier this year. The fairs were co-sponsored by the union, the Progressive Leadership Alliance of Nevada, and the National Partnership for New Americans. They provided legal assistance as well as test preparation materials.
Assessing the results, the union reported that in the first six months of 2016, 6,303 permanent residents in Nevada applied to become U.S. citizens. This was a 65 percent increase over the same time period in 2015. One third of the new applicants – over 2,000 – had been assisted at the citizenship fairs or in scores of one-on-one appointments.
One of this year's first-time voters, immigrant Jorge Aguilar, a citizenship applicant who attended the third fair of the statewide series, explained, "There have been too many injustices committed against us, including candidates who are talking very badly about us – voting is the best way to combat them."
According to the union, its members come from 167 countries and speak over 40 different languages.
Warning: Temp visa programs no solution to immigration crisis 
Two union leaders from opposite sides of the globe issued a caution about proposals discussed during the UN High Commission on Refugees meeting on Sept. 19 in New York.
In a joint statement, Tefere Gebre, executive vice president of the U.S.'s AFL-CIO and Sharan Burrow, the Australian who is general secretary of the International Confederation of Free Trade Unions, welcomed the summit but voiced concerns that initial language proposed for global compacts may actually lead to an expansion of the type of temporary work visa programs that tie workers to specific employers.
These types of temporary visa programs "have been proven to lead to abuse and discrimination throughout the world," Burrow and Gebre warned. "Solidarity…is what compels us to demand equal treatment for all workers," the leaders continued. Read about Gebre's presentation to the UN here.
Letter carriers deliver safe neighborhoods
Letter carrier Mark Pizzo of Rock Hill, South Carolina dropped the mail and jumped off his truck when he saw a pit bull dragging a 7-year-old girl by the head. He was able to get the dog to release its grip and turn its attention to him by punching it in the head several times. Pizzo got the girl out of harm's way, and animal control finally subdued the animal. The girl, Kaylen White, was released from the hospital with seven staples for her head wound.
Pizzo was awarded the National Hero of the Year award this week by the National Association of Letter Carriers (NACL).
As postal workers fight Republican efforts to downgrade the USPS's services, including threats to cut back on door-to-door delivery, the union's recognition of the actions of working class heroes like Pizzo sheds light on the key role such workers play in the safety and security of America's neighborhoods.
"The honorees represent thousands of letter carriers who not only deliver the mail to 155 million households and businesses…but often assist in situations involving car crashes, fires, crimes, or health crises or otherwise improve the quality of life in the communities they serve," said the union.
NALC's Heroes of the Year event, held Sept. 21 in Washington, D.C., also honored David Crestik of NALC Branch 70 in San Diego. Crestik was named the Western Regional Hero for saving an elderly customer, Sharon Braden. He heard Braden calling from inside her mobile home. She had fallen, couldn't get up, and a fire was going.  Crestik entered, threw Braden over his shoulder, and got her out. She survived although her home was a total loss.
Evangeline Johnson of Detroit Branch 1 received the Carrier Alert award. On her route early one morning she saw smoke pouring from the rear of a house last May. She banged on the door and woke up a sleeping mother who grabbed her daughter and got out.
Michael Murphy of Florissant, Mo. NALC Branch 5847, went after a man who was attacking women in two cars with a cinderblock on his route. Murphy was celebrated as Central Region Hero of the Year.
Lars Edleblute, of York, Pa., Branch 509, was named Eastern Regional Hero. Edleblute jumped a fence and ran through traffic to rescue an autistic 8-year-old who had wandered away from home and was in the middle of a four-lane highway in pouring rain.
Back in North Carolina, modest hero Mark Pizzo told the Charlotte Observer he was just doing his job. "I've been bit before; I'm a mailman. It's part of the job." Pizzo said he got his reward two days after the pit bull confrontation when he was back in the neighborhood delivering his route. An older man came up to him and asked, "Are you the man who saved that little girl?" When he replied, "Yes, I am," Pizzo said, the man "wrapped his arms around me and said 'Thank you for saving my granddaughter.'"
Photo: The #OurTimeCounts slogan written on a Starbucks coffee cup. | Working Washington