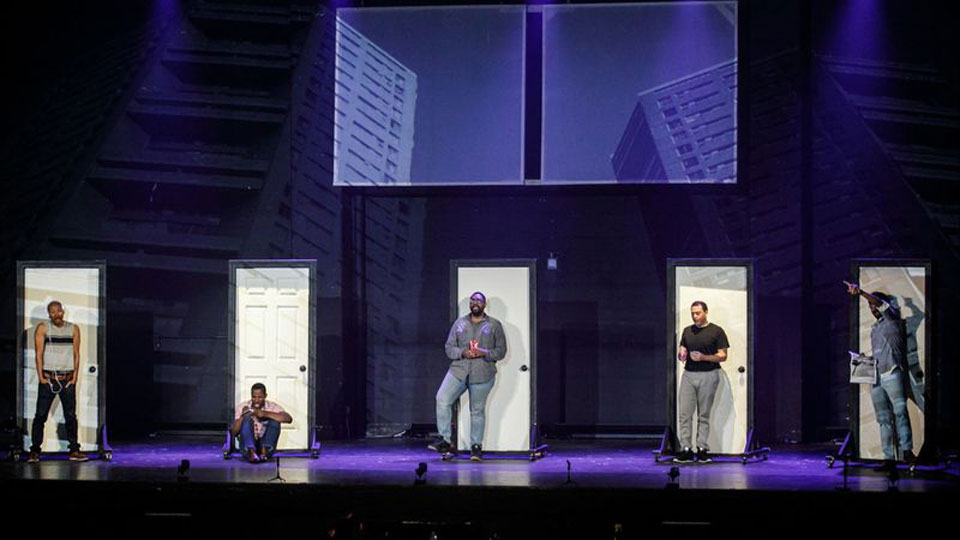 SAN PEDRO, Calif.—I have seen a lot of opera in my lifetime, and I can honestly say I have never been so emotionally overwhelmed as I was Saturday night, June 15, by the world premiere Long Beach Opera production of composer Anthony Davis and librettist Richard Wesley's The Central Park Five.
The opera is based on the notorious legal case dating from thirty years ago—1989—when five Black and Latino teenagers were picked up in New York City's Central Park on fabricated charges that they had mauled and raped a 28-year-old jogger, Trisha Meili, leaving her for dead. There were no eyewitnesses to the incident, and no DNA evidence was linked to any of the five.
What was it? Obviously, the perfect combination of elements that go into an opera, making this peculiar art form a summation of all the arts. But also the moment, the history behind it, the tragedy and the catharsis, the way this single episode in American injustice reveals so much about what this country has been about ever since the first slaves were brought to these lands 400 years ago in 1619.
I was living in New York at the time and remember thinking what an awful world we had somehow created if young teenagers could think it delightful fun to visit such disastrous harm on perfect strangers just for the joyride of it. With no other sources to go on, I guess I fell victim myself to the headlines of the time.
Not least of it, of course, is the role played by an up-and-coming real estate developer in New York City who made frenzied speeches and took out full-page newspaper ads about beefing up the police department and bringing back the death penalty, calling the perpetrators "animals" and "monsters," and appealing for justice to protect honest people's property values.
In the director Andreas Mitisek's pre-performance interview with the composer, Davis said, "I watched it on the news. They were interested in finding any Black teenagers who happened to be in the park that day…. This was really the beginning of Trump's career."
Donald Trump is a character in the opera. Unseen, behind the scenes of his public persona, were the machinations of his advisers and mentors who saw his political future even before he did himself, men such as the disbarred lawyer and Sen. Joseph McCarthy associate Roy Cohn and the amoral Republican maverick sleazemeister Roger Stone. They saw in this glib, fast-talking urban racist womanizer just the kind of faux populist who might one day be able to capture the imagination and loyalty of millions of Americans for whom even the illusions of prosperity were no longer working.
Echoes of Trump's statements in 1989 can be found in his later presidential campaign oratory and in his current policies in the White House. He told readers in four newspapers where he advertised, "I want to hate these murderers and I always will"—to this day he still says the Central Park Five were guilty and their verdict should not have been vacated—and he told Larry King on CNN, "Maybe hate is what we need if we're gonna get something done." Racial tensions escalated to the breaking point.
In Act 2 The Donald is seen sitting on his golden throne, one hand on a phone receiver stirring up more trouble with the press and the public, the other hand amassing a yuge wad of paper to wipe his ass. Perhaps a first for the operatic stage, it is a vivid metaphor for the emperor with no clothes.
The case of the Central Park Five has been the theme of voluminous journalistic coverage, numerous books, and documentary films (such as one by Ken Burns in 2012 and Ana DuVernay's recent Netflix series When They See Us).
The Central Park Five is Anthony Davis's eighth opera. Some of his previous works have treated Malcolm X, Tania (about the abduction of Patricia Hearst), Amistad (about the onboard revolt of enslaved captives and their trial), a science fiction outing with Under the Double Moon, and the 1870s trial of Standing Bear in Wakonda's Dream. Davis takes pride in noting that his operas about Malcolm X and the Amistad preceded the films by Spike Lee and Stephen Spielberg. The New York Times has called him "The Dean of African American opera composers."
"I am hoping," he says in the program, "that The Central Park Five will play an important role in understanding where we are after 'Ferguson' and how such incidents of racial injustice are rooted in racial fear and hatred."
Although the five teenagers' convictions were upheld on appeal, in his dissenting opinion appellate court judge Vito Titone cited the District Attorney who supervised the interrogation and forced confessions and prosecuted the case in court. He was quoted in an interview, saying, "I was concerned about a criminal justice system that would tolerate the conduct of the prosecutor, Linda Fairstein, who deliberately engineered the 15-year-old's confession… Fairstein wanted to make a name. She didn't care. She wasn't a human."
With all the recent attention surrounding the Netflix series and the 30th anniversary, Fairstein has fallen into hard disrepute. She had transitioned into writing crime novels and her publisher, E.P. Dutton, has given her up as a client. She has also been forced off of several non-profit boards on which she served.
In the opera the D.A. (Jessica Mamey) calls upon her feminist rage over the "wilding" incident, seductively recalling the way Southern racists defended their Southern womanhood. But as in many cases in the South where unfounded accusations were made against Black men, here too, there simply was no evidence. But hey, no evidence, no problem!
Davis's latest opera is only one of many based on actual historical events. If composers of the Baroque, Classical and Romantic treated their subjects with great dollops of artistic license, often folding in love stories to make them more compelling, and filling in dramatic subplots where speculation might have led the librettist, it is no less true of those operas than the operas of today that they need to be judged artistically and not according to their servile faithfulness to the facts.
One of the brilliant inventions that librettist Richard Wesley has supplied here is The Masque, a cigarette-smoking noir spirit who personifies racist attitudes, whether as a privileged white bystander observing the sullen, staring, menacing men of Harlem, or an interrogator pitting one teenager against another in order to wrench out a confession, or the judge. This "shadow," to use the psychological term, immediately puts the audience on notice that what we will be experiencing is not just a courtroom drama but a clash of world views and an invitation to examine the racial animus however latent or blatant that resides in us viewers.
If the residents of Harlem peer at whites with a degree of contempt, it may be that the whites are given to taking their little day trips up to attend a concert at the Apollo or perhaps chuck down a fine soul dinner at Sylvia's before skittering off to their safety zones in farther south Manhattan. It's not explicitly stated—but it doesn't have to be—that as the real estate market tightened in Manhattan, streets in Harlem formerly deemed unthinkable for white renters or condo owners to colonize, opened up. Those touristic forays of the 1980s became the gentrification trend of a decade or two later.
The Masque is superbly sung by Zeffin Quinn Hollis, who made a similarly stunning, efficiently evil appearance in Long Beach Opera's last production, Philip Glass's In the Penal Colony, based on Franz Kafka. The Masque is often seen in the company of his fellow racists Mr. Trump (Thomas Segen) and the District Attorney. The Masque's "mask" is not a facial covering but a smartly styled jacket emblazoned with hot-button, provocative words that reveal his thinking.
In a generalized way, The Central Park Five could be called a jazz opera, but this is not meant to limit its scope. To the contrary, Davis believes that the essence of what makes American music American is precisely its African roots. One can hear blues, be-bop, big band (à la Duke Ellington, for example), lots of free jazz with dissonant extended instrumental techniques, vocal ensemble music for the Five with tight, close male harmonies recalling such groups as Take 6, and the hip hop genre that was just taking off in 1989. It was also the year of Spike Lee's Do the Right Thing. I heard someone in the audience compare the music to Bernstein's West Side Story, and I could see what he meant.
In 1989 Tone Loc released a sexually suggestive song called "Wild Thing" and Davis speculates that the popular hysterics over "wilding" may have derived from this number. The term had not been current in the Black community. Any incident that implicated young people in so-called "wolf pack" activity was folded into the overall mentality that our youth have gone antisocially berserk (and should be locked up!). What a couple of the Five did admit to, believably perhaps, was throwing stones at some bicyclists to scare them and chasing a homeless man out of the park. Typical adolescent behavior. No one claimed they were all angels.
In addition, the score features some space for improvisation. Under the direction of world-renowned conductor Leslie Dunner and utilizing Earl Howard's sound design conjured from the Kurzweil, the 15-piece orchestra gives us the sound of today's African-American genius. If the audience found it unfamiliar and too loosely structured, without a lot of set pieces and arias, well, the story the opera tells is similarly challenging to every norm an American has the right to expect from the justice system. If opera audiences accept Arnold Schoenberg and Alban Berg as part of the standard repertoire, not to mention many other later modernist composers, there is no reason not to welcome the music of Anthony Davis into the opera house as well. In fact, I would argue, it is the duty of leading opera companies (Long Beach is a relatively small, though prestigious one) to expose their audiences to masterworks on this level of musical and social acuity.
The way The Masque regards Black people, seeing them as a seething, undifferentiated mass, is part of what the opera defines as, in Davis's words, "the crime of invisibility" for African-American males. "They walk too boldly down the street," The Masque complains. I would say, personally speaking, that this is one area where the score might have done more specifically to differentiate the Five. The way they are moved around from door to door, from cell to cell, from chair to chair, suggests a kind of interchangeability—and perhaps that was intended to show how they were seen, as just movable parts in a big indictment. But at the same time, I felt I did not get to know Antron (Derrell Acon) and Yusef (Cedric Berry), Raymond (Orson Van Gay), Korey (Nathan Granner) and Kevin (Bernard Holcomb) much as individuals.
Korey Wise stands out more because he was 16 at the time of the incident so he was sentenced as an adult to 13 years in state prison, whereas the others, all under 16, were sent to juvenile facilities for seven years. It was to Korey that the actual rapist confessed, but only at the very end of Korey's sentence, and the confession was positively confirmed by DNA that had always been absent for the Five. Matias Reyes owned up to his crime because he had found religion in the meantime—so give some points to the faith tradition for that one. Korey has an extended solo upon his release in which he laments what had been taken from him in this harrowing ordeal.
As for the storyline, I would make one other comment. The reading of the suspects' Miranda rights came rather late in the interrogation process, and that may have indeed been how those first confusing hours and sleepless days unfolded. Those young kids did not have the awareness to demand to see lawyers; all they wanted was to go home to their families, and thus they started "confessing" just to give their inquisitors what they wanted, having no clue what would soon become of them. In court, however, they recanted those confessions, yet they seem again to be totally on their own, without legal representation whatsoever, in a preordained scenario that is a Kafkaesque travesty of the law. That struck me as being illogical and a little too heavy-handed: Even if the composer and librettist had wished to portray the defense as witless and incompetent, still, it might have been present in some form.
And so the Five are sent away, made invisible to society, in a case study of the correctness of Michelle Alexander's analysis that the prison-industrial complex is nothing but the 20th- and 21st-century continuation of slavery and Jim Crow in America.
A standard operatic quartet—soprano Joelle Lamarre, mezzo-soprano Lindsay Patterson, tenor Ashley Faatoalia and baritone Babatunde Akinboboye—fill out the crowd, playing parents of the Five, Matias Reyes and other minor characters.
The opera concludes with a reminder about the police killing of Tamir Rice—for which no one was held accountable. Sadly, the beat goes on. "The slogan, 'Black Lives Matter,'" Anthony Davis says, "is not only an important political statement but it is also the central focus of my work as an artist and composer."
Andreas Mitisek, artistic and general manager of Long Beach Opera, directed the production and also created the supple production and video design. Dan Weingarten created the lighting design, which was complicated and elegant.
The Central Park Five has two more performances at the Warner Grand Theatre, 478 W. 6th Street (at S. Pacific Ave.) in San Pedro CA 90731, on Sat., June 22 at 7:30 pm, and Sun., June 23 at 2:30 pm. For further information and tickets, see here.
Composer Anthony Davis was awarded the 2020 Pulitzer Prize for music for this opera, announced May 4, 2020. The announcement called it "a courageous operatic work, marked by powerful vocal writing and sensitive orchestration, that skillfully transforms a notorious example of contemporary injustice into something empathetic and helpful."