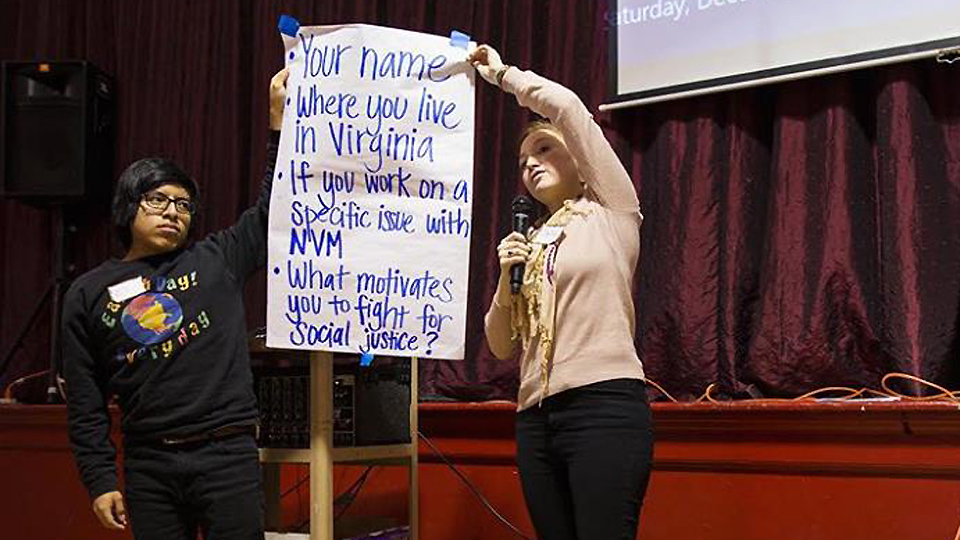 There is, they say, no rest for the wicked. There is also going to be no rest for the working class in the United States, given the dire situation we face under the presidency of Donald Trump. Schools, health care, the environment, labor, immigrants', women's and LGBT rights, social security, Medicare and much more will be directly threatened by the new administration and the team of ultra-rightists that Trump is assembling as his cabinet.
Virginia is in the same situation as the rest of the country, in spite of the fact that it is the only state in the South that went for Clinton on Nov. 8. Labor, progressives and the left in Virginia are going to have to work fast and hard to minimize the damage that the new regime in Washington D.C. is planning to inflict.
Next year, 2017, sees state elections in Virginia. The executive positions of governor, lieutenant governor and state attorney general are all at stake, as are the 100 seats in the House of Delegates, the lower house of the General Assembly (Virginia's state legislature).
Currently, all three state executive offices are held by Democrats. The governor, Terry McAuliffe, is a centrist Democrat, but the Virginia constitution does not allow him to run for reelection. Ralph Northam, the Lieutenant governor, also a centrist Democrat, is the preferred Democratic Party candidate for the governorship.
The Attorney General, Mark Herring, is seen as being a little to the left of McAuliffe and Northam. It appears he will run for re-election next year. Herring has played a key role in defending the rights of immigrants, women, LGBT people and others, so his re-election is particularly important.
Since Northam will be running for governor, the Democrats are going to have to find a new candidate for lieutenant governor. So far, two former assistant U.S. attorneys have announced their candidacies. Justin Fairfax is a 37 year old African-American attorney who says he will concentrate on improving equal access to education for all Virginians. The other Democratic candidate, Gene Rossi, 60, has been noted for his controversial prosecution of doctors who prescribe excessive amounts of painkillers.
Declared Republican candidates for governor include former Chairman of the Republican National Committee Ed Gillespie, Prince William County Board of Supervisors Chair Corey Stewart, State Sen. Frank Wagner and businessman Denver Riggleman.
Gillespie was the Republicans' unsuccessful senate candidate in 2014, against Democrat Mark Warner. He is a hard right corporate Republican with ties to the energy industry (and, formerly, to Enron); he would be an opponent of environmental protection measures. He has also called for a big military buildup, which might attract some votes in areas that depend on military installations for their prosperity and where there is chronic worry about military cutbacks. Stewart has out-Trumped Trump in the persecution of undocumented in the Washington D.C. exurbs. Riggleman is a "former intelligence officer" and a distiller who produces, among other things "Strange Monkey" gin. He boasts about not having any political experience. Senator Wagner is a former Navy officer.
It is far too early to make any sort of secure predictions, but, for what it's worth, a Quinnipiac University poll shows so far that Democrat Northam would beat any of the Republican candidates, the strongest of whom would be Gillespie.
Candidates for the Republican nomination for lieutenant governor include two state senators – Bryce Reeves and Jill Holtzman Vogel, and one state delegate – Glenn Davis. Reeves is a noted supporter of "concealed carry" legislation and is a former police detective. Davis is a businessman, and Vogel is a Republican Party functionary whose focus has been on campaign finance law.
Potential Republican candidates for attorney general include former Assistant U.S. Attorney John Adams and a local politician from Virginia Beach, Chuck Smith, who is yet another ex-military officer, like a huge proportion of candidates for election from both major political parties in Virginias.
A lot rides on the election to the Virginia House of Delegates. Not only does the General Assembly control redistricting for state and federal office, it is also a key battleground in the effort to build a firewall to protect Virginia's most vulnerable inhabitants from negative results of the election of Trump. Since women, immigrants, LGBT people and organized labor are going to be targeted in Washington, all will have to rely on what can be accomplished at the level of state governments to afford them some modicum of protection. In Virginia, the State Senate has a small Republican majority, but the House of Delegates is a much bigger problem.
Currently, it consists of 66 Republicans and 34 Democrats, despite the fact that Virginia voters have been trending more and more Democratic in recent years, and went for Clinton in this year's national election. The entrenched Republican majority is the result of creative gerrymandering, of voter suppression including a new voter ID law, and, especially, of the amazingly low turnout in the Democratic base in non-presidential election years. The last House of Delegates election, in 2015, saw a turnout rate of only 29.1 percent of registered voters. In contrast, in this year's national elections, about 66 percent of Virginia's registered voters turned out—higher than the national turnout.
In Virginia, convicted felons are deprived of voting rights even when they have finished their sentences. To have their rights restored, they have to apply to the governor as individuals. This year, Governor McAuliffe tried to restore the rights of about two hundred thousand former convicts by executive action, but was stopped from doing this by a successful Republican court intervention. He still tried to restore as many ex-convicts' voting rights as he could, and grassroots organizations such as New Virginia Majority worked hard to get all these people registered. In the end, McAuliffe was able to restore the rights of about 67,000, and several tens of thousands registered to vote. Given the disproportionate incarceration rate of African-American, Latino and poor working class people, plus the tendency of those same sectors to support the Democrats, the Virginia law on felons' voting rights is seen by many as an effort to suppress the Democratic vote.
So for 2017, the fight over voters' rights, including those of former convicts, will have to be engaged as part of the effort to protect the rights of the working class overall.