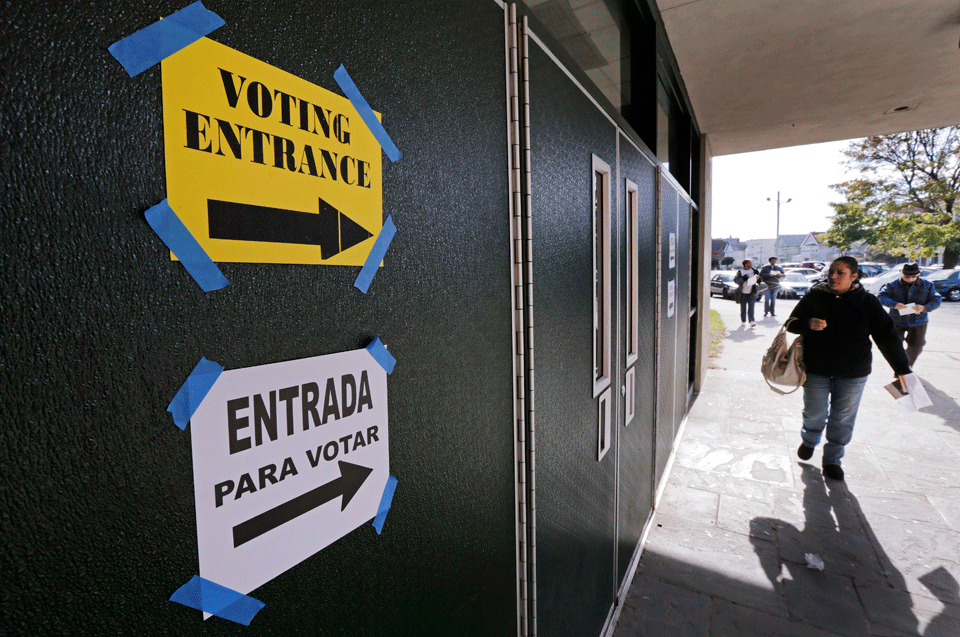 LOS ANGELES — The Latinx vote in the upcoming November elections is critical. Don't be denied the right to vote. Don't get discouraged if there are attempts to sway you away from voting. One person, one vote is still the golden rule of democracy. Su voto es su voz—Your vote is your voice.
Voter suppression is a common practice used to disenfranchise people of color. Barriers to voting have a long and sinister history in California and throughout the United States. As far back as 1877, the Dixiecrats designed and passed laws to suppress the Black vote. The racist Jim Crow laws were nothing more than legalizing rules to subject Black people to violence and condemnation by the rule of law.
Latinx/Mexicans felt the effects of discrimination in other ways. On Sept. 9, 1850, California became the 31st state of the union. From the early days of the 1800s tension between California Anglo and Latinx/Mexican populations escalated. Prejudice, suppression of rights, and exclusion from the community at large, otherwise known as segregation, became the rule of law.
The single most important exclusionary action came in the suppression of the Latinx/Mexican vote and to deny representation. In many cases, Latinx/Mexicans were just outright forbidden to vote or they were just ignored as voters. Lynching became a way to instill fear and promote the white-only agenda of "know your place." Such discrimination and voter suppression continued even as the Treaty of Guadalupe Hidalgo in 1848, that ended the U.S. war against Mexico, recognized the right to vote for the Latinx/Mexican population.
It is true that in the early days of statehood, California had Latinx/Mexican politicians. These were rich elite land and hacienda owners. Their main consideration consisted of maintaining their status, empowering themselves, and conspiring with the financial class in order to create more wealth at the expense of the working class. Their self-serving aristocratic manner had long-lasting and devastating effects on the Latinx/Mexican population.
By the 1920s, white anxiety about Latinx/Mexicans reached a point of heightened crisis. From 1923, non-whites weren't allowed to participate in various civic activities, including the right to vote. Amidst this tension, deportation, segregation, economic suppression, and white purity became the new methods of exercising public domination over the Latinx/Mexican population.
In that same year, the Ku Klux Klan in Los Angeles and Orange Counties gained significant power, with now greater influence within city councils and on the state's politicians. Throughout the 1920s and 1930s, powerful anti-immigrant forces and America First nationalists aligned together in order to deliberately plan policies to discriminate against the Latinx/Mexican and Black populations.
Marlon Bishop and Julia Shu, authors of History of Anti-Mexican Violence and Lynching, wrote: "Murder continued with impunity until 1922. A different kind of form took place. It couldn't be the same public execution of Mexicans. It had to be secret, covered-by-night. It was a transformative movement."
During this same period, to reinforce the dominance of white superiority the so-called "race scientists" emerged. Many academic institutions, including Stanford, Yale, Harvard, and Princeton espoused such race theory and race science as far back as 1909. This new form of intimidation (eugenics, segregation laws, and forced sterilization) and discrimination continued well into the 1930s and later with the development of systematic mass expulsion.
In 1931, deportation occurred regardless of immigration status due to the demand of the white population's false fear that immigrants were creating economic and social discord. The great expulsion of 1936 occurred when over two million Mexican Americans, many of them U.S. citizens, were deported, based on the same reasoning that unwelcome demographic changes were taking place in the United States. Politicians and policymakers decided that the increase in Latinx/Mexican numbers, and migration across the border, needed to be addressed. The policy action to solve this issue was systematic mass expulsion. This policy extended well into the 1970s and is in use today by the current administration.
New barriers to voting
Voter suppression is much deeper and more sinister than just barriers at the polls. However, suppression is a commonplace tactic that throughout history has been used to routinely make it harder for Latinx and people of color to vote than their white fellow citizens.
A recent Brennan Center for Justice report (June 3, 2020), "Waiting to Vote: Racial Disparities in Election Day Experience," stated that "A large body of recent scholarship has been established that throughout the country Latino and Black voters wait longer to cast their ballots than white voters. Indeed, a quantifiable racial disparity in voting wait times has been identified consistently over the past decade."
Aside from the historic racist policies established to disenfranchise voters, suppression proceeds apace with new or resuscitated tactics, including English-only ballots, literacy tests, poll taxes, denial of voting rights to prisoners and former felons, redistricting of voting districts, allegations of voting fraud, closing down of polling places, intimidation at the polls, detail of absentee ballot rights, malfunctioning or "fixed"  machines, no paper ballot record—all meant to disenfranchise Latinx voters.
The Brennan Center report made specific recommendations to address the issue of voter suppression:
Increase resources (polling places, poll workers, and voting machines).
Plan for the increase in turnout.
Develop new policies taking into account changes that can impact the 2020 elections.
Limit polling closures.
Reconsider increasing voter centers that force closures of area polling places.
Expand language assistance.
Don't give in to the fear of race-baiting and class bias! Don't take the bait! Latinos have the right to vote! There have been many times, and in many different ways, that this right has been threatened.
People of color have taken to the streets by the millions to protect this right. Many have died to keep this right. Let us soar high with pride and dignity. Latinos are here to stay. As the old Southern hymn reminds us, "We shall not be moved."
Vote them out! Vote!