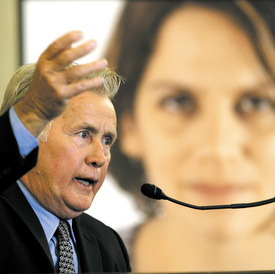 "I am here to assure everyone that rumors about the impending death of the Employee Free Choice Act are decidedly premature."
The statement was made by Arlene Holt-Baker, executive vice president of the AFL-CIO, last week, at a gathering of the nation's civil rights leaders in Washington D.C. The civil rights leaders assembled by the Leadership Conference on Civil Rights added their voices to a growing national chorus of support for the Employee Free Choice Act.
Holt-Baker's remarks addressed media stories that claim that the defection of two senators, Arlen Specter (R-Pa.) and Blanche Lincoln (D-Ark.), from the ranks of the bill's supporters spells doom for its chances of passage.
Labor and its allies are stepping up their campaigns in support of the measure even in the states where elected officials are feeling the heat form big business operations opposed to labor law reform.
Hundreds of workers marched on the federal building in downtown Harrisburg, Pa. April 8 to demand that Specter stand up for workers by backing the Employee Free Choice Act.
Steelworkers left the rally which was attended by members of 12 different unions to deliver 4,000 hand-written notes to Specter's office, calling on the senator to reverse his position on free choice a second time.
Describing the actions of big business lobbyists, Tim Waters, USW National Rapid Response Coordinator, said, "Specter was threatened with losing his job, intimidated, harassed, etc. – just like workers who wish to organize. The intimidation pushed him to change positions. Now he understands a little bit of what workers deal with daily and we need him to get back to supporting this bill as he had done since 2003."
Between April 8 and April 13 the 12 unions involved in the Harrisburg actions held seven other demonstrations around the state, all demanding that Specter changes his position.
Arkansas Sen. Lincoln defied her state's largest employer, Wal-Mart, in 2007 by voting to make it easier for workers to join unions. Because of right-wing pressure and a big business campaign that is spending hundreds of millions of dollars, Lincoln and fellow Democrats Mark Pryor of Arkansas and Mary Landrieu of Louisiana are expressing some doubts.
The nation's civil rights leaders who met last week in Washington are already turning up the heat in both Arkansas and Louisiana.
William Lucy, president of the Coalition of Black Trade Unionists and secretary-treasurer of AFSCME said "we will push in every church and social organization in those states. It is unacceptable that any senator or congressperson from Arkansas or Louisiana would either sit on the fence on this or be opposed. We will make them understand that the Black population in their states wants and needs this bill and we will not stand for anything less than their full support." Lucy said that this warning was also meant for any wavering senators, including Diane Feinstein (D-Calif.), in states where there is a large African American population.
Wade Henderson, president and CEO of the Leadership Conference on Civil Rights, said, "The right of workers to form unions and the passage of the Employee Free Choice Act in order to guarantee that right is unquestionably the civil rights issue of this century. He said that, from the earliest days of the civil rights movement there were "two tickets needed by Blacks who sought entrance into the great American middle class – a voter registration card and a union card."
The Employee Free Choice Act would let workers form a union when a majority of employees sign a card requesting one, rather than permitting the employer to require a company dominated election.
In the last two weeks there have been more than 300 events in support of the measure, as members of Congress spent recess in their home districts. Barbara Ehrenreich, author of 'Nickeled and Dimed in America,' spoke to a rally of hundreds in Maine about how unionization improves wages and benefits.
Hundreds of handwritten letters and cards have been delivered to practically every member of both the House and the Senate.
New ads backing the bill are appearing all over the country .One ad, called "Fabric of America," was shot in a flag factory that employs union workers. It says, about the bill, "It's a fair day's pay for a hard day's work. It's health insurance…It's job security…It's the fabric of a sound economy…It's time our economy worked for everyone again."
Free choice supporters are optimistic, they say, because unions are making gains across the board. They point to the signing by President Obama of legislation recently that makes it easier to fight pay discrimination and to the signing of four presidential orders that strengthen union rights.
Bill Samuel, the AFL-CIO's legislative director, said in a phone interview, that he isn't worried about the wavering of a few Democrats.
"There are some members who prefer to sort of stay behind the curtain until the vote time is closer," he said. "We're very confident."
Senate Majority Leader Harry Reid, meanwhile, is predicting that the Senate may be able to consider the bill before the August recess, and that there will be enough support to end debate and approve the measure.