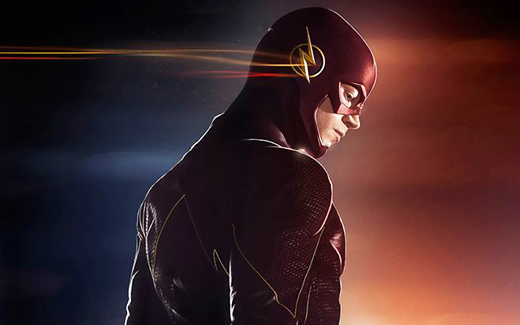 The titular character of the CW's new and well-received series The Flash has been one of the primary heroes of DC Comics. Though he's never been quite as iconic as Batman or Superman, the red-costumed, speed-based protagonist is quickly gaining a reputation, and for comic book fans of tomorrow, the show, a spinoff of Arrow, could come to define the future of the genre.
For outsiders to this colorful, exceedingly complicated world of heroes, The Flash originally debuted back in 1940 in Flash Comics #1, then having the identity of Jay Garrick, who joined the Justice League that same decade – a team that then included Hawkman, Green Lantern, Wonder Woman, and the Atom – in All Star Comics. But the Flash we know, Barry Allen (one of the more famous alter egos of the character), made his first appearance in 1956, and his origin was mostly kept the same for today's adaptation: Allen was a forensic scientist who became the fastest man alive after being hit with various chemicals while struck by lightning. If that sounds ridiculous, you should know that the series Arrow, on an episode that served as a backdoor pilot for The Flash, managed to sell it, if only you'll suspend your disbelief just a little.
The cast
The series stars Grant Gustin, who is almost a bit too cheerful and enthusiastic, but for the lighter tone of The Flash and the more optimistic outlook of the hero, it works. And while Gustin must still work to capture the emotional sophistication of his peers over on Arrow, he does a decent job portraying the character. Also very decent is Danielle Panabaker's performance as Caitlin, who works with Allen at S.T.A.R. Labs, along with Cisco (Carlos Valdes) and the enigmatic Dr. Harrison Wells (Tom Cavanagh). All three of these people know about Allen's powers and are more or less part of his "team," working to save the city from dangerous "metahumans" – people who received various powers after being exposed to a particle accelerator explosion accidentally (or perhaps purposely?) caused by Wells himself.
Also prominently featured is Iris West (Candice Patton), a love interest for Allen; her performance leaves something to be desired at the moment, as unlike the strong female characters on Arrow, she isn't given much to do, short of fitting the damsel-in-distress stereotype. Her father, Detective West (Jesse L. Martin) serves as a sort of mentor/father figure for Allen, but much more interesting is his real father, Henry Allen, played by John Wesley Shipp, who portrayed the Flash during the previous 90's television series (it was short-lived, and, quite frankly, a rather campy show). Shipp, however, easily seems like one of the best actors on the show, and gives that impression within the very small amounts of screen time he receives. Also fantastic was Mark Hamill (Star Wars), who portrayed villain The Trickster during one episode.
Where the show struggles
If you've noticed that a lot of Arrow comparisons have already been made, it's because it's inevitable. As a spinoff of the former show, The Flash must constantly work to match up, qualitatively speaking, with its parent series, while still maintaining its own unique tone. And that is where the show struggles. But part of the appeal is that The Flash is tonally different, even though its world and characters exist in the same universe as Arrow (there have already been numerous crossovers).
Part of the charm of The Flash lies in its self-aware, sometimes self-deprecating, nature. Giving its villains clever nicknames, for example, is a humorously recurring theme, and characters exchange purposefully bad puns with knowing grins. The cast, it seems, is having as much fun as we are, and unlike Arrow, which juggles complex themes and moral quandaries (to its benefit, of course), The Flash is all about the fun, and putting the "comic" back into "comic book." And while I wouldn't rank this series quite as high in quality as its counterpart, I can't deny that it's got me hooked, and gets better with each weekly installment.
At the end of the day, both series work rather well as two sides of a coin, because they compliment one another. The Flash, as I like to say, is the deep breath of relief that we take after having watched another gripping, stressful episode of Arrow. And with television still populated by so many post-apocalyptic stories and cynical narratives, it's nice to have to have at least one series that is cheekily simplistic and light-hearted.
The anticipation builds
But the show is not without its own drama. As its first season draws to a close (I believe there are four episodes remaining), it seems that Dr. Wells is not who he appears, and is connected to the death of Allen's mother. With this revelation, and with questions now arising of who to trust, it seems the airy atmosphere we've felt so far might suddenly grow thick and oppressive as the anticipation builds for a confrontation in the finale between the Flash and his mother's killer. Viewers can also expect an appearance by fan-favorite Grodd, a telepathic, megalomaniacal gorilla (yes, really), as well as another team-up between various heroes from both series that is also on the horizon before the season's end.
Say what you will about the silliness of it all; if you stick around long enough, you'll find yourself enjoying every minute of it. And if high ratings, awards, and positive reviews are any indication, The Flash will also be sticking around – for Season Two and beyond.
The Flash is on every Tuesday, at 8 p.m. Eastern/7 p.m. Central, on the CW.
"The Flash"
Grant Gustin, Danielle Panabaker, Tom Cavanagh, Carlos Valdes, Candice Patton, Jesse L. Martin, John Wesley Shipp, Rick Cosnett, Emily Bett Rickards
Photo: "The Flash" official Facebook page