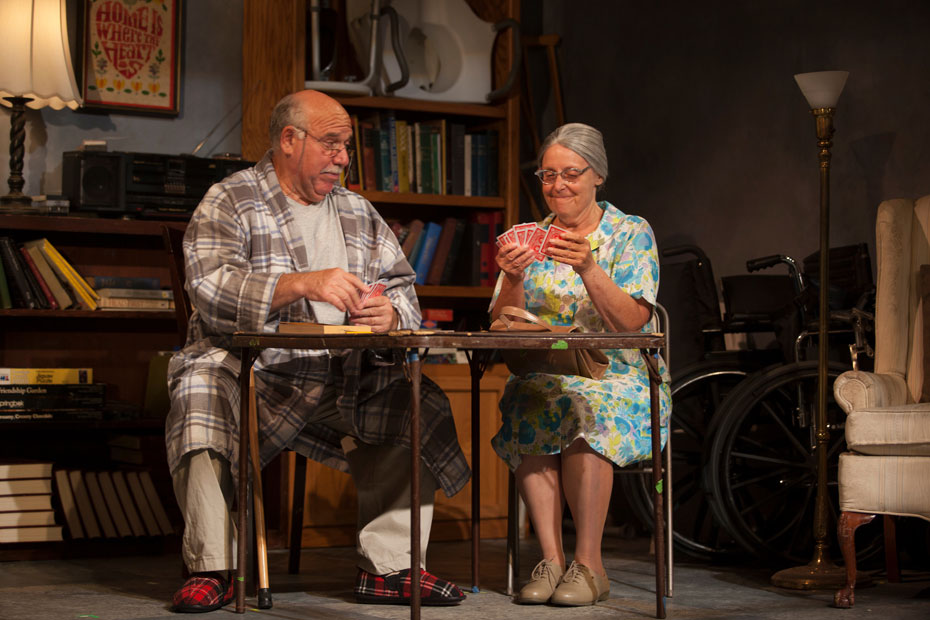 SIERRA MADRE, Calif.—In New Haven, Conn., where I'm from, there were two Jewish funeral homes. One was the family-owned Harry Weller & Sons. The familiar joke in the Jewish community there was, "If you don't get well, get Weller."
I know, I know, anything to get a laugh. But people have joked about death for millennia. It's our all too human way of dealing with the inevitable that will come someday, somewhere. The anxious, nervous humor is rooted in facing the unknowable mysteries of when and where. Not to mention the existential question, Was the ride worth it?
Now meet Weller (!) Martin and Fonsia Dorsey, newly admitted denizens of the Bentley Home for the Aged, a run-of-the-mill enterprise in Detroit that accepts welfare clients. Neither is especially old—early 70s—but the truth is, they have nowhere else to go. Their interactions over the course of a two-week period in the spring of 1977 are laugh-out-loud hilarious up to a point when it's simply not funny any more—the point when each of them realizes the Bentley Home is the last, terrifying stop on the train.
Playwright D.L. Coburn won the Pulitzer Prize in 1978, at the age of 40, for his first play, The Gin Game (he lives in Dallas). He subsequently wrote others, but he struck gold the first time out and never quite duplicated his success again. I was interested to learn that The Gin Game debuted at a 99-seat theatre in Hollywood in 1976 before transferring to Broadway, where it ran for 516 performances. It then toured the nation with its original cast of Hume Cronyn and Jessica Tandy. It came back to Broadway twice more—in 1997 with Julie Harris and Charles Durning, and in 2015 with James Earl Jones and Cicely Tyson. It's been produced all over the world.
But somehow, until now, I never had seen this two-hander. What especially drew me to the Sierra Madre Playhouse were the actors Alan Blumenfeld (as Weller), whom I have admired in many Will Geer's Theatricum Botanicum productions; aside from appearing in a great number of feature films, he is possibly most familiar to national audiences for his role as Maury Parkman in the TV series Heroes. And Katherine James (as Fonsia), who besides being a well-known actor in this area is also the author of numerous plays and a director. In addition, these two actors are married to each other, as were the originators of the roles, Cronyn and Tandy. It was high time I checked out this play.
Weller and Fonsia are both intelligent people, but with character flaws that have turned almost every decision they ever made into a wrong move. At this stage of their lives they are desperate to hold onto some semblance of personal dignity now that they are alone, penniless, not physically well, and living in profoundly "reduced circumstances" as the Victorian novelists used to say.
The card games they play recall nothing so much as the famous chess match between the medieval knight Antonius Block and Death in Ingmar Bergman's 1957 classic film The Seventh Seal, set during the black plague. The absurdist course of these innocent games will end up determining the fate of these two tragic, lonely people who seem at any moment as if they could be each other's salvation.
The Gin Game is helmed by the award-winning Artistic Director of Sierra Madre Playhouse Christian Lebano, who probably didn't have to work too hard to bring out these masterful actors' perfect senses of timing and tone. There is not a false note in the show.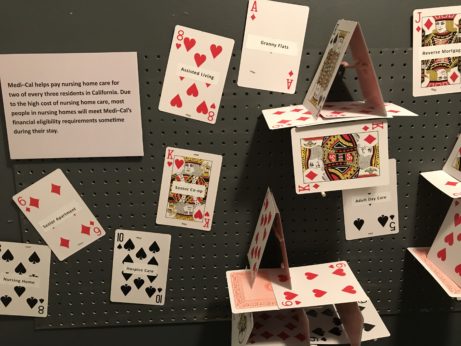 Tesshi Nakagawa's set is a true evocation of way too many tacky retirement home recreation rooms that we have all had the misfortune to visit, complete with an uncertain ceiling. Other production values are superb—sound, lighting, costumes. Matthew Raymond, listed as assistant stage manager, appears on stage silently in matching top-and-bottom uniform as an employee of the home as he resets the stage for each of the four scenes (in two acts).
In the lobby there is a creative display of artwork by older artists based on the deck of cards that shuffles its way so prominently throughout the play, as well as some imaginatively designed didactic material (by Diane Siegel) about aging in America—which, by the way, everyone in America is doing.
Seeing The Gin Game will lead almost any theatergoer to thoughts about how we treat our older population. It's no surprise that if you have resources you can live like noble kings and queens. Much of the anxiety in dog-eat-dog America stems from fears about aging in an insecure future: What will happen to me? Where will they put me? Will they cut my pension? Will I be dead broke? Will they take my house away? Will I be sick and abandoned, simply too poor to live and useless to society?
Everyone dies, but somehow I believe in other types of societies than ours there's a higher degree of guaranteed care that citizens can count on with confidence—not only in places that declare themselves socialist, but also in the social welfare countries of Western and Northern Europe that have not yet monetized everything.
These are good things to keep in mind as we have the chance in November to replace some of the hardest-hearted people we have ever seen in Congress, whose careers are founded (and funded) on making other people's lives as miserable as possible.
Fortunately the opportunity to contemplate such matters comes wrapped in a flawless production of a much loved classic of the American theatre.
In conjunction with the show, the Playhouse has scheduled a number of events. On Thurs., Sept. 13 at 7 pm is a free panel discussion on the arts of aging, moderated by Katherine James. On Thurs., Sept. 20 at 7 pm there will be an evening of gin, with game masters to tutor you in the game that inspired the play. On Thurs., Sept. 27 at 7 pm, a night of mahjongg.
The Gin Game plays Sun. at 2:30 pm, Fri. at 8:00 pm, and Sat. at 2:30 and 8:00 pm, closing Sat., Oct. 6 with the 8:00 pm show. The Sierra Madre Playhouse is located at  87 W. Sierra Madre Blvd., Sierra Madre 91024, just east of Pasadena. There is ample free parking behind the Playhouse, and several nice restaurants close by. For reservations call (626) 355-4318, or go to the theater website.