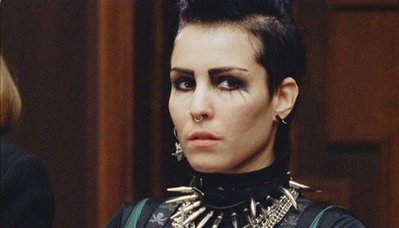 Movie Review

"The Girl Who Kicked the Hornet's Nest"
directed by Daniel Alfredson from the novel by Stieg Larsson
2009, Sweden, 148 min., rated R
My movie buddy, who read the book with the same title, was quite satisfied with the movie version, even though she said it left out quite a bit and left only a bare-bones film of two and a half hours. People who haven't read the book, or the two books in a series that preceded it, or seen the earlier two movies, may be a bit lost, and possibly even bored with this long suspense drama. They may not know the source of all the tension, and long courtroom scenes and computer messaging may not bring them to the edge of their seats, as it did those of us with previous experience.
Swedish stoic Lisbeth Salander, central and title character of all three films, Goth woman, continues her resistance to international political conspiracy and, even more important, worldwide male dominance. She is more than just the strongest women's character, she may be the strongest movie character of any gender ever!
I am reminded of the character Johnny, played by Marlon Brando in one of the greatest 1950s movies, "The Wild One." Johnny didn't smile until the end of the film. Lisbeth doesn't smile at all, although there may be a hint of a leer once when a psychopath chauvinist goes down.
A lot of the sex and violence that were so central to the first two movies is only referred to in the third. People die pretty much in the old fashioned movie way, off-camera or by clutching their chests and falling over.
Salander spends almost the entire movie in the hospital or in jail, so doesn't get to do as many action scenes as before. Our fascination with her grimly determined face and spare body movements, though, never falters.
We may be grateful that author Stieg Larsson finished the trilogy before dying, but we will undoubtedly wish there were more about Lisbeth Salander.
Photo: Noomi Rapace as Lisbeth Salander.