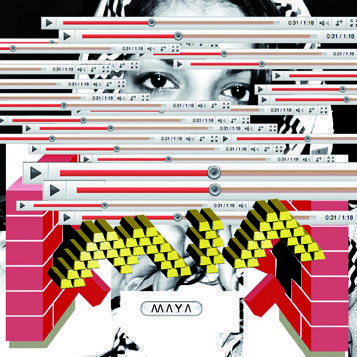 CD Review
"Maya"
N.E.E.T. Recordings
2010
"Maya" is the new CD from M.I.A., the Sri Lankan-British singer/graphic artist. Like her earlier efforts ("Arular," 2005 and "Kala," 2007), "Maya" is fun and engaging with moments of honest sweetness emerging from an overall mordant tone. However, despite the always-inventive sound layering and genre mash-ups, I felt less of a connection to the new release.
Best known for her 2007 breakthrough hit "Paper Planes," an infectious call for "Third World democracy" that was featured with her Oscar-nominated song "O, Saya" on the "Slumdog Millionaire" soundtrack, M.I.A. has of late garnered more attention for her feud with New York Times interviewer Lynn Hirschberg and for trashing Lady Gaga and Oprah Winfrey.
A recurring theme in M.I.A.'s songs is that of subjugated people of the global South/East using the tools and techniques of neoliberalism (mobility, militarism, the Internet, wireless technology, and drugs) to undermine the power structures of the global North/West. However, M.I.A.'s glossy celebrity status and marriage to an heir of the Seagram's liquor empire somewhat undercuts her street cred. Some on the left may dismiss her as indulging in postmodern "identity politics" – M.I.A. herself has said that her work explores her "otherness."
Indeed, M.I.A. herself is frequently the subject of her songs. She references her own "other" celebrity-hood when she sings, "You know who I am …" ("Steppin' Up") and "You want me be somebody who I'm really not," ("XXXO"). There's even a sinister allusion to her hubby in "Teqkilla" ("when I met segram/sent chivez down my spine"). I prefer the sappy side of M.I.A. My favorite song on the disc is "It Takes a Muscle," a song about love, not global politics or postmodern identity.
Still, M.I.A. continues to shout out on behalf of the world's oppressed. In "Meds & Feds," she sings in empathy with the economically/geographically displaced:
"while we become workers
you become golfers
the modern day coppers
beatin' on us for the papers"
Musically, "Maya" makes use of a wide assortment of genres and styles, among them reggae, electronica, "world music," digital hardcore, and punk. Songs feature layers of booming club beats, sampled sounds of power tools, jet engines, ring tones, and other fuzzy digital ephemera. M.I.A.'s singing/chanting/rapping is as inventive as the music. However, at times the electronic experimentation threatens to drown out her voice.
M.I.A.'s visual style is a striking element of her work. Her graphic art in the CD's accompanying booklet is a remarkable amalgamation of PC desktop visual clutter, cheesy computer graphics, and photography that suggests an insurgent aesthetic of global pop militancy.
Photo: The cover of "Maya."