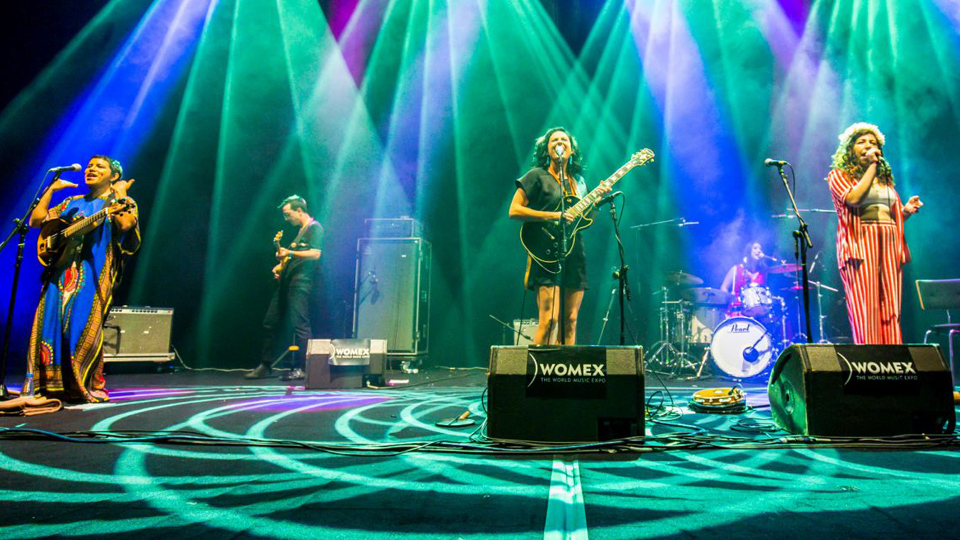 In 1999, as guest of the Goethe Institut, I traveled to Berlin to attend one of the first World Music Expos (WOMEX). At the time, there were maybe a couple of hundred delegates. The air was thick with cigarettes smoked by shaggy-haired European men who clearly had spent a lot of time in the 1970's trekking to far-flung corners of the globe to "discover and represent" folk artists.
In those days, the tiny "North American" contingent would meet for dinner around one table and scheme to create a network in the U.S. that would facilitate this same passion for "world music". We were struggling with how to import artists to the U.S., as the cost of doing it as individual presenters was prohibitive.
In subsequent meetings at the Association for Performing Arts Presenters (APAP), our nascent crew would grow members and interest and with time, we successfully worked to transform the U.S. booking industry. Arising from those early years of planning, breakthrough projects like GlobalFest (NY), the Chicago World Music Festival, the Lotus Fest (Bloomington, IN), Globalquerque (Albuquerque, NM), and an annual presence at South by Southwest emerged.
Around the country, major concert halls like the Symphony Center, the Kennedy Center for the Arts, Lincoln Center, the Hollywood Bowl and other main stage venues incorporated into their season the artists we had championed and worked to represent in the U.S. market.
Now in its 24th year, the WOMEX conference that travels to different European cities each October has developed as one of the most important gatherings of cultural workers anywhere on the planet. The summit attracts on average 3,000 booking agents, artists, talent managers, venue owners, festival curators, media representatives, filmmakers, curators, National arts agencies, record labels and others who work in international cultural production.
For four and a half days, the conference is organized into networking sessions, concert and DJ showcases, a trade fair, film screenings and opportunities for ad hoc meetings.
With the ascent of right-wing nationalism, WOMEX is an increasingly important antithetical statement and place to voice a clear distinction to these white supremacist tendencies. This year with registration at WOMEX from some 92 different countries, it was arguably one of the most crucially organized gatherings for progressive cultural policy.
In the several most recent years I have attended there have been many opportunities to learn from colleagues from areas of acute conflict and crisis. A panel I was leading on the "Occupy Movement" in 2013 was given over to a report from organizers of the Festival in the Desert outside Timbuktu, Mali given their desperate encounters with terrorism.
In 2016, when WOMEX was organized in Budapest, Hungary it issued a rare statement on behalf of the conference against the xenophobia and violence against immigrants (the statement is here.
The last two years some portion of the conference has been devoted to a discussion of cultural appropriation with the idea of developing a working set of guidelines for the topic.
This year also saw the emergence of a networking meeting among the African countries wherein possibilities for new festivals and touring options are growing under great young African leaders.
Sadly, however, learning of colleagues in Brazil facing the prospect of leaving their country was a low point this year as Brazil has been a major participant in the conference for decades. Their WOMEX offshoot Porto Musical (which I attended in 2004) has been significant in introducing presenters to a stunning array of talent from that country. HotHouse U.S. debut of Brazilian artists like DJ Dolores, Kassem. Moreno Veloso, Ceu, Maria Rita and others has been a direct result of this relationship forged at WOMEX.
It is indisputable that artists and cultural workers are leaders in smart diplomacy. As an industry that transcends borders, is creative, flexible and imaginative, our work has the potential to do much more towards moving to the center stage of geopolitical negotiations. It is time we advance this inherent asset more assertively.
This year I met with the leaders of WOMEX to encourage a path towards formalizing a key part of our work that has so far remained informal and as such a missed opportunity for the cultural industry.
From my vantage point of more than thirty years of endeavor in the field, I see that the redundant "points of pain" tend to remain unsolved. A summary can be found in the short list that follows: Venues replaced by real estate developers.
Visa barriers for touring artists.
Disappearance of traditions.
Cultural appropriation.
Nonpayment and collection issues with royalties and payments to artists.
Lack of health care, pensions and other safety net provisions for cultural treasures.
No financing for impactful projects.
Commercialization of radio and social media and barriers to entry for creative music.
Lack of touring funds.
Every year someone calls some meeting to discuss one of the items on the agenda and folks chime in on the problems. Where is the solution end of the equation?
We miss a great opportunity to not use our collective expertise to formulate power and new models for our work. It is time that we expand upon our proclivities to be great individual organizers and find ways to join these skills strategically. Just as we have built a global sector of cultural diplomacy, it is time to now build a global sector that is economically sustainable and viable politically.
It is crucial to mobilize what is inherently a progressive alliance around the globe into one that can articulate the sensibilities of a large number of people. I see WOMEX as being the platform to enable this development. By bringing a cohort of people who are inclined to advance an agenda of cultural sustainability, we can reduce the redundancy and ineffective recapitulation of "problems." As a collective voice, the recommendations for policy and practices will improve the outcomes of sustainability.