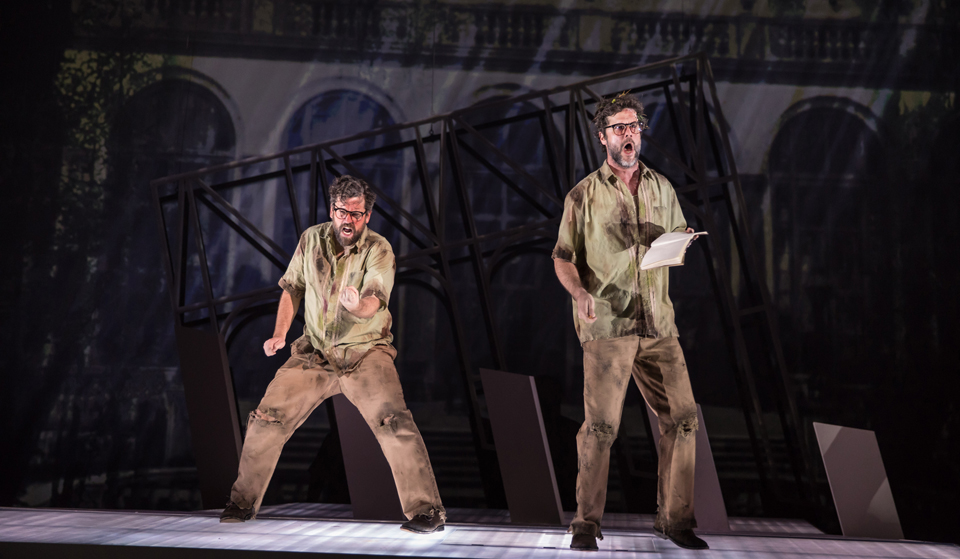 LONG BEACH, Calif.—Long Beach Opera (LBO) is currently offering the co-world premiere of The Invention of Morel, composed by Stewart Copeland, co-founder and drummer of The Police, with an English libretto by the London-based actor, director and playwright Jonathan Moore, who also directs the production.  LBO Artistic and General Director Andreas Mitisek conducts. The opera is a co-commission by LBO and Chicago Opera Theater, where the work had its other co-world premiere in February 2017.
The opera is based on the influential Argentinian author Adolfo Bioy Casares's 1940 novel La invención de Morel. If there's something about this opera that makes you think, "I've been here before," there are many reasons for that.
Casares (1914-1999) won the prestigious Buenos Aires Municipal Prize for his novel, now considered a classic in Argentine and Latin American literature which helped to usher in that continent's famous postwar "magical realism" literary boom. Critics also place his Dream of the Hero (Sueño de los Héroes, 1954) and Diary of the War of the Pig (Diario de la Guerra del Cerdo, 1969) among his best works. Casares was a close friend and collaborator of the fantasist writer Jorge Luis Borges, especially in the latter years when Borges was going blind.
Morel was Casares's best-known creation. It was adapted to film several times: L'invention de Morel (France, 1967), L'invenzione di Morel (Italy, 1974), and Alain Resnais' surreal film Last Year at Marienbad (1961). ABC's popular television series Lost (2004-10), about survivors of a passenger jet crash on a mysterious tropical island, features elements of the novel. During season four of Lost, one of the show's main characters is in fact seen reading Casares's novel.
In the story, a persecuted fugitive (Andrew Wilkowske) has escaped to this strange, unpopulated dot of land—possibly in the South China Sea, though it doesn't really matter—still fearful that his pursuers will discover and apprehend him for some unnamed crime (shades of Franz Kafka's The Trial). He is almost always paired on stage with an identically dressed Narrator (Lee Gregory), his Doppelgänger. Their music, almost always sung together, for they are apparently the same person, differs in that the Fugitive uses verbs in the past tense, while the Narrator speaks in the present.
The island has a deadly curse from which no one escapes: Everyone eventually comes down with a flesh-eating radiation disease which produces bloody, scrofulous sores that never heal and leaves only bones. The Fugitive, who has been on the island for some time, is covered with them, but not the Narrator.
One day, while exploring his surroundings, he observes a group of newly landed tourists in Flapper-era dress, members of the renowned scientist Morel's (Nathan Granner) party. The ensemble reminded me of the cast of the Twenties-set The Wild Party. Soon the Fugitive becomes infatuated with an elusive woman from their group named Faustine (Jamie Chamberlin), who resembles the Silent Era's vixen movie diva Louise Brooks, on whom Casares late in life admitted he had a crush. Yes, the name Faustine is purposely meant to evoke the Faust legend, for this weird encounter will indeed lead to a kind of eternal but, all things considered, perhaps not so unpleasant fate.
Suddenly, the tourists all vanish. Under the effect of the unbearable heat, the Fugitive fears that he is going insane. Then he discovers, in a large building with meeting rooms and a library, Morel's magical invention, by means of which the tourists have been photographed the entire time with a new kind of experimental 3D x-ray technology. The week that they have spent on the island, carousing, chatting, dancing the Charleston, beachgoing, will be endlessly looped, and that is how they will spend eternity, like doing nothing for all time to come but exactly recapitulating your tacky Club Med vacation.
Composer Copeland comments: "Music is the perfect way to create the effect of Morel's invention of never-ending time loops. The feeling of reality going around and around is how music works and provides a way to represent the overlapping and contrasting realities of the story. I've got a pretty clear idea of how music can drive emotion, which is why I'm so keen on opera—it's the most fun a composer can have with his clothes on."
The very title suggests circularity. Is the work about the invention that Morel created, or is it about the author's act of creating the character Morel?
The cast also includes Cedric Barry as Stoever, Doug Jones as Alec/Ombrellieri, Suzan Hanson as the Jean Harlow lookalike Dora, and Danielle Marcelle Bond as Duchess, all members of the Morel party. Only the Fugitive, the Narrator and Morel were holdovers from the Chicago co-premiere cast. A group of five supernumeraries playing various walk-on roles at a couple of points come on dressed as the U.S. Navy, which reminded me of Leonard Bernstein's dark 1952 one-act satire Trouble in Tahiti.
In a pre-performance conversation with Copeland, Moore and Mitisek, Copeland said that he and his collaborator updated the story from the 1920s, when Casares set it, to the 1960s, when, after two horrific world wars that culminated in the dawn of the nuclear age, large swaths of the world's population began to fear, rather than revere science. Copeland's 16-piece orchestra, propulsive, muscular, rhythmic, includes an electric guitar, which helped define 1960s music.
I didn't see it or hear it quite that way. Last Thanksgiving I attended dinner at the home of my niece and nephew, with their then four-month-old baby Naomi. Her father took 3D film of the entire dinner table with a dozen or more family members (including a few of her great-grandparents whom I might venture to say Naomi will likely not encounter again much past her childhood), and remarked that we live in an era when a person's whole life can now be easily documented visually and aurally every single day. And not only with cameras, but in various forms on social media as well. Without too much trouble we could all be converted to a hologram, or cloned for that matter. Much of this evidence of life can and will be preserved long after the breathing stops. Barring unforeseen circumstances, this review and every posting on People's World, not to mention thousands of other Internet sites, will be available to future humans long after their creators are gone.
We have all seen those cute figurines you can pose for in a 3D camera booth, that are created, color and all, by the process of 3D "printing." Those are but a fun application of this quickly evolving technology that already has extended an almost unfathomable reach into modern industrial production.
In that sense The Invention of Morel is not just a metaphysical sci-fi voyage into the unknown, and not just a mediation on mortality, but very much a commentary on our own times and conditions. Its implications go well beyond other "shipwreck" works such as The Tempest, Treasure Island, The Island of Dr. Moreau, The Blue Lagoon, or Gilligan's Island. As the Fugitive continues writing in his journal, he believes his notes will one day be found, like a message in a bottle (the name of a Police song, by the way). That was the only way he knew to conceivably ensure his immortality and provide a record of "this adverse miracle." Death would ultimately be a small price to pay for spending eternity with Faustine.
Storyline aside, an opera stands on its music. Copeland has written in this probably his best score for the stage, a haunting skein of enchantment that wraps a listener up in it. The sound-world he evokes is consistently interesting to the ear and expressive. I hesitate to call it a masterpiece, because such works are rarely born but grow over time. As more companies adopt this work in their repertoire, I believe it will come to be seen as a modern musical statement of seminal importance.
Alan E. Muraoka designed the well integrated, functional set, a couple of platforms with a projection screen at the rear of the stage. The most defining feature was a row of five white rectangular stelae poking up from the dunes, suggestive of gravestones or perhaps prehistoric statues à la Easter Island. Adam Flemming did the evocative projection design.
A video about the creation of this opera can be viewed here.
Two performances remain: Sat., March 24 at 7:30 pm and Sun., March 25 at 2:30 pm. The Beverly O'Neill Theater is located at 300 E. Ocean Blvd., Long Beach 90802 in the Performing Arts Center. Runtime is 90 minutes, no intermission. One hour before each performance is a talk with Andreas Mitisek. Tickets can be purchased either by calling the LBO Box Office at 562-470-7464 or by going online to the LBO website. Student Rush tickets for $15 will be available space permitting.