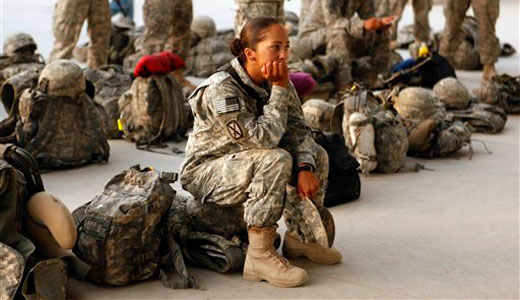 With almost all U.S. troops leaving Iraq by year's end, a most painful chapter in American military adventurism is closing. Families and friends of the returning troops, and everyone in our country, will have extra reason to celebrate this holiday season.
"We knew this day would come. We have known it for some time now," President Obama told troops arriving at Fort Bragg, N. C. Dec. 15. "But still, there is something profound about the end of a war that has lasted so long."
And, we might add, didn't even have a credible pretext.
President Obama deserves praise for fulfilling his promise to end a war he opposed before he even started campaigning for the presidency.
But many question whether that promise has been completely realized.
Some have wondered whether, with the world's biggest embassy in Baghdad and an acknowledged 16,000 diplomatic personnel around the country, Washington is trading a military presence for a State Department one.
Nor is the drastic cut in military forces necessarily the end of the story.
Defense Secretary Leon Panetta has said he expects some 40,000 U.S. troops to be stationed around the Middle East after troops leave Iraq. Negotiations were underway this fall for more U.S. troops in Kuwait. The Pentagon and State Department are said to envision a multilateral security alliance linking the U.S. with the six-nation, Saudi-led Gulf Cooperation Council.
U.S. arms sales to Iraq have been escalating for several years , including jet fighters, transport aircraft, missile-armed helicopters and tanks.
And talks for more U.S. troops in Iraq could resume after the first of the year.
What have been the results of this nearly nine-year war? Nearly 4,500 U.S. troops, and at least 100,000 Iraqis, have died. Over 32,000 U.S. troops, and countless Iraqis, have been wounded. Costs to the U.S. may reach $3 trillion. Iraq's economy and infrastructure have been savaged, its population uprooted and many exiled.
Undoubtedly many soldiers will end up in Afghanistan, or elsewhere around the world. Others will return to a country where large numbers of vets are jobless and/or homeless, and needed medical treatment is hard to come by.
As we welcome the troops' departure from Iraq, we call on the president and Congress to bring all U.S. troops home, to assure them job training, jobs and the all-around care they need to return to civilian life.
And most importantly, to once and for all change our country's foreign policy to one of peace and cooperation around the world.
Photo: U.S. Army Sgt. Alma Santiago, 25, from Worcester, Mass., with 2nd Brigade, 10th Mountain Division, waits at Baghdad International Airport as her unit begins their journey to the United States, July 13, 2010, as part of the first wave of troop withdrawal. (AP/Maya Alleruzzo)