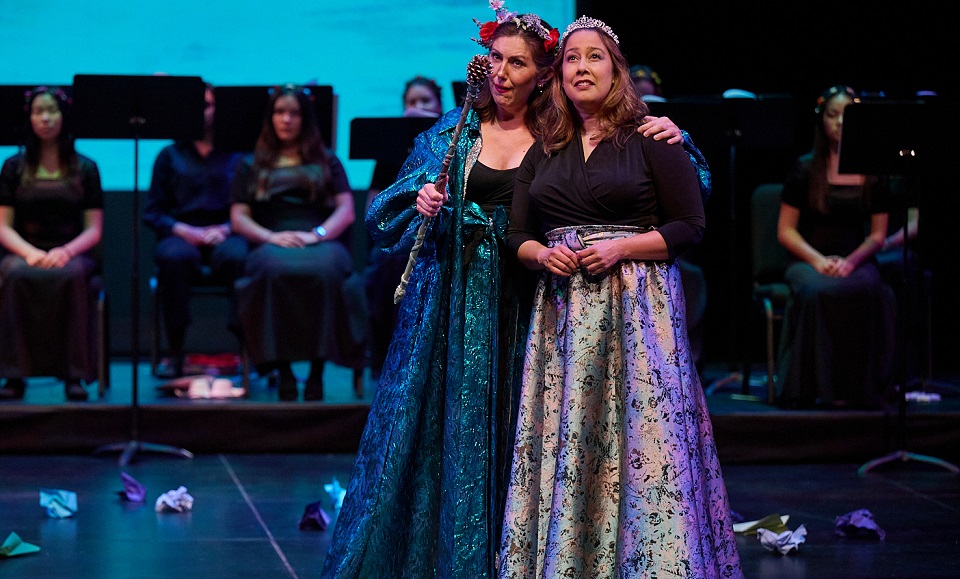 BEVERLY HILLS, Ca. —  For one night only, March 3, at the Wallis Annenberg Center for the Performing Arts, an audience was able to experience what was billed as a "World Premiere 155 years in the making."
The work in question was The Last Sorcerer, or Le dernier sorcier in the original French. The Sing for Hope production had its glitches, but the takeaway is that this 75-minute opera should really start getting professionally staged, perhaps added to a double bill with another one-act opera.
Pauline Garcia (1821-1910) was one of the superstars of 19th-century opera. She added her married name of Viardot and was variously referred to as Pauline Garcia Viardot or Viardot Garcia (with or without a hyphen—the accent mark on García had been dropped early on). She came by her musicality readily enough: Her father Manuel García was a Spanish tenor, composer and singing teacher, whose books of vocal exercises helped train generations of singers all the way through the 19th and 20th centuries, and possibly still. Her older sister (by 13 years) was the acclaimed operatic diva Maria Malibran.
Trained as both a pianist and singer, Garcia-Viardot (simply "Viardot" below), was well traveled. As early as 1826, she had sailed to New York, and then to Mexico, for her family's performance of Mozart's first Don Giovanni in the Western Hemisphere. She was renowned worldwide, premiering mezzo-soprano roles in operatic works by some of the most famous composers of her day. She knew everyone of account in the literary and musical world. Her household with husband Louis Viardot and four children also included Russian novelist Ivan Turgenev, who heard her in 1843 in Russia as Rosina in The Barber of Seville and later moved to Paris to be near her, actually living with her and her family. Most sources credit them with being lovers.
In the late 1860s, Viardot turned her composing attention to a series of "salon" operas, small-scale works that could literally be performed in a small space. This libretto, as well as those of two other operas from this period, Trop de femmes (Too Many Women) and L'ogre (The Ogre), is by Turgenev, an added inducement of interest for future productions.
Officially retired from the stage as of 1863, Viardot left France with her family because of Monsieur Viardot's public opposition to Emperor Napoleon III. They set up house in Baden-Baden, Germany, and it was in Turgenev's villa there, in 1867, that Le dernier sorcier received its premiere, with Viardot at the piano, the only instrument for which the piece is scored, and her children and students performing the vocal roles. In attendance were Franz Liszt, Johannes Brahms, Clara Schumann, Hermann Levi, and Kaiser Wilhelm I. In fact, according to Camille Zamora's program note, in 1869 and 1870 there were a couple of "clumsily translated, poorly received German-language performances of the work in Weimar and Karlsruhe." So technically one cannot really say that Beverly Hills hosted the "world premiere," though it surely is so in anything close to its original form, with professionally trained singers and in French. Still in Germany, three years later, Brahms recruited Viardot to sing the solo alto part (with men's chorus and orchestra) in the first public performance of his Alto Rhapsody. After Napoleon III's fall in 1870, the Viardots returned to Paris.
The opera's vocal/piano manuscript was held in a private collection for over a century, vanishing without a trace, until acquired several years ago by Harvard Library, which gave Sing for Hope co-founder Camille Zamora permission to transcribe, publish, and produce it. That rediscovery led to a recording on CD (Bridge 9515) featuring Eric Owens as the Sorcerer, Zamora herself as the Fairy Queen, and several others.
The story is rather unusual, resonating uncannily with values perhaps more of our own day than of its own time. It is a fairy tale, but of a lighter, more lyrical and gentler tone (think Cinderella or Sleeping Beauty) than some of the terrifying Grimm stories that could bring nightmares to children. Formally in two acts, but more practically performed in one, the opera revolves, in Zamora's summation, "around Krakamiche, a once-powerful sorcerer, whose presence in the great woods has upset the fairies, the forest's rightful inhabitants, and disturbed the harmony of the land. Through the combined efforts of the fairy folk and their queen, the sorcerer's daughter and her prince, and a hapless valet, Krakamiche ultimately learns key truths about humility, love, and living in harmony with the natural world." With a nod to Stephen Sondheim, this musical theatre piece is "Out of the Woods."
It does not take great leaps of imagination to conceive of the opera as a critique of European occupation and settler colonialism and the wasting of Indigenous lands for material gain. It was Napoleon III, after all, who installed Austrian archduke Maximilian I as Emperor of Mexico in 1864. Zamora speaks of the opera as centering "on themes of power and progress, gender and equality, and the restoration of natural order in an ever-changing world—a feminist, eco-fable in operatic form."
Sing for Hope is a leading "arts peace corps" that creates initiatives—including Pianos in Parks and Public Spaces from Beverly Hills to the Bronx to Beirut—that promote the mission of art for all. A key aspect of the production design features the creativity of children and youth, and their power to effect positive change in the world. A video screen at the back of stage displays artwork created by local K-12 students from across the Greater Los Angeles area as part of Sing for Hope's UN Sustainable Development Goal Arts Curriculum. The pictures illuminate the opera's themes, particularly through the curriculum's goals of gender equality and climate action.
Camille Zamora and Sing for Hope Director of Education Sharyn Pirtle directed the production, with musical direction (and a vigorous 75-minute-long stint at the piano) by Lucy Tucker Yates. Zamora also penned an English-language narration that was performed by Emmy-nominated actress Monique Coleman, archly punctuating the action story-book-style.
Zamora returned to her role as La Reine, the Queen of the Fairies, and Sing for Hope co-founder Monica Yunus played the soprano part of Stella, Krakamiche's daughter. Both women have served as 2022/2023 Wallis Artists-in-Residence, with this production the cornerstone of their presence here. The production also featured baritone Babatunde Akinboboye, creator of Hip Hopera, in the title role of the Sorcerer, soprano Julia Johnson as the dashing Prince Lelio, tenor Karim Sulayman as the addlebrained valet Perlimpinpin, soprano Anastasia Malliaras as the queen's adjutant Verveine, and the Los Angeles Children's Chorus Chamber Singers (Fernando Malvar-Ruiz, artistic director) as the woodland fairies.
The résumés of some of these singers are truly impressive— Metropolitan Opera, Los Angeles Opera, Orchestra of St. Luke's, London Symphony Orchestra, Guadalajara Symphony, St. Louis Symphony Orchestra, American Symphony Orchestra, NPR, BBC, Deutsche Radio, Sirius XM, the Ellen DeGeneres Show, the Lagos Chamber of Commerce & Industry awards in Lagos, Nigeria, the International Eisteddfod Vocal Solo Competition in Llangollen, Wales, praises in The New York Times and Opera News, to name but a few. Among her numerous artistic distinctions, Yunus also happens to be the daughter of the 2006 Nobel Peace Prize Laureate Muhammad Yunus.
Again in Camille Zamora's words, "There could be no better way to celebrate Women's History Month and our Artist Residency at The Wallis than with this rediscovered operatic treasure by one of the great unsung (s)heroes of the nineteenth century. We sense Pauline García Viardot smiling down on our rehearsal process!"
A "glitch" that I mentioned above was that the announced Prince Lelio had taken ill, and Ms. Johnson filled in at 36 hours' notice—courageously, though she had to use the score on her hand-held device, meaning that the staging was somewhat less fluid and natural than anticipated. Also, a quartet toward the end, when the principals of the cast had only come to town and had but a single rehearsal together, was sung with scores in hand. In addition to the narration, supertitles with the translation of the libretto into English also might have helped.
So what is this music like? Well, it is certainly of its time, with both lyrical and dramatic solos, a humorous aria for the simpleton Perlimpinpin, charming choral interjections from the women's ensemble, romantic duets in the style of Gounod, a quartet inspired in form by composers such as Donizetti or Verdi, a mad waltz (French opera always had to include a ballet). Though the fairy woodland setting might suggest a parade of insipid melodies, the title character has some truly effective solo arias as he faces his decline as a sorcerer. Akinboboye was in high form as he fecklessly waved his stick about in his dotage trying to summon up his old incantations that used to work so well but don't any more. And the character of Stella, the Sorcerer's daughter, as well as the Fairy Queen herself with her own spells to cast, were certainly no pushovers either. Though gentle in spirit, the opera's messages are strong.
While no apology need be made for Viardot's score, a larger exposure of the work would probably demand that someone be commissioned to compose an orchestral version to lend the piece a certain needed valence. I think it could stand alongside other "fairy" operas such as Hansel and Gretel or Cinderella in its several versions, or Gilbert and Sullivan's Iolanthe as eminently stageworthy, though owing to its length it would best be paired with another piece—something light, like Menotti's Amelia Goes to the Ball or Puccini's Gianni Schicchi, or a one-act by another woman composer. Or maybe stand alone for children's and family audiences as an introduction to opera.
Hats off to all for a job well done. I only hope the opera world takes notice.
People's World has an enormous challenge ahead of it—to raise $200,000 from readers and supporters in 2023, including $125,000 during the Fund Drive, which runs from Feb. 1 to May 1.

Please donate to help People's World reach our $200,000 goal. We appreciate whatever you can donate: $5, $10, $25, $50, $100, or more.