Jonnie Lumpkin Ellis, known by her adopted name of "Pat," died Aug. 29, 2005, in Chicago.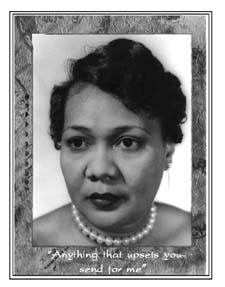 Jonnie was one of 10 children. Her parents, Hattie and Elmo Lumpkin, raised their children to reject racism and ideas of "racial inferiority." That took a lot of courage in the 1920s, since they lived in the orange groves of Orlando, Fla. Jonnie wanted to "change the system" but until she met the Communist Party, she was fighting alone.
Jonnie faced a big challenge in 1939. Her brother-in-law, Taft Earl Rollins, returned to Fort Bragg, N.C., unaware that a racist riot was raging. The Army sent his body back to Orlando with no explanation. Sergeant Lee, who accompanied the body, had strict orders to keep the casket closed.
Jonnie defied the orders, opened the casket and saw that Rollins' head had been smashed in. It was a lynching, not an accident. Jonnie did not let the Army cover up the crime. She insisted on an open casket funeral. At that time, the Ku Klux Klan marched regularly in Orlando to intimidate the African American community. Jonnie's courage, and the bravery of the Lumpkin family that backed her, were legendary.
Jonnie moved to Buffalo with her family in December 1941. The Japanese attack on Pearl Harbor had plunged the U.S. into World War II. She got a job as a housekeeper for a couple with a new baby. The couple were union organizers and members of the Communist Party. Jonnie soaked up their message of class struggle and socialism. She had looked for it all of her life. She joined the Young Communist League in Buffalo and rapidly rose to leadership.
Soon after, Jonnie answered the call for women to work in war industry. Their help was needed to win the war against fascism. She was hired at Bell Aircraft in Niagara Falls and put to work as a sweeper. Eight white women hired at the same time were put in production work. That was discrimination, but Jonnie Lumpkin could not fight it alone. When the United Auto Workers organized the 7,000 workers at Bell Aircraft, she helped. She became a shop steward. Then she filed a discrimination complaint with the new Fair Employment Practices Commission (FEPC).
The FEPC came to the plant and investigated. That same day, Bell Aircraft upgraded 233 African Americans from janitors to production work. Jonnie went to work in the gun room and learned riveting and other skills. After the war, women at Bell Aircraft and other war plants were laid off. Jonnie charged that failure to fight for women's rights opened the way for Taft-Hartley and other union busting laws.
Jonnie Lumpkin married Henry Ellis, the love of her life, in 1947. He was a decorated war veteran who had stormed the beaches of Normandy, fought in the Battle of the Bulge and marched all the way to Berlin. She convinced him to join the Communist Party. Two years later, her baby was stillborn. She had no other children. She became a second mother for many of the children in her extended family. Jonnie provided the glue that kept the family together after her mother, Hattie Lumpkin, died.
In 1950, Jonnie became the organizational secretary of the Communist Party of Harlem. The party was short of leaders after the arrest of 11 under the Smith Act. Later, the Supreme Court declared the Smith Act unconstitutional. That was too late for the Communist leaders who suffered for years in federal prisons. In Harlem, Jonnie and Henry were known as "Pat" and "Al" to avoid harassment by the FBI. They kept those names.
In 1955, Pat and Al Ellis moved to Chicago and put down permanent roots. Soon after they arrived, the murder of 14-year-old Emmett Till shocked and angered decent people all over the world. Pat encouraged Mamie Till Mobley, mother of Emmett, to have an open casket funeral. Mamie Till Mobley's brave act triggered a huge protest. The protest led to the great Civil Rights Movement of the '60s and '70s.
Until her illness, Pat Ellis remained a community activist. She was a community representative on the Labor-Community Coalition to Save Our Schools. She served as organizational secretary of the Illinois Communist Party for many years.
Patricia Jonnie Ellis is survived by her sisters, Elizabeth (Bay) Rollins and Bess Slifkin, her brothers Frank Lumpkin and Warren (Sam) Lumpkin, and 55 nieces, nephews, grand nephews, grand nieces and a host of friends and comrades she inspired by her example.
A memorial meeting was held Sat., Oct. 29, at 2 p.m. at Unity Center, 3339 S. Halsted, Chicago.