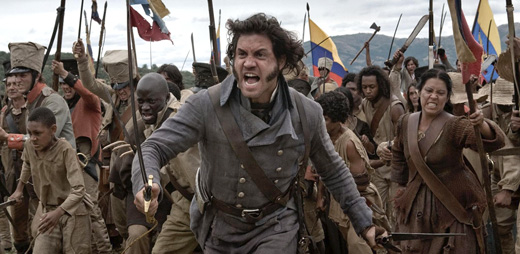 Film fans rejoice – the Simón Bolívar biopic The Liberator, which U.S. premiered at the LA Film Festival, is the state of the art for progressive motion pictures.
The Venezuelan/Spanish co-production stars Caracas-born Edgar Ramírez (Emmy- and Golden Globe-nominated for the 2010 biopic Carlos, about the terrorist called "Carlos the Jackal"), who also executive produced the film. Using a flashback structure, Libertador (as it is called in Spanish in this Spanish-language film with some spoken English and French subtitles) follows Bolívar's evolution from the spoiled scion of a plantation-owning family into a sort of early 19th-century Che Guevara.
Prodded by his philosophical teacher Simón Rodríguez (Francisco Denis) and the social injustice he witnesses, the Venezuelan evolves into the leader of a liberation movement to end Spanish colonialism in South America and to establish "Gran Colombia," a continent-wide republic based on the best ideals of the Enlightenment and of the American and French Revolutions.
In addition to top acting, The Liberator has high production values, with stunning cinematography, including soaring aerial camerawork by the Spanish director of photography Xavi Giménez as Bolívar's army, Hannibal-like, crosses the Andes. The artistry of production designer Paul D. Austerberry and costume designer Sonia Grande combine to realistically render a sense of early 19th-century Madrid, Paris, and South America, which is so vital for this period piece.
The talented international crew includes Indian editor Tariq Anwar, who has cut action-packed battle sequences full of riveting montages. Gustavo Dudamel, music director of Venezuela's Orquesta Sinfónica Simón Bolívar and conductor of the Los Angeles Philharmonic, composed The Liberator's original score. At the LAFF U.S. premiere a bearded, dapper Ramírez called Dudamel "a genius who breathes music in every atom. The music is almost another character in the film."
The Liberator's screenplay was written by U.S.-born Timothy Sexton, who co-wrote 2014's Cesar Chavez, as well as the 2006 TV movie Walkout (about L.A.'s historic Chicano student strike in 1968) and the 2001 made-for-TV Civil Rights movie about Dr. King, Ralph Abernathy, and Rosa Parks called Boycott. The Liberator is skillfully directed by Caracas-born Alberto Arvelo (2004's Habana, Havana).
In addition to the gifted Ramírez, the cast includes actors Western audiences might be familiar with: Danny Huston as Torkington, a gambler/profiteer and/or British agent provocateur; Gary Lewis portrays James Rooke, a Dublin-born soldier who led a sort of "International Brigade" as part of Bolívar's liberation forces; and Venezuela-born Steve Wilcox plays a character called the Black Rider.
In addition to gripping combat sequences, The Liberator includes tender, sexy love scenes with some nudity, as it tells Bolívar's story as both a freedom fighter and as a man. Spanish actress María Valverde plays Bolívar's wife. During a later part of the title character's life, Colombia-born Juana Acosta portrays Bolívar's lover Manuela Sáenz, whom Bolívar called "liberator of the liberator" after she saved him from an assassination plot that opens the picture. Significantly, the film also depicts Black characters as part of the South American milieu and population, with Zenaida Gamboa rather sympathetically playing Bolívar's adoptive mother, Hipólita.
With its big-screen historical epic sweep and larger than life characters, The Liberator is a sort of left-wing Gone with the Wind, with the important differences that most of the former's actors depict actual people in a fact-based drama and, unlike GWTW, the Bolívar biopic is on the side of the oppressed, not the slaveholders. It is an important history lesson artfully taught with cinematic lightning-and Dudamel's thunder. This Venezuelan co-production can also be seen as a testament to Hugo Chávez's Bolivarian Revolution, and as an example of 21st-century revolutionary culture.
Prepare to be liberated: The Liberator is tentatively set for theatrical release in the U.S. on August 22. Viva Bolívar!
The Liberator
Director: Alberto Arvelo
Writer: Timothy J. Sexton
Stars: Édgar Ramírez, Erich Wildpret, María Valverde |
Photo: Still from film.