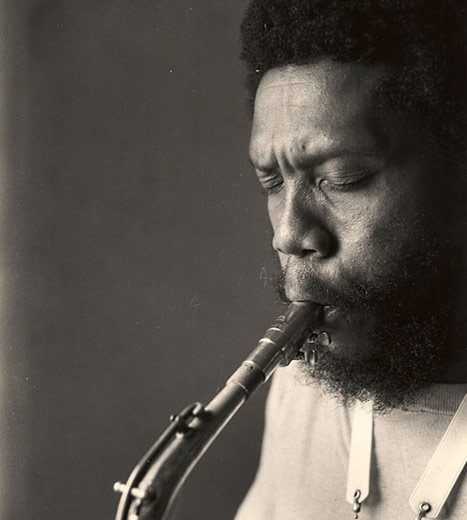 A favorite elder statesman and unsung hero of Free Jazz, who served as a powerful conduit between the Black Arts Movement and the Downtown avant garde, passed away suddenly on November 19, just days shy of his 76th birthday. Will Connell had been planning a week-long residency over the Christmas season at the Stone in New York City, intended as a retrospective into his 50-plus years in the music as well as a showcase for his current projects.
Highly beloved by all who knew him, Connell's residency on December 23, 26, 27 and 28 will proceed with him in spirit. The musicians slated to be involved in this very important series of concerts have vowed to keep his vision alive. John Zorn, owner of the Stone, is in full agreement. The four-day program is now called the "Will Connell Memorial Week: Celebrating the Life and Music of the Heart and Soul of Downtown." Proceeds will serve as a fundraiser for Will's family.
Will's life and music were threaded through the quest for social change. More about Connell can be found here in John Pietaro's obituary, recently published in All About Jazz.
Saxophonist/bass clarinetist/composer Will Connell, Jr., came of age in the 1960s as an invaluable part of Horace Tapscott's organization and the Los Angeles Black Arts Movement, and stood as an underground giant of New York's Free Jazz and New Music circle since 1975.
The son of a violin prodigy deprived of the profession by racist politics, Will Connell, Jr., became aware of both music and the struggle for justice as a child of the 1940s. Jazz served as a source of art and great pride for the African American community, and its impact on Connell was nothing short of visceral: "I heard Billie Holiday at 17. Tears ran down my face like Niagara Falls," he recalled. That same year, 1956, Connell joined the U.S. Air Force, serving nine years. In between tours he purchased an alto saxophone but didn't dedicate himself to music until surviving a chemical blast that blinded him for several days. Lying in an Air Force hospital in darkness, Connell vowed that if he regained his eyesight, he'd formally study this art that had driven him so deeply. This and the gnawing outrage about the military's treatment of Black servicemen led to his decision rejoin civilian life.
The variety of sounds to be performed during the tribute week embodies Connell's stage and studio life. His résumé sported gigs with Cecil Taylor, Sam Rivers, David Murray, William Parker, Charles Gayle, Chico Hamilton, and Anthony Braxton. A core downtown figure, Connell also engaged James Chance, Minor Threat, Black Flag and Ryan Adams in creative endeavors – a performance pedigree ranging from Hip Jazz to New Thing to No Wave, from basement clubs to the Newport and Moers festivals to nationwide TV broadcasts. Connell also worked as a music copyist, laying down the score for Ornette Coleman's "Skies of America," the World Saxophone Quartet, and many of Motown LA's best.
The December 23 programs, at 8 and 10 pm, will open with words by Will's daughter, poet and actor Safiya Martinez, and then move into two powerful sets by Will's 13-piece band, the Dark Tree Ensemble. This collection of works, "World Peace, With or Without People: Music from the Legacy of Horace Tapscott," is split between L.A. compositions and those from Will's nearly 40 years in New York. This world premiere promises to be a historic statement for these years of ongoing global conflict.
The residency continues after Christmas from the 26th through the 28th. The focus will be on Connell's collaborations with other artists over the years, in large assemblages and intimate combos. The sounds range from free to world music, new composition to latter-day Beat poetry to exploratory visions.
On Friday, Dec. 26, the 8 pm concert features I.C.E. – Improvisational Composers Ensemble. At 10 pm, the Sadhana ensemble.
On Saturday, Dec. 27, the 8 pm program features the Jazz & Poetry Choir Collective. At 10 pm, the group TranceFormation.
On Sunday, Dec. 28, at 8 and 10 pm, Jorge Sylvester's ACE (Afro-Caribbean Experimental) Collective.
The Stone is located at the corner of Avenue C and 2nd Street, New York 10009. For further information, contact (212) 473-0043; www.thestonenyc.com.
Admission for all concerts is $15.
Photo: Point of Departure