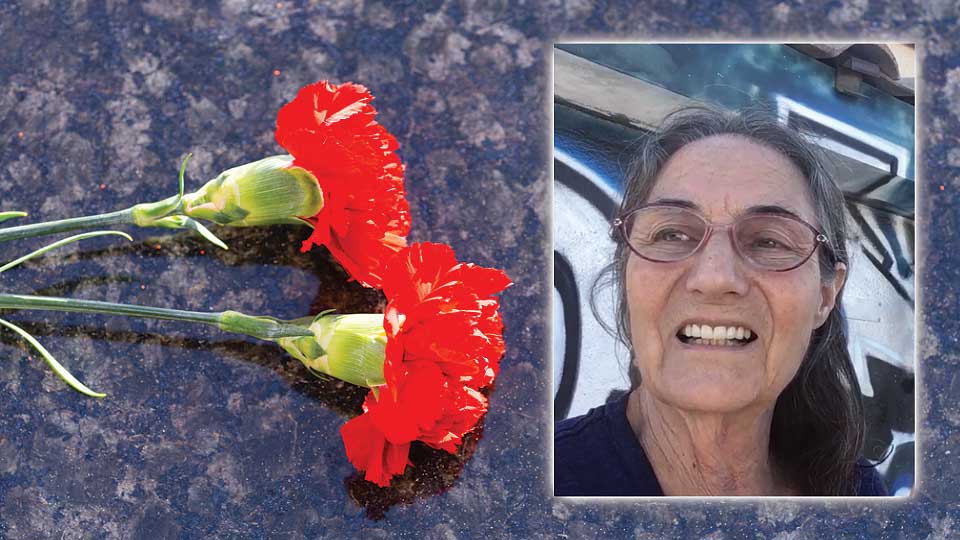 LOS ANGELES — Beloved comrade Paula Solomon (1946-2023) was memorialized by a crowd of about 50 people at the historic activist First Unitarian Church on Sept. 3. An array of speakers attested to her character, dedication, and steadfastness over an entire lifetime of positive contribution to people's movements.
But first, let's just get the essentials out of the way. The little program booklet said it all: The rest is commentary.
Paula loved:
Her family/friends,
The people of the world,
The struggle for peace and justice,
Cuba,
Global solidarity,
Water, especially the ocean,
Trees, flowers, and other forms of nature,
Che,
Fidel,
Chocolate,
Singing, especially with friends,
The color purple,
Latin America,
Being in Cuba,
Unions and other organizations of struggle,
Being on a ship or boat,
Reading or hearing about Cuba,
Rainbows in the room from hanging glass crystals,
Sparkly things, (she once revealed that was a secret delight),
Working jigsaw puzzles,
You.
Paula was loved by:
Just about everyone who knew her.
Paula was the ultimate "red diaper baby," born to Lee and Will Solomon, both Communist Party members and activists in Los Angeles. Will had been blacklisted on the L.A. waterfront and was often out of work, and it was her mom Lee who seemed to be the greater influence on young Paula. One of Lee's projects was the founding of the People's College of Law, a law school established to teach students how, as lawyers, to help ordinary people—workers, tenants, students, immigrants, members of oppressed groups—rather than the rich and the corporations. In later years, as part of her commitment as a Communist, she served as the volunteer college registrar. Several lawyers attending her memorial were graduates of that college and remain active in people's movements today.
Will and Lee owned a modest six-unit apartment building on a busy street in Central L.A., and Paula inherited it. As her parents had done, Paula ran the building almost like a commune, offering affordable housing to kindred spirits, and lifelong caring for those, like comrade Esther Cicconi, who was able to age in place there with "a little help from her friends."
Several of those tenants, past and present, testified to the warmth and solidarity shared in that special building. Paula's daughter Fawn, among the first speakers, was largely raised there and knew all its occupants well. (She doesn't especially like life in the big city, however, and settled in Northern California a long time ago.)
Another resident of the building, activist and writer Carolfrances Likins, who became one of Paula's closest companions, cohosted the memorial with Hop Hopkins.
Adalila Zelada García, a friend whom Paula called "my daughter from another mother," came to the U.S. with her family as immigrants from war-torn El Salvador. She noted "the array of people that Paula had the capacity to bring together. She was a nice person, but she was doing it with the intention of supporting us in our collective liberation. Her own freedom was bound up in everybody's freedom. She taught me the capacity to love many people—her love was boundless. I try to live that legacy every day."
Adalila knew Paula intimately well and announced that for all her goodness as a person, Paula did have negative words for a few select things, which she named: polyester, patchouli, and The Grateful Dead. Possibly not in that order. And Adalila also recounted that Paula was one of those people (and this resonated strongly with me, I admit) who appreciated memorials for loved ones as a way of better learning their histories and as an object lesson for the kind of life we can carry forward in their memory.
A couple who had lived in Paula's building, Terre and Peter Lownds, also spoke and read poems in her honor. Terre related that she once asked Paula if she was related to King Solomon. "Probably," Paula answered with a straight face. "Even as we grieve," Terre recited, "we groove. Even as we tire, we try." Peter, calling Paula "a consistently courageous person," also stated that his great-grandfather was named Zalmen Solomon—so maybe they too were even related somewhere along the line.
Several speakers rose to thank Paula in Spanish for her consistent support over a lifetime for the Latin American struggle for justice and freedom. She participated often in the Venceremos Brigade in Cuba and overall visited the socialist nation in the Caribbean nearly 20 times. Many of the Los Angeles activities in support of Latin American liberation had been centered right here in the Unitarian Church. "We felt strengthened," said Ricardo Zelaya. "Let us continue to struggle."
Other speakers told endearing anecdotes about Paula. Union member Barry Schier, recalling Paula's participation in Labor Day and other solidarity marches, once asked Paula, who was a member of the International Brotherhood of Electrical Workers, if she minded that "B" word in the union's name. "No, I don't care about the 'B' word at all," she replied, "because in my mind it stands for 'Bunch.'"
Cousin Judy Rogers, Mario ("I'm not saying goodbye, Paula, I'm saying 'Hasta la victoria siempre!'"), Julieta ("Doing the right thing is good for us all"), Noemi García, Marian Gordon (no relation), Phil Way (who recalled Paula singing all the old union songs at the Sunset Hall retirement home for aging lefties), all shared their poignant memories.
Out of my own bank of recollections about Paula, I singled out one anecdote to share. When I served as director of the Workers Circle/Arbeter Ring in L.A., I liked to hire union people for any jobs we needed (and if they were Commies, so much the better!)—Oneil Cannon for our printing, for example, and Paula to repair some of our building's electrical outlets. When she arrived, dressed in her overalls with a heavy leather work belt slung around her waist, she said, "I could do this job at regular union rates—or I could do it just out of friendship and solidarity. Which will it be?" I did not hesitate for a moment. "How about both?"
More than one attendee remarked that Paula had died on March 8th of this year—International Women's Day. Paula Solomon was as close to being the perfect comrade as humanly possible. She will be missed—and truly never forgotten.