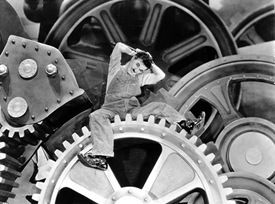 "We have more power because we know more. They've given me earplugs for the noise at least."
The speaker of those words is Venezuelan metalworker Miguel Moreno. He had recently attended a showing of Charlie Chaplin's classic 1936 film, "Modern Times," that resulted in his making some demands at his workplace.
The film showings are the latest project of President Hugo Chavez's government aimed at empowering the workers by informing them of their rights. The project is being sponsored by a new agency of the Labor ministry which says Venezuelan workers need all the power they can get, citing the more than 1,500 workers that are killed and the thousands injured yearly in industrial accidents.
The mover and shaker behind the film showings is Jhonny Picone, a top Labor Ministry official. He says the grim and dehumanizing factory conditions depicted in the film are the "norm" in Venezuelan factories.
Under Picone's leadership the film has been shown 1,000 times in 14 states and has educated workers as to their health and safety rights.
Chavez's detractors in the business sector complain the film is an example of the president's simplistic, outdated and business-unfriendly policies. Sound familiar?
But for 29-year-old minimum wage worker Roberto Maldano, who works at a poultry plant, the Little Tramp has also made a difference. "Charlie Chaplin ends up crazy, and I feel that way too sometimes," he said. After watching the film and hearing the talk given by the Labor Ministry officials, he felt empowered enough to demand gloves and soap from his employer-and got them.
Welcome back, Charlie.