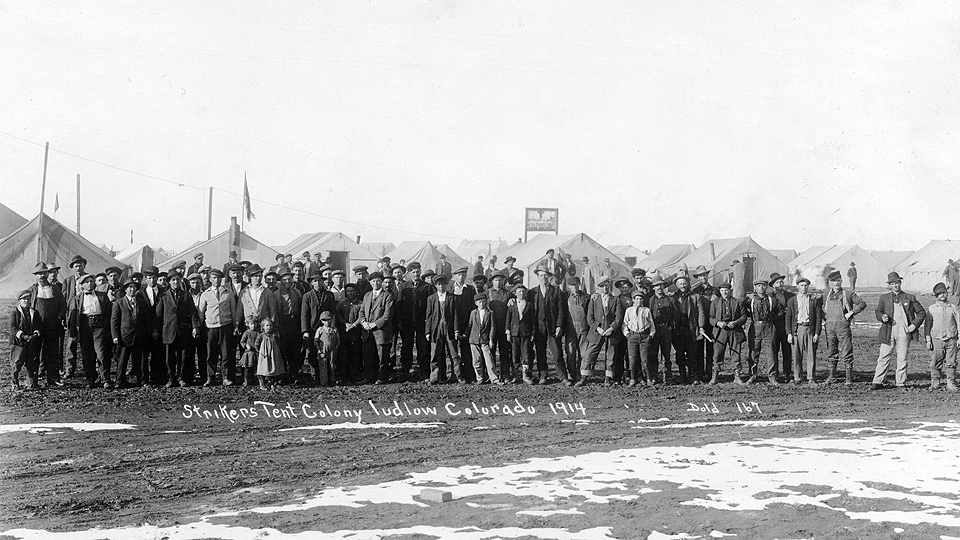 This article was first posted on Peoplesworld.org April 18, 2014.
LUDLOW, Colo. (PAI) – It's neither unpatriotic nor exaggeration to remember the Ludlow Massacre 100 years ago this week. The tragic, brutal and deadly attack on striking miners and their families shocked, saddened and outraged working people and most Americans.
Writing in The Masses magazine, Max Eastman said, "I put the ravages of that black orgy of April – when a frail, fluttering tent city in the meadow, the dwelling place of 120 women and 273 children, was riddled to shreds without a second's warning, and then fired by coal-oil torches with the bullets still raining and the victims screaming in their shallow holes of refuge, or crawling away on their bellies through the fields – I put that crime, not upon its perpetrators, who are savage, but upon the gentlemen of noble leisure who hired them to this service.
"Flags of truce were shot out of hands; women running in the sunlight to rescue their children were whipped back with the hail of a machine gun; little girls who plunged into a shed for shelter were followed there with 48-caliber bullets; a gentle Greek, never armed, was captured running to the rescue of those women and children dying in a hole, was captured without resistance, and after five minutes lay dead under a broken rifle, his skull crushed and bullet holes in his back, and the women and children still dying in the hole."
The Ludlow Massacre was an attack by Colorado National Guard soldiers and Colorado Fuel & Iron Company camp guards on a tent colony of more than 1,000 striking coal miners and their families at Ludlow, Colo., on April 20, 1914. Dozens of people, including women and children, were killed. John D. Rockefeller Jr., the chief mine owner, was denounced worldwide for the incident.
Specifically, National Guard troops stationed in the hills above the largest tent colony at Ludlow started firing into miners' tents, killing some of them. What became a day-long skirmish between company guards and militia on the one side and striking workers on the other was the deadliest single incident in the Southern Colorado Coal Strike, organized by the United Mine Workers (UMW) against coal mine operators.
In an April 22, 1914, article headlined "45 dead, 20 hurt, scores missing in strike war: Women and children roasted in pits of tent colony as flames destroy it," the New York Times reported on the "14-hour battle which raged with uninterrupted fury yesterday between state troops and striking coal miners in the Ludlow district on the property of the Colorado Fuel and Iron Company, the Rockefeller holdings."
Historian Howard Zinn said in The Politics of History that the Ludlow Massacre was "the culminating act of perhaps the most violent struggle between corporate power and laboring men in American history."
As Julia May Courtney wrote in Mother Earth, "For the first time in the history of the labor war in America the people are with the strikers."
BACKGROUND: A few operators, including Rockefeller's Colorado Fuel & Iron, the Victor-American Fuel and Rocky Mountain Fuel, dominated the Colorado coal industry. With about seven deaths per 1,000 employees – more than twice the national rate of 3.15 then – miners knew that over the previous 30 years in Colorado mining, accidents claimed the lives of more than 1,700 people.
Ludlow itself was a coal mine and camp about 18 miles north of Trinidad in southeast Colorado not far from New Mexico. Miners lived in substandard housing owned by the company, which also operated stores that accepted only company "scrip," an alternative currency.
Fed up, the miners organized and presented operators with seven demands: Recognize the UMW as bargaining agent, abide by the 8-hour-day law, enforce state laws on mine safety and end the company-guard system, free workers to shop at any store, and live where they wanted, increase tonnage rates (giving miners about a 10% raise), pay miners for "dead work" (shoring up tunnels, laying track, etc.), and make weight-check men elected (to keep them honest).
Supporters noted that many of the demands were for employers to follow the law, and Congress confirmed that. The U.S. House Committee on Mines and Mining that year reported that "Colorado has good mining laws and such that ought to afford protection to the miners as to safety in the mine if they were enforced, yet in this state the percentage of fatalities is larger than any other, showing there is undoubtedly something wrong in reference to the management of its coal mines."
Nevertheless, operators rejected the demands, the Mine Workers called a work stoppage, and strikers were immediately forced from their company hovels. They moved into tents built on wooden platforms on land the union rented. Evicted from their shacks in the mine canyons, strikers and their families trudged away, as described by
Denver Express reporter Don MacGregor: "They struggled along the roads interminably, in an hour's drive between Trinidad and Ludlow, 57 wagons were passed, and others seemed to be streaming down to the main road from every by-path.
"Every wagon was the same, with its high-piled furniture, and its bewildered woebegone family perched atop. And the furniture! What a mockery to the state's boasted riches. Little piles of miserable-looking straw bedding! Little piles of kitchen utensils! And all so worn and badly used they would have been the scorn of any second-hand dealer."
With their modest tents, miners created a colony just as winter started. That sparked Colorado Gov. Elias Ammon – arguably a Scott Walker of his era by kowtowing to Big Business – to call out the National Guard to "keep order."
The union enlisted as organizers the UMW's John Lawson, Greek activist Louis Tikas and 77-year-old Mary "Mother" Jones. The authorities arrested, imprisoned and escorted Jones out of Colorado before the massacre, but she returned. Mine operators used company thugs and the National Guard, and hired the Baldwin-Felts Detective Agency, notorious for its strike-breaking in West Virginia and other labor disputes.
Strikers held on through the winter. Colorado state government was financially strained and recalled some Guardsmen, leaving just two units in the area and letting operators deploy their own "militia," many of them company guards and some of them in National Guard uniforms.
DETAILS: The company-backed "troops" were stationed on hills around the strikers' camp, and they trained their machine guns down on the colony. On Sunday, April 19, 1914 – celebrated as Easter by Orthodox Greeks – celebrations included a baseball game in a meadow about 200 yards from the tents. Then eight armed men came down into the midst of the game and interrupted the festivities. A fist fight broke out, the guards were beaten and then tried to make arrests but had no warrants, so they were forced to leave.
The next day, in the afternoon, guards or militiamen started firing weapons into the camp, in which most men were absent, hunting or fishing. The company sent 38 men with 4,000 rounds of ammunition on a special train, which arrived between 5 p.m. and 6 p.m. By 7:42 p.m., according to company records of telegrams sent, the attack was continuing on strikers and families, and guards or militiamen had poured oil on the tents before setting them ablaze.
Company gunmen drove back Red Cross relief parties.
Tikas remained in the camp all day and was still there when the fire started. He and two other men were seized by militiamen and brought to Lt. Karl Linderfelt, commander of one of two National Guard companies. Tikas and Linderfelt had confronted each other before but this time, as two militiamen held Tikas, Linderfelt clubbed him with a rifle butt and kicked him in the face.
Tikas and the other two captive miners were later found dead. Tikas had been shot in the back. Their bodies lay along the railroad tracks for three days in view of passing trains. Militia men refused to let them be taken away until a railway union demanded the bodies be moved and buried.
The morning after the militia attack, a telephone lineman going through the burned tents found the charred bodies of 11 children and 2 women in a pit under one tent. They had hidden there to escape gunfire, but were trapped when the tent above them was set on fire.
Afterward, organized labor issued a call for union members to arm themselves, and a guerrilla war of sorts resulted over more than a week of confrontations. Hundreds of strikers "attacked mine after mine, driving off or killing the guards and setting fire to the buildings," according to Stephen Norwood in Strikebreaking & Intimidation, until federal troops were dispatched to the region.
The whole strike would cost between 69 and 199 lives. Thomas G. Andrews in his book, Killing For Coal, described it as the "deadliest strike in the history of the United States." Eight months later, the Mine Workers had exhausted their resources and called off the strike.
Editor's note: In 1918, the Mine Workers erected a monument at the site of the massacre. In 2009, the U.S. Department of the Interior designated Ludlow a National Historic Landmark. UMWA President Cecil Roberts said:
"This is the culmination of years of work by UMWA members, retirees and staff, as well as many hundreds of ordinary citizens who recognize and have fought to preserve the memory of this brutal attack on workers and their families.
"The tragic lessons from Ludlow still echo through our nation, and they must never be forgotten by Americans who truly care about workplace fairness and equality. With this designation, the story of what happened at Ludlow will remain part of our nation's history."