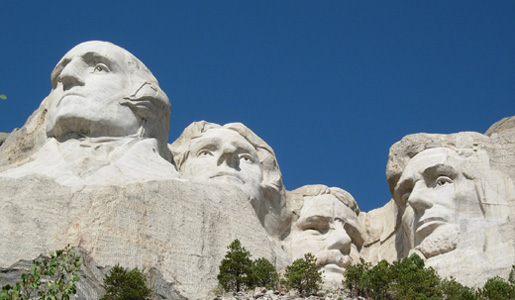 STURGIS, S.D. – I draw the smoke forcefully into my mouth. It has to travel 2 feet from the crimson bowl in my outstretched hand to my pursed lips. When the aromatic vapors of the smoldering tobacco hit the back of my tongue I have to be careful not to inhale. As quickly as the fumes inflate my mouth I expel them into the still South Dakota air. It is dark, near midnight, with a full moon, and I send that blast of smoke up to meet the spirits in the sky as an offering of thanks for another splendid day on the roads of what we call America.
Sitting in the parking lot of the Starlite Motel in Sturgis, South Dakota, I am beginning to feel more relaxed than I have been in days. This pipe is doing its job, and the cold brewski nestled between my knees is the perfect companion to the intense smoke. Madame Dick is curled up inside the room watching the tube, knowing my routine after a long day of pounding the asphalt on our motorcycle, the Great White Steed. She sometimes asks me what I do all by myself sitting alone in the dark; my reply is always the same: "Thinking about everything yet thinking about nothing." From the stories my mother tells, I guess I was born with a head with wings. I have little control over the flapping, and thankfully motion makes any road seem right. Guess that's why I have white line fever.
The roads in this part of the country are spectacular. It is our third trip out here in 10 years and it is always breathtakingly beautiful. The town of Sturgis is home to the biggest motorcycle rally in the United States every August, but that is not why we are here. In fact, we scheduled our trip to miss the rally. Touring the Badlands and the Black Hills, winding up and down Needles Highway, gazing at herds of magnificent buffalo in Custer State Park, and seeing the Crazy Horse monument being carved out of a mountain will forever change your vision of what this country is. And let's not forget one iconic piece of Americana dear to each schoolchild's heart: Mount Rushmore. To see it in person brings back the memories of sitting at a desk in a classroom and learning American history as a youngster. The faces of Washington, Jefferson, Lincoln, and Teddy Roosevelt stare stoically outward into the future, their inflexible facades demanding a best effort from every citizen. From the time I was a lad, my favorite was always Honest Abe.
"Labor is prior to and independent of capital. Capital is only the fruit of labor, and could never have existed if labor had not first existed. Labor is the superior of capital and deserves much the higher consideration." It's funny what you don't learn in school. Funny is the wrong word. Actually it's quite sad. If I told you who made that quote, you might be surprised. Let me give you a hint: a Republican. And no, silly rabbit, not Paul Ryan. It was ol' Honest Abe himself in his First Annual Message to the country after being elected president on December 3rd, 1861. Lincoln, as a Republican, had such a sense of the class struggle of working folks that even Karl Marx wrote him to congratulate him on his reelection in 1864. And Marx received a cordial reply from Lincoln via the American ambassador to Great Britain. Never once was any of this even hinted at by any of my American history teachers. But there is more.
Henry Ford and Adolf Hitler were BFFs. I crap you negative! Hitler had a full portrait of Henry Ford hanging on the wall in his private office, while Ford published a newspaper in Dearborn, Michigan, during the 1930s that spewed the anti-Semitic propaganda of the Nazi Party to American readers. In my hometown, Royal Oak, Michigan, Father Coughlin of the Shrine of the Little Flower Catholic Church had a radio show that spread this same pro-Nazi message to a nationwide audience. In the parlance of VP Joe Biden, I find that a BFD! And nary was a word of this mentioned in any of my history classrooms.
And how about labor and union history? In the last edition of New Vision, our local letter carrier newsletter, an article was published about the Battle of Blair Mountain and Matewan. At the end it asked the reader: Have you ever heard of this landmark event in American history, and if not, why not? That is a fascinating question, and one that I ask myself whenever I learn a new piece of what I would call basic American history. How do we know what we know? What has shaped and is shaping our understanding and our children's understanding of American history? The answers are complex; too far reaching to be solved here, but we need to begin the dialogue.
I believe we have been indoctrinated with a version of American history that was not accidental. From the textbooks to the chalkboards we have been spoon-fed that version of America that is the most comfortable to teach. It avoids the messy stuff that has kids asking too many questions.
Writing this is making my head wings flap again. Time to grab my pipe of peace and take a strong draw. The spirits are waiting for their offering, so I will blow my billowing smoke to the north, to the east, to the south, and finally to the west. Thinking about everything, yet thinking about nothing. I'll be inside soon, my love.
"Oh the gamblin' man is rich and the workin' man is poor /An' I ain't got no home in this world anymore." – Woody Guthrie
Photo: Mount Rushmore. Susan Webb/PW