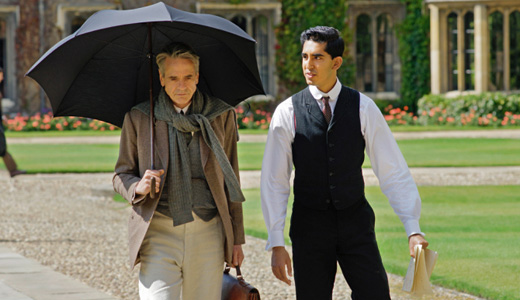 ZÜRICH, Switzerland – How do I love The Man Who Knew Infinity? Let me count the ways: The feature that kicked off the 11th annual Zürich Film Festival on Sept. 24 is anti-racist, anti-colonial, anti-war, and also depicts the great lefty philosopher Bertrand Russell (Cambridge-born Jeremy Northam) in a well-acted, stylish movie based on a true story made on location in India and England. Infinity also portrays a deeply moving personal story, which co-star Stephen Fry (who plays Sir Francis Spring) described at a press conference in Zürich's posh Baur au Lac hotel as an "intellectual, spiritual love affair between two people of different castes."
Those two men are Srinivasa Ramanujan (Dev Patel), an untutored Indian mathematician, and academician G.H. Hardy (Jeremy Irons), who brought Ramanujan to Cambridge circa 1914. The Isle of Wight-born Irons struck Oscar gold with 1990's Reversal of Fortune and has co-starred in many movies since. Patel co-starred in 2008's Slumdog Millionaire, which won eight Oscars, including Best Picture and in 2011's The Best Exotic Marigold Hotel and its 2015 sequel, plus HBO's 2012-2014 Newsroom series.
The Madras-born Ramanujan, who has what he describes as a god-given gift for numbers, has to overcome British colonial officials who dismiss the uneducated Indian, as well as local taboos. Once introduced to Trinity College, Ramanujan must contend with the racism and elitism of English academia. Ramanujan and his mathematical prowess offend the "master race" sensibility of some of the veddy British Cambridge dons, who refer to him as "Gunga Din" or, worse, a "wog" (a racial slur akin to the N-word). Even his champions, Hardy and Littlewood (Toby Jones), challenge the prodigy, whose intuitive creative process clashes with the proofs-based logic of Western methodology.
As Infinitywriter/director Matt Brown pointed out at the press conference, "Lots of films have come out in the last years about science. It's in the Zeitgeist – people yearn for them." And like computer pioneer Alan Turing (Benedict Cumberbatch), a closeted gay man in homophobic, WWII-era Britain in 2014's The Imitation Game and the physically disabled physicist Stephen Hawking (Eddie Redmayne) in 2014's The Theory of Everything, Ramanujan must combat adversity as he struggles to introduce "groundbreaking" mathematical theorems. Separation from his homeland and wife Janaki (Devika Bhise), along with the advent of World War I, further complicate matters for the beleaguered Ramanujan.
After a group of WWI soldiers beat Ramanujan, cruelly calling him a "freeloading little blackie," the overseas Indian's troubles are compounded by health issues triggered, almost metaphorically, by racism. The renowned philosopher Bertrand Russell's outspoken opposition to World War I is depicted and he is sacked from Cambridge. In 1967, the Russell International War Crimes Tribunal investigated and condemned the Vietnam War. During the press conference I asked Stephen Fry, the only Cambridge graduate among the participants – which included director Matt Brown, producer Edward Pressman, actors Jeremy Irons, Dev Patel, and Devika Bhise – about the figure who plays a small role onscreen but is arguably the most famous personage Infinity depicts and was the subject of the 2008 documentary The Three Passions of Bertrand Russell, with Noam Chomsky.
"Bertrand Russell was an aristocrat, whose first great achievement was in mathematics," explained Fry. "He rescued math. Russell paradoxically turned to philosophy. He was extraordinarily brilliant, a deeply moral atheist. He was implacably opposed to World War I and said something very theological to critics who took him to task for questioning that their 'sons lay their lives down for their country in sacrifice.' Russell replied in the newspapers: 'We're doing something far worse: Asking them to kill for their country.'"
Hardy also opposed WWI, and his extraordinary friendship with Ramanujan becomes the basis of this moving film, with the logical atheist encountering a sort of Indian mystic, as East meets West. Asked about wisdom, the 25-year-old Patel said at the news conference: "I don't possess it yet. I'm on the path to it… Ramanujan was a superhero, with his amazing mind, great brain."
The Man Who Knew Infinity is only director Brown's second feature. It has a straightforward, narrative structure and is, perhaps, a bit on the earnest side. The sumptuous cinematography at South India and Trinity College locations makes it often splendid to look at. As Irons said of the highly philosophical film: "In this movie we have both beauty and wisdom." Although this reviewer failed math in high school, I found Infinity an infinitely rewarding biopic that showed, as Fry put it: "Math is an art, not a science."
From Sept. 24 to Oct. 4 the $7.5 million Zürich Film Festival is screening 161 films from 33 countries, including 36 debut films and 14 world premieres, ranging from European, Hollywood and international major features to indies to documentaries. For more information see: http://zff.com/en/home/.
Photo: Dev Patel and Jeremy Irons with umbrella.