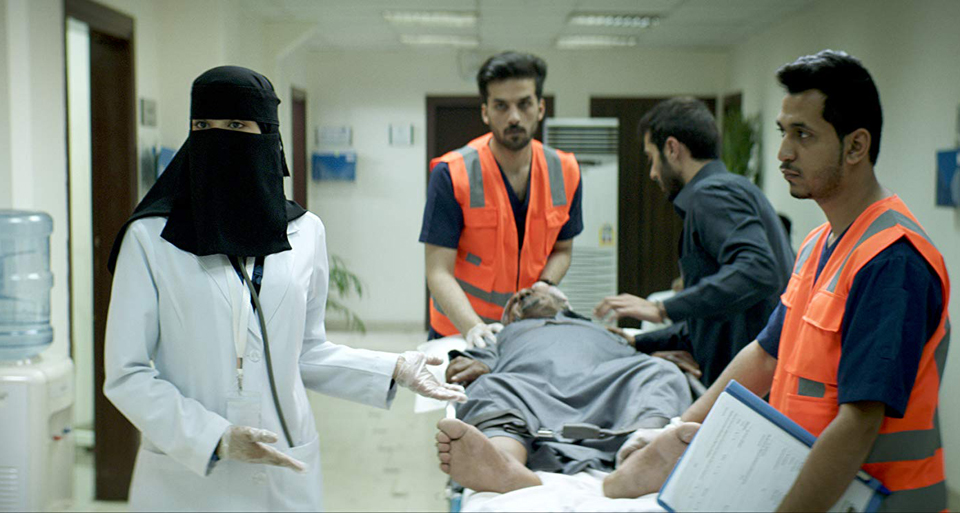 TORONTO—The Toronto International Film Festival (TIFF) has supported famed Palestinian director/actor Elia Suleiman from the beginning of his career, and one year featured a full retrospective of his works. His newest dark comedy venture, It Must Be Heaven, carries on his signature comedic style which is often compared to slapstick silent movie comedian Buster Keaton, because of his sad sack persona and minimalist dialogue. He directs and stars in all his films that carry themes about a sense of belonging and identification—not unusual for many Palestinians denied access to their homeland and historical security.
Suleiman's calculated use of multiple images and actions in a single frame allows for rewarding repeat viewings. His films are often structured as short usually comedic vignettes based on real experiences—nothing is invented. It creates an autobiographical feel, but slightly mystical since the meaning of many of the short vignettes is often quite difficult to interpret. Some are obvious: A directors workshop where the pretentious professor tells students how to make films, talking endlessly, while not letting the guest Suleiman speak. In another, the audience silently watches fifteen (!) Palestinian panelists, each one introduced with a single clap (to save time).
Suleiman usually distills a single point from many life experiences—a woman in Central Park dressed in a Palestinian shirt with wings that quickly dissolve when police start to encircle her; a mysterious scene with no dialogue at the beginning of the film where a lemon tree is being watered by an unknown neighbor in his own backyard. The film starts in Palestine then moves on to France and New York. The last location is an LGBTQ bar in Haifa where patrons are singing a kitschy old pop song, an ending that gives an unexpected powerful sign of hope, contrary to his familiar persona as a hopeless loner.
Although his films have minimal dialogue, Suleiman is very witty and verbal when not acting. At a Q&A following the film he talks about the new phenomenon of triple despair and oppression. Born in Nazareth, he says, "It's really a very dark moment in history for Palestinians, because Israel today is like bluntly doing whatever it wants…. It's become a ghetto for the last few decades, but now there's a menace and tension that is strange and so felt, and the despair is visible in the everyday life." But he has hope in the new generation, those forced to leave their villages and now live in Haifa (where the last scene was shot), "a whole new generation of energetic, optimistic, vibrant, cultivated, worldly and not provincial young people whose sense is that are more issues in the world—they are attached to a global state of things. No longer party aligned but manifesting their love of living by cultural expression and being absolute activists in the most pacifist fashion." The last scene energized Suleiman with a sense that there is hope to be had. It occurred after the film had been completed, but was added on to conclude a series of tough, dark vignettes.
An extremely different approach to the Palestinian issue is a raw documentary with amazing historical footage. Ibrahim: A Fate to Define is a passionate and intimate story by director Lina Al Abed, the daughter of Ibrahim Al Abed, who on the surface was a normal family man with a wife and five children. But he disappeared from the family early in her life, and she has been on a search to find his location and true identity ever since. It appears he took on another name and joined the cause for liberation ending up as a member of the Abu Nidal Organization, a splinter group of the PLO. Apparently at one time they even tried to assassinate the PLO leader, Yasser Arafat.
Ibrahim (aka Rashid) was mysteriously killed, and the director travels to question family members and friends to find out the truth of her father's death. In the process, the film raises many questions, including the moral dilemma of committing your life to saving your country versus being dedicated to raising your family. How has the Occupation affected the lives of all the people in this family? She also begins to question some of the stories she hears of his mysterious life that may have been ended by a traitor in the family. She confronts that uncle. It's actually a compelling "murder/mystery" set in the real-life struggles of the Palestinian people.
All of a sudden we're getting a lot of movies from Saudi Arabia: Maybe they need all the help they can get to reverse their deteriorating world image. Director Haifaa Al-Mansour has certainly developed her skills since making the first film shot entirely in Saudi Arabia—let alone the first by a woman—entitled Wadjda (2012). After a couple of films in Hollywood she has returned to her native country to once again challenge the repressive system and the restrictions on women's rights.
The demeaning treatment of women in this conservative Middle Eastern monarchy is captured in The Perfect Candidate, about a young Saudi Arabian female doctor who decides to run for local office. She is constantly being derided by male associates and is frustrated by the failure of the government to fix the critical but dilapidated road that leads up to the entrance of the hospital she works in. Of course no male will support her, come to her events or show any interest or support her campaign since men can't watch women talking, in addition to many other archaic customs she has to deal with. I can't reveal the election results here, but can say the fact that the movie was made at all is an amazing achievement by the daring director. However, I doubt it was filmed in Saudi Arabia, let alone shown there.
And a last word here about a new series entitled Savages. As movies are quickly making a move to digital platforms, TIFF is starting to feature films made for television or online streaming services, films that may never see the inside of a movie theater. This of course doesn't diminish the possibilities of great films being made, just being shown in a different manner. This action-packed political thriller six-part series features Roschdy Zem as the first Arab socialist presidential candidate in French history. The plot is so dense and the film so tightly edited that more things happen in one episode than usually happen in a four-hour epic. It keeps you on the edge of your seat every minute of the program, and TIFF showed only the first two episodes. It's produced by Studiocanal and should be available online soon with English subtitles.