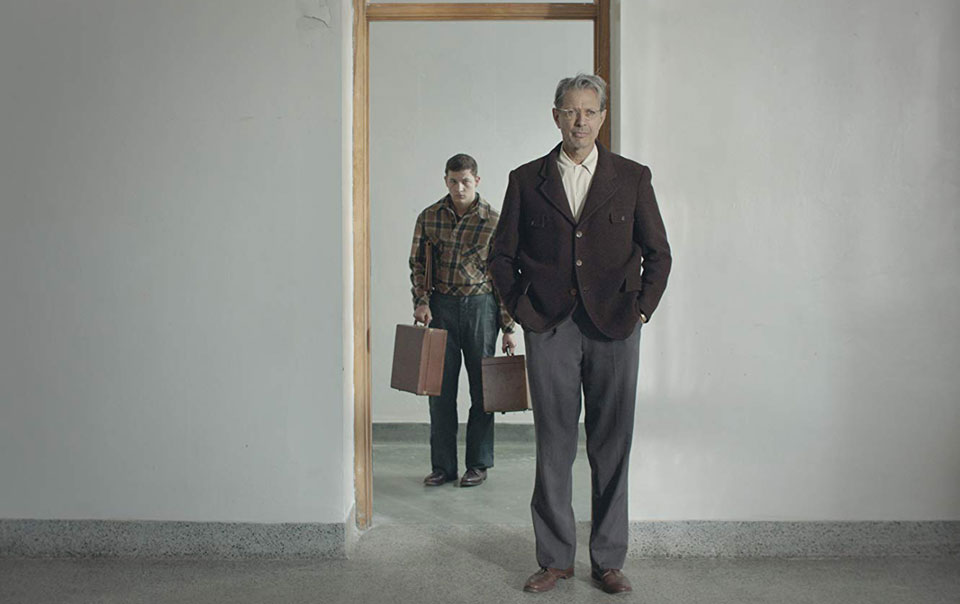 Director/writer Rick Alverson's new feature film The Mountain opens in New York and Los Angeles on July 26. It stars Jeff Goldblum as Dr. Wallace Fiennes, a character loosely based on neurologist Walter Jackson Freeman II, who traveled across the U.S. performing as many as 2500 transorbital lobotomies, including the lobotomy on Rosemary Kennedy, sister of John, Ted and Robert, which left her with severe mental and physical disabilities. In the popular mind, the operation has been described as performed with ice picks.
It's not exactly a date movie. Nor a chick flick (excuse the language). Nor a romantic comedy, a costume drama or mystery thriller, and not a shoot-em-up bang-em-up. It's not for kids. And it's not a documentary. Hmmm, who is it for?
Well, it has attracted considerable attention; perhaps the taboo subject matter exerts a curious pull. It's an Official Selection at the 2018 Venice International Film Festival, and the 2019 Sundance Film Festival, SXSW Film Festival, and BAMcinemaFest. Either despite its difficult theme, or because of it, and because of Jeff Goldblum in the leading role, it will draw interest from the art film crowd, perhaps also horror fans, not to mention others who may have a more specialized interest in the history of electroshock therapy and lobotomy.
The Mountain verges on the surreal; perhaps I should say it is surreal compared to the experience of most moviegoers. We meet a young introvert Andy (Tye Sheridan) whom some might call "slow," though not incompetent, whose mother Dr. Fiennes had operated on. She has since disappeared into the state mental hospital system, a zombie never to be seen again. The doctor recruits him to join him on a lengthy road trip as a luggage handler and photographer as Fiennes (are we supposed to subconsciously think "Fiend?") visits a series of mental institutions where he is invited to lobotomize mostly catatonic, but sometimes agitated and resistant patients.
It's an odd kind of buddy movie, seeing how the older man uses the youth for constant companionship, including sharing one motel room after another. Several antiseptic operating room set-ups are shown with the procedure taking place, nurses and aides in efficient attendance. Is the doctor all along thinking Andy might himself be a viable candidate for the operation?
We meet dozens—it seems like hundreds—of patients sequestered in these mental hospitals across the land, people shuttered away as embarrassments to their families, unreachable by any traditional therapies. One of Fiennes's goals is to return those he has operated on to their families—if they want them—so that they will live out the rest of their lives "innocuously."
Among the period songs that comes around a few times in the film is the Perry Como rendition of "Home on the Range"—"where never is heard a discouraging word, and the skies are not cloudy all day." In other words, total mental sedation through surgery. It takes a while, but over time we begin realizing that the heyday for lobotomy has now passed. Institutions are considering other therapies and drugs, medical boards are asking questions, and moral issues have been raised. What constitutes patient consent, after all, in such cases? A reporter corners the doctor for a statement, but he answers evasively. More background on the controversy might have been welcome in the film.
What kind of doctor is Fiennes anyway? How does he get away with this? He identifies in one somewhat drunken scene with his physician grandfather in an era before anesthesia, who reportedly removed a brain tumor from a patient with his own fingers. A tall tale, perhaps, but certainly part of Fiennes's personal mythology. Is Fiennes, whose frequent drunken episodes and sexual escapades suggest serious demons in his own history, a megalomaniac playing God? Can he be serious when he arrogantly says he wants to "help" people? In one operation he is seen making a significant medical error, but there are no consequences.
Andy doesn't talk much, but he is observing everything. He increasingly identifies with the asylum's patients, particularly with one, Susan (Hannah Gross), whose father Jack (the brilliant French actor Denis Lavant) basically kidnaps back to his private home for an in-house lobotomy now that the procedure is largely debunked as fraudulent, cruel science.
Jack is a strange character, playing something of the Fool role in many plays and operas. A drunkard himself, with clearly an unspecified past in the modern French dance and literary movements, he has somehow wound up in the burgeoning New Age movement on a mountaintop in California, spouting bizarre, angry paeans to love as the answer in life. (His French rantings are given subtitles.) In his grotesque, gnome-like craziness he somehow also represents the unlikely truth teller in the story. From his high aerie a glimmer of hope, or at least some sense of agency on the part of these patients, emerges.
The scenic design is depressingly stunning—long vacant corridors, white-painted rooms, hypnotic, mute, abandoned patients lolling about in institution after institution where the doctor is allowed to practice. Even the road trips are eerie—along channels through dense forests with few wide vistas. The restaurants and motels are vintage 1950s, tacky, utilitarian, and the color scheme is that of faded, musty postcards, a mood captured in the publicity for the film. This is a claustrophobic world, where things happen that are not discussed openly in polite society.
Perhaps The Mountain can be seen as the menacing underside of the Madison Avenue success that America in the 1950s was built up to be, the sad reality lurking behind iron gates in mental facilities across the land. Only a few years before, Nazi Germany was sending their mental cases up in smoke. Was lobotomy deemed more humane?
If the 1950s was a "golden age" of American male supremacy—Rosie safely ensconced as the homemaker back in her kitchen now that the breadwinner was home—it's interesting that so far as I could tell, except for one strongly resisting man, in this film only placid young women are lobotomized. There is the still the female threat in the air, the male need to thwart female empowerment, to make women "innocuous" surgically if they wouldn't comply socially. It's "the best that can be done," according to Dr. Fiennes. Later on, of course, psychiatrists would prescribe the cornucopia of new psychoactive drugs to dull the senses once lobotomy was no longer an option.
One scene is set in an institution with African-American patients, but no operation is shown there. It might have been too evocative of the medical experiments institutions and health departments inflicted on such helpless populations in those years.
The soundtrack features a number of period songs, and also some modern music for two marimbas that anticipates the minimalism of a decade or more later. Otherwise, the soundscape mostly tries to recapitulate the spectral inner world of voices and wailing obsession.
This strange and surprisingly beautiful though unsettling film runs a chilling 109 minutes. The Mountain opens in New York and Los Angeles on July 26. At the Landmark Nuart theater in L.A. there will be a Q&A on Sat., July 27 with Jeff Goldblum and Rick Alverson. The trailer can be viewed here.