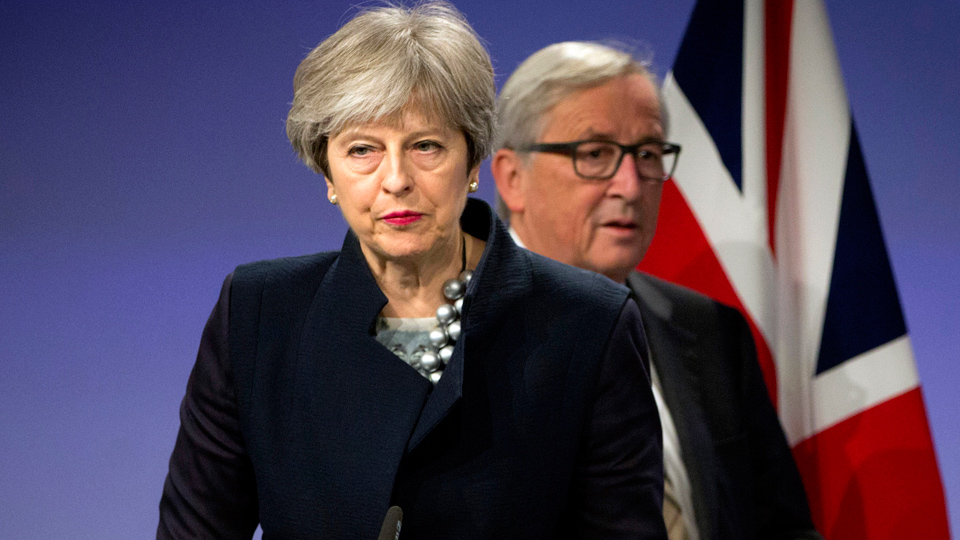 Late was the hour, on a cool Brussels night, when British Prime Minister Theresa May learned the fate of her Brexit extension request. Two days before the rescheduled April 12 U.K. withdrawal from the European Union, May ran off, hat in hand, back to Brussels, asking the EU 27's leadership to push back the divorce deadline a second time.
The request to extend Brexit day to June 30 was denied. And after six hours of negotiations, EU leadership offered October 31, Halloween, as the new deadline. Whether a political trick or treat, May had no other viable choice other than to accept the deal and try to convince a deadlocked Parliament to support it.
Surprisingly, May's ask went smoother than expected, despite French President Emmanuel Macron's hardline talk.
With little to show, May's attempts to strike a Brexit deal compromise with the opposition Labour Party might have been enough of a reason for the EU 27 to grant a six-month extension. Or, more likely, the thought of a no-deal Brexit worries the EU more than it does members of Parliament and British voters.
While the delay avoids the immediate risk of a chaotic no-deal Brexit Friday, it creates several political crises for later this year—impacting the U.K.'s political stability at home and influence abroad.
The most pressing issue for Britain is the upcoming EU Parliament elections scheduled for May 23-26. May has said she wants to avoid participating in the elections, but with a delay beyond elections, participation becomes inevitable if the U.K.'s Parliament is unable to approve a withdrawal deal before May 22.
For EU member states, the U.K.'s participation strikes a bit of fear. With British lawmakers moving to the left and some becoming stronger Eurosceptic and anti-EU, the election of Conservative and Labour Members of European Parliament could shift Europe's political balance—one side towards the growing number of nationalists, the other, the small yet influential socialist grouping, pushing the EU center-left.
Speaking at a press conference following the announcement, May said she continues to believe that leaving the EU with a deal is the best possible option, and will attempt to push a deal through in the first three weeks of May.
"I know that there is huge frustration from many people that I had to request this extension," said May. "The UK should have left the EU by now and I sincerely regret the fact that I have not yet been able to persuade Parliament to approve a deal which would allow the UK to leave in a smooth and orderly way."
She continued: "Further talks will also take place between the government and the opposition to seek a way forward. I do not pretend the next few weeks will be easy or that there is a simple way to break the deadlock in Parliament. But we have a duty as politicians to find a way to fulfill the democratic decision of the Referendum, deliver Brexit and move our country forward."
European Council President Donald Tusk struck an honest tone following the Brexit Summit, saying: "The course of action will be entirely in the UK's hands. They can still ratify the withdrawal agreement, in which case the extension can be terminated."
"Let me finish with a message to our British friends: This extension is as flexible as I expected, and a little bit shorter than I expected, but it's still enough to find the best possible solution. Please do not waste this time," he continued.
Thursday's anger
Labour Party and opposition leader Jeremy Corbyn pulled no punches today in the House of Commons when responding to May's statement on the Brexit extension:
"This second extension in the space of a fortnight represents not only a diplomatic failure but is another milestone in the government's mishandling of the entire Brexit process. A measure of this could be seen in this House on Monday when one-third of her party voted against her own policy to request a short delay, and four of her Cabinet abstained."
May faced a tough crowd of MPs. Some called for her resignation while others demanded movement on her Brexit redlines, preventing a deal being approved.
Yet, despite the uproar, May signaled she will not step down until her Brexit deal is done, will not rule out asking the EU for a further Article 50 extension, and believes there is "more agreement [between Labour and Conservatives] on an EU Customs Union."
May continued: "The Labour Party has said they want a say in trade policy, the question is how we ensure that we can prove for this country to be in charge of its trade policy in the future."
For now, only time will tell if a Brexit breakthrough is possible between May and the Labour Party.
"There is the potential of a deal, but so far, we've still got some fundamental disagreements about the nature of our future relationship with Europe," said John McDonnell, Labour's finance spokesperson.