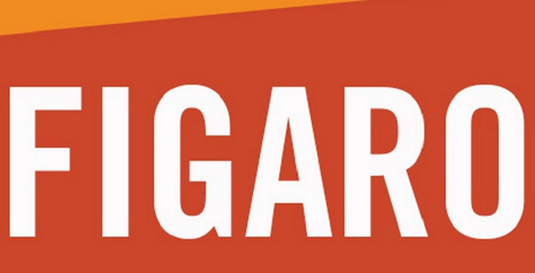 PASADENA, Calif. – This noisy A Noise Within production of Figaro is playwright Charles Morey's freewheeling adaptation of Pierre-Augustin Caron de Beaumarchais' 1784 play The Marriage of Figaro (which inspired Mozart's 1786 opera of the same name). Like the original, Morey borrows freely and whimsically from the Comédie-Française, Italian commedia dell'arte and French farce.
Figaro's storyline lends itself to high tragedy or low comedy: The no account Count Almaviva's (Andrew Ross Wynn, who projects a Harvey Korman vibe) young saucy servant Suzanne (the red wig-wearing Angela Sauer, who plays this part with all the comic subtlety of an I Love Lucy episode) is about to wed the Count's wisecracking manservant Figaro (Jeremy Guskin). Beaumarchais and Mozart have the Count assert his droit du seigneur – a nobleman's feudal privilege of deflowering/consummating the impending marriages of young women within their dominions on the wedding night.
(For some unfathomable reason Morey's adaptation merely has Almaviva seek proximity to the newlyweds' bedroom at his chateau so he can seek to avail himself of Suzanne's sexual charms. This form of royal rape may be even more repulsive, and exposes the vile, corrupt nature of the decadent upper classes – perhaps Morey dropped the deflowering detail, thinking rape is too touchy a subject for 21st-century sensibilities?)
Some may find Michael Michetti's direction and this often frenetically paced two-act'er to be witty, with dazzling word play, expertly acted and roguishly charming. Others may consider it to be half-witty, broad, loud and over the top.
Angela Balogh Calin's colorful costumes certainly enhance the buffoonish ambiance of this production, which at times resembles a clownfest. As Almaviva, Wynn is not garbed as much as upholstered and embroidered into his rather ridiculous raiment. And as Countess Almaviva, Elyse Mirto is quite fetching while kvetshing and prancing about in her lingerie-type outfit. (Fun fact of the day: Marie Antoinette actually portrayed this character, also known as Rosine or Rosina, in a 1785 production staged at Versailles.)
As the title character, Guskin plays the work's central scheming scoundrel as a trickster with whom – nod, nod, wink, wink – the audience is in on the joke, if not in cahoots. Figaro is indeed at the core of the play, and the joke is on the aristocrats.
While there are a number of "war between the sexes" witticisms (usually at males' expenses) in Figaro about the supposed natures of the genders, what's most at play in this play is the "uppity" servant's critique of the ruling class. For Beaumarchais and Mozart's Figaro is among the Western stage's very first working class heroes.
During the American Revolution, our man Beaumarchais was a gunrunner – for the revolutionary cause, but of course. And it's not for nothing that the French revolutionary leader Georges Jacques Danton opined: "The Marriage of Figaro caused the French Revolution." Of course, this inevitably led to Beaumarchais' run-ins with the court's censors, who were royal pains in the derrière. So the best part of Figaro is its class consciousness and use of humor to ridicule the servants' "betters." (Think of a satirical version of Downton Abbey, with Daisy grabbing a pitchfork to jab her pompous overlords.)
As Morey insightfully notes in the play's program: "underneath the humor is an upending of the social order…and a deep populist anger that resonates distinctly today." The original plays are case studies in art and politics, and how radical theater, as well as other art forms, can impact and influence the real world. Morey cannily sought "to remain faithful to the joyously anarchic spirit of the original while making it…politically relevant to contemporary audiences."
And that he does with this production. Figaro has some choice, politically astute, funny bon mots, catapulting off Guskin's tongue with snarky aplomb. For example, there is a good riff on Lincoln's Gettysburg Address, where our wag Figaro – his tongue dipped in acid – waxes poetic and splenetic about "Government of the cartels," and so on. And there's a good guillotine riposte as Figaro – the former title character of The Barber of Seville – shaves the Count who would violate his wife-to-be with a sharpened razor. Take one guess what song he hums or whistles while Almaviva experiences his close shave?
Morey's adaptation of Beaumarchais' Figaro premiered Off-Broadway in 2012 and is here part of A Noise Within's "REVOLUTIONARY" season, which in turn is part of the city-wide "Figaro Unbound: Culture, Power and Revolution at Play" program. This includes LA Opera's presentation this season of the Figaro trilogy: The Ghosts of Versailles, Rossini's Barber of Seville and Mozart's The Marriage of Figaro (Le Nozze di Figaro), which opens March 21 at the Dorothy Chandler Pavilion in Los Angeles.
Although Figaro's class conscious jibes will ring true with 2015 audiences, this is, of course, a period piece set in 18th-century France. Considering the current yawning inequality chasm and social divide, perhaps some imaginative playwright will update Figaro and set this proletarian jester in the 21st century, where the plebian punster can thumb his nose at today's patricians? Maybe as a butler chafing under the strictures of serving, say, the Koch brothers in a modern farce called "Serfing USA" or "Figaro Unwound?" Vive la révolution!
The A Noise Within production of Figaro plays in repertory with the other "revolutionary" plays The Threepenny Opera and Julius Caesar through May 10 at A Noise Within, 3352 East Foothill Blvd., Pasadena, CA 91107. For exact times, dates and more info: (636) 356-3100, ext. 1; www.anoisewithin.org. For more info on the "Figaro Unbound" program of cultural activities around L.A. see here.