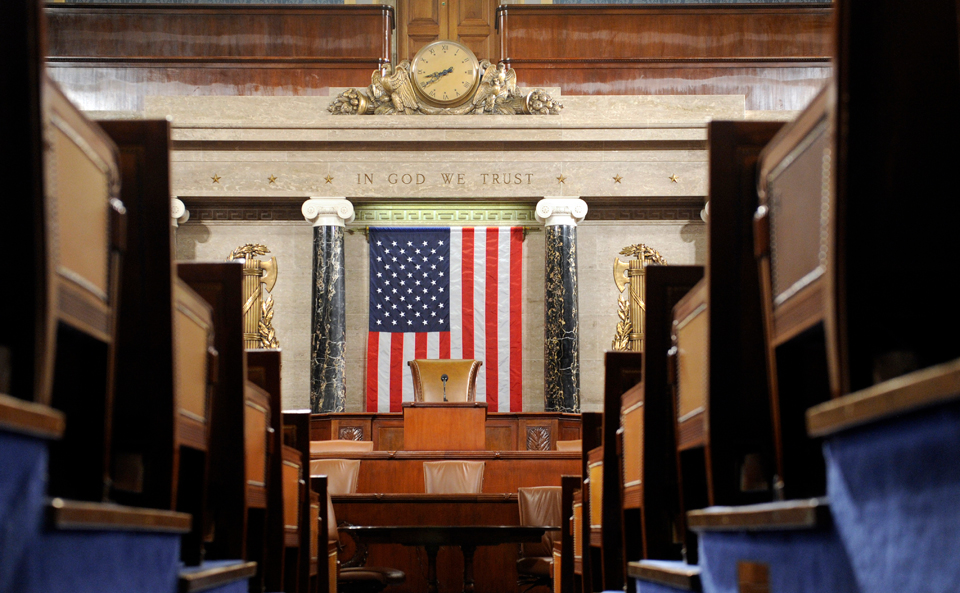 WASHINGTON—Tonight, following what is now a century-old ritual, President Donald Trump will stand before Congress and the country to report on "The State of the Union."
Predictably, he'll toot his own horn and his administration's achievements, single out somebody in the gallery, and present a partisan legislative agenda. Just as predictably, Republicans in the room will frequently yell, cheer, and applaud and the Democrats—those that show up—will sit on their hands. And organized labor, big business, and other groups will comment afterward. Most of the comments will be canned responses.
But go outside the U.S. Capitol and the reaction is quite different. While Trump may brag, his constituents—the American people—don't.
Random interviews conducted during the Women's March on January 20 and Bernie Sanders' Medicare for All forum three days later yielded uniformly negative responses from people from all over the country—and one from London.
Disconnected and disappointed
The country is "disconnected, and I'm disappointed," said Steve Schwind, a recently retired member of Electrical Workers Local 38 in Cleveland and a self-described "fiscal conservative, social liberal, and Reagan Democrat."
"He may have been elected by 46 percent of the popular vote, but his obligation is to 100 percent" of the country, Schwind said of Trump. "And this march signals a 3-year advance notice" that Trump's constituents will try to toss him out, the electrical worker added.
"From a woman's point of view," added his wife, Cheryl, of Lakewood, Ohio, the state of the union is "regressive." She said, "There's a whole group of us that feels they're doing something wrong."
"After five decades, I've seen a change in the country I was born, raised, and educated in and able to take full opportunity of my God-given rights in," said James Sims, an African-American records manager for a Frederick, Md., law firm. "I cannot believe we would turn back on all of these freedoms."
If she were up on the podium delivering a State of the Union address, Darcy Richardson, an international public health nurse from El Cerrito, Calif., would tell Congress and the country "we have a lot of work to do."
"The policies put in place are not serving any of us very well," she continued. "To me, this is a clear and present danger, not just to us, but to the planet. Pulling out of the climate change agreement, gutting Obamacare, and not paying attention to education are all critical."
But she also had some advice for her fellow constituents: "People need to get engaged in democracy. Pay attention to what's going on and stop paying attention to Trump's tweets.  That's worse." Both Richardson and Steve Schwind want Congress to impeach the president. "He's unfit to serve," she said.
"We need to reverse the course of cruelty and racism and address the inequalities of our criminal justice system, so we can be the country we're supposed to be," said Donna Dickerson of the D.C. suburb of Great Falls, Va., who describes herself as a "part-time yoga instructor and part-time Habitat for Humanity builder."
She and the Londoner, Thomas Plapinger, said the U.S. should, in her words, "de-escalate the nuclear flap with North Korea."
Failing at every level
Mark Nelms of Philadelphia said the U.S. "is failing the world" because both the president and Congress "are failing the American people. They're not doing their jobs."
He wasn't the only one who faulted not just Trump, but Congress, for not representing the country. "They've failed citizens at every level" by "representing not us, but corporate interests," said Robert Michaelis of Fredericksburg, Va. "It's time to stop neglecting us." Added Katherine Dement, also of Fredericksburg: "A bunch of white men does not represent us."
If she was up on the podium, Dement would tell Congress to concentrate on women's rights, immigration reform, and racial equity—and to drop limits on access to health care.
Sue Ryan of Mathias, W. Va., said the country should keep undocumented people here. A daycare teacher, she said of her 10-11 kids, "I had three kids start crying. Their families are going to be sent back, they sobbed." When she asked what they were talking about, Ryan got a two-word response: "Donald Trump."
Nelms was so pessimistic, he called the situation "dangerous," adding "we could fix it, but we wouldn't have a chance unless we start doing it now."
"The country is isolated and divided," said the Londoner, Plapinger. He said the people have a key role in fixing the state of the union, too, by making sure "the news they get is actual facts, not opinions. And that goes for whether you listen to CNN, NPR [National Public Radio], or Fox."
Meredith Elrod, a space scientist at the University of Maryland, singled out income inequality and the division of the U.S. into competing tribes. "I would tell Congress 'the State of the Union is not good,' and I don't think any president in the last 20 years has said that," she said. "We're all fighting over the same bread crumbs, and we need to start listening to all sides, from steel workers to scientists."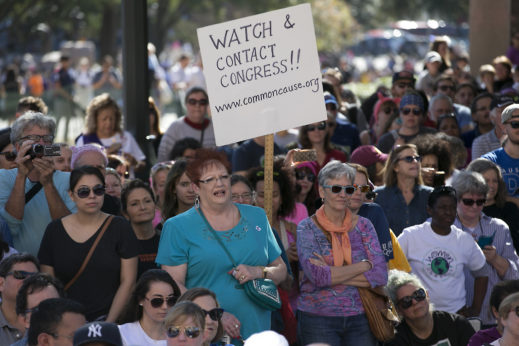 Internationally, Plapinger said the U.S. "should listen to what the UN and Western Europe are telling you, and stop f—ing around with North Korea" in nuclear weapons. His last piece of advice: "Don't put your embassy in Jerusalem. You're eliminating any possibility of a peace process by doing that."
Interviewed after the Medicare for All event, George Gluck, who seeks the Green Party nomination in Maryland's far western 6th congressional district, recommends Medicare for All, re-entering the Paris climate change accord, and "getting money out of politics." His wife, Phyllis, was more partisan: "Get rid of all the Republicans, and elect more Democrats" is her recommendation for the country.
As for Trump, those questioned at the women's rally have some advice: "He needs to think before he speaks," Steve Schwind said. "Listen to your constituents, and not the special interest groups—and especially not the NRA," said Allison Lantero of Hinsdale, Ill., referring to the immensely powerful and notorious gun lobby.
"Try listening to your daughters. You might learn something—and open your heart and your ears when you do it," Cheryl Schwind concluded.