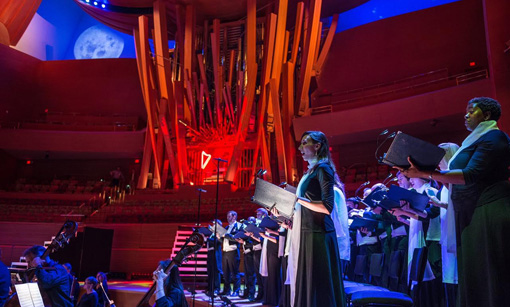 LOS ANGELES – After capturing the Persian city of Persepolis and defeating King Darius III in 330 BCE, Alexander the Great (356-323 BCE) holds a banquet in a great tent, where the Theban musician Timotheus, who has accompanied the campaign, plays his lyre. By the sheer power of music, he is able to arouse a variety of moods among the crowd, giving German-become-English composer George Frideric Handel opportunity for a grand outpouring of miraculous baroque music in his two hour-long oratorio Alexander's Feast: or, The Power of Music.
Conductor of the Los Angeles Master Chorale (LAMC), Grant Gershon, calls this "one of Handel's most gorgeous and imaginative scores." LAMC gave two performances of the work April 16 (seen) and 17 at the Walt Disney Concert Hall. The chorus of 48 singers, joined by a masterful period chamber orchestra, featured 13 soloists who narrate the story, all from within the chorus ranks.
Stage director Trevore Ross was brought in to make the performance as much a visual as an aural experience. Gone is the static chorus standing in formal rows – like the armies of Handel's day – with soloists taking a few steps forward to belt out their numbers. Here they're sitting around enjoying themselves at a victory party, all in black concert attire, and various individuals pop up and make their way to different positions on the stage to sing their recitatives and arias. The women carry a white organdy shawl that they can adjust to the desired effect; the men are fitted out above the left breast pocket with what looks like a big military ribbon indicating their service in the "Persian campaign." We are all, audience included, in this big tent together.
In Handel's day (1685-1759), British law held that religious subjects could not be profaned on the theatrical stage (which still smelled a little of degeneracy – actors and artists, you know). Thus a whole genre of sacred oratorios emerged, whereby these stories could be told musically but not operatically. In fact, Handel's 1717 Esther, based on the eponymous book of the Bible, was the first oratorio written in English. These works became especially popular in the weeks before Easter each year, when Britain gave up the pleasures of the stage for the Lenten season.
Handel composed Alexander's Feast in early 1736, and the work premiered at London's Covent Garden Theatre on February 19th of that year. It is based on a text by English poet John Dryden (1631-1700), at turns joyous and heartbreaking. Now 280 years old, it became one of Handel's most popular and most often revived works during his lifetime.
Technically speaking, this is an ode, not an oratorio, which features named characters in singing roles, whereas an ode has an omniscient narration with no individuated parts. In some ways the freedom from portraying a role allows the singers greater release from operatic convention.
The first big aria, leading into an upbeat chorus, is "Happy, happy, happy pair!" celebrating Alexander the Great and his mistress Thaïs, which is probably just a touch ahistorical because Alexander's friend, fellow soldier and lover Hephaestion fought in the Battle of the Persian Gate, and was more likely to have been the other half of that "happy pair."
There is growing consensus, as well, that the composer of Messiah, a work sung in Christian churches annually around the world, was also homosexual, though that particular word did not appear until more than a century after his death. He never married, but his circle of "nancy" friends is well documented. His secular cantatas on the subject of love frequently fail to identify the gender of the beloved as a nod to those wealthy men around him who commissioned them.
As a relevant aside, author Mary Renault's poignant 1972 historical novel The Persian Boy became widely read in the gay community. Bagoas, the title character and narrator, was the favorite of Persian King Darius III, who becomes Alexander's lover, and provides an account of the conquest from the Persian side.
Following the ode to love we learn that "drinking is a soldier's pleasure," and the chorus appropriately sways back and forth as if with steins of mead in their fists.
Rulers must act justly
According to classical literary theory, pre-Christian philosophy stipulates that rulers must be magnanimous, act justly in the pursuit of war, and treat enemies with respect for their humanity and rank. In Alexander's Feast, Darius dies in battle, lamentably "without a friend to close his eyes." Alexander himself cried at Darius' fate.
Fortunately for the audience, LAMC opted to project supertitles so we could understand the text throughout. Dryden has his chorus quoting "the vanquished victor" Alexander:
War, he sung, is toil and trouble,
honor but an empty bubble.
Never ending, still beginning,
fighting still and still destroying.
If the world be worth thy winning,
Let the world be worth enjoying
(or as Emma Goldman put it, "If I can't dance, it's not my revolution.")
In part two, Timotheus strikes up his lyre and launches into vengeance mode. Enough with the platitudes about war and the tears for the honorable foe! Now he stirs up the crowd with images of those Greeks who "injured remain inglorious on the plain" those soldier ghosts "that in battle were slain" in the fight against the Persians' "hostile gods."
Plato himself, in The Republic, commented on the capacity of music to catapult emotions out of control: "Musical innovation is full of danger to the whole state, and ought to be prohibited." Which is what conservatives in the 1950s thought about rock 'n roll.
And when the saint comes marching in
It would hardly do to conclude a work performed during Lent with an act of revenge by one set of pagans (or more properly, multi-theists) against another. How Christian is that?? So Dryden, and Handel, use the ever-handy St. Cecilia, the patron saint of music herself, to descend to earth and restrain the fury. Cecilia is often portrayed by painters at the organ, for what instrument could better symbolize the heavenly power of the musical art?
Composers such as Handel often wrote "occasional" music to mark a state funeral, a royal wedding or coronation, and the end of a war. War being a disruptive event in the ideal order of things, it's only proper to bring reliable old Cecilia in to calm the savage breast. During these martial passages describing the fallen Greeks, the modernistic, chaotic-looking Disney organ itself was lit up blood-red, as if to make a pun about the soldiers' body parts strewn over the fields. Sure enough, at this point we get a little organ concerto (performed with the orchestra by Namhee Han) and the natural order is restored. Until the next time, of course.
For centuries after Handel's death, his music was little performed, except for Messiah, which always retained its popularity. The rest was largely forgotten. In this light, it is no great stretch to speculate that the revival of interest in Handel's operas, which honor the wisdom and generosity of just rulers, began in the 1920s after a horrific world war proved how brutally insane the world's leaders had become.
In subsequent years of the "Hidden Handel" initiative, Gershon is slated to lead productions of Handel's Saul, Israel in Egypt, Theodora and Samson. He explains: "Each of these vivid works is really an opera under a different name with great dramatic stories and flair."
All those music lovers who wonder what else the creator of Messiah left us will wonder no more.
Further information can be seen at www.lamc.org.
Photo: Jamie Pham