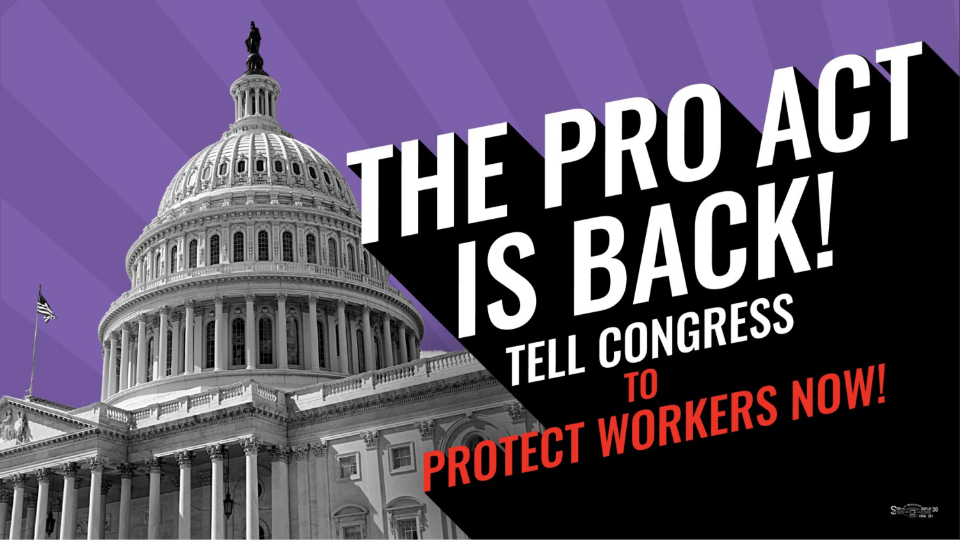 WASHINGTON—Key lawmakers on worker rights' issues—Senate Labor Committee Chairman Bernie Sanders, Ind-Vt., and Rep. Bobby Scott, D-Va.—introduced the newest version of the Protect the Right o Organize (PRO) Act on Feb. 28.
Senate Majority Leader Charles Schumer, D-N.Y., vowed to push it on the Senate floor once Sanders's committee finishes its hearings and work on the measure.
"Joining a union should be a right, not a fight," said Scott, alluding to the roadblocks bosses erect against organizing drives, almost all of which the PRO Act would outlaw.
But even with one House Republican co-sponsor, Pennsylvanian Brian Fitzpatrick, and more than 200 Democrats signed on, it faces an uphill battle in that GOP-run chamber.
Notorious union hater Rep. Virginia Foxx, R-N.C., denounced it as written by "Big Labor." She vowed "the demands of Union Bosses will stop" in her House Education and the Workforce Committee. Both phrases are Republican anti-worker staples. And speakers at the kickoff event warned of intense loathing, backed by money, from the corporate class.
That didn't faze Scott, Sanders, Schumer, or AFL-CIO President Liz Schumer, who spoke at what was officially a press conference but sounded more like a pro-worker rally. Listening to the predicted reaction, Shuler stated, "It tells me they're scared of us. They can't stand a world where workers get a fair share of the profits" of their labor.
"The American people are sick and tired of unprecedented corporate greed and union-busting" added Sanders, whose committee, with a one-vote Democratic majority, is expected to approve the bill. "The average CEO makes 400 times what the average worker makes." The PRO Act, he predicted, is the most-effective way to reduce that gap.
By contrast with the PRO Act, given today's weak labor laws and corporate hate, "taking a risk" to unionize "is an act of courage," explained Shuler. "It shouldn't be."
"But if you look at Starbucks, at Amazon, and at Tesla, what you see is threats and retaliation," she said.
All of those would be illegal, hit with heavy fines—$50,000 for a first offense, $100,000 for subsequent offenses, plus awarding illegally fired workers full back pay plus expenses, and giving them their jobs back as soon as they get a favorable National Labor Relations Board (NLRB) ruling.
Making organizing and unionizing easier is especially vital in so-called right-to-work states, such as Oklahoma, said Shuler. A Communications Worker from Oklahoma City told the press conference about bosses' tactics and lies during an organizing drive at an Apple store there. This version of the PRO Act would repeal the 1947 Republican-engineered legal basis for right-to-work laws, the Taft-Hartley Act.
Many speakers described the benefits of unionization, not just for workers in terms of higher wages, better working conditions, safer workplaces, and voices on the job, but for the economy as a whole.
Citing her predecessor, the late AFL-CIO President Richard Trumka—whose name is attached to the PRO Act—Shuler said he "knew we could not build an equitable economy without changing the law."
The legislation drew an enthusiastic reception from the crowd of Service Employees, Communications Workers, and United Food and Commercial Workers at a press conference turned rally. The Republicans, as Foxx's statement shows, are another matter.
Besides overriding right-to-work laws and imposing higher fines, the new version of the PRO Act would mandate instant recognition and a quick start, within days, to bargaining when the union wins a National Labor Relations Board recognition election. Bosses who stall on reaching a first contract would be forced into mandatory mediation and arbitration.
It also says if the union turns in election cards from a verified majority of workers before the vote, but loses anyway after bosses' anti-union campaigns, the cards control the outcome. And it outlaws a key weapon bosses use in economic strikes, hiring scabs.
Any illegally fired worker would have an immediate right to return to her job if the NLRB rules for her. And the new PRO Act would make it easier for the board to go to court for injunctions against law-breakers. If the board can't or won't, workers could sue for enforcement.
The measure would also make illegal the captive audience meetings bosses and their union busters now use to harangue workers. And it would let union recognition elections be off-site, by mail, or electronically, not just at the plant, office, or shop, where bosses can illegally spy.
Also outlawed: Bosses' gerrymandering union elections—the Democrats' words—by either challenging who could vote and/or stuffing the rolls with anti-union workers in advance.
The measure, HR20 in the House, also writes into law the NLRB's definition of a "joint employer," where both the headquarters and a local franchise-holder are responsible for obeying, or breaking, labor law. Bosses, supervisors, CEOs, and line managers would all be liable for the fines for labor law-breaking. So would so-called "persuaders," a.k.a. union-busters.
And it curbs or bans dodges bosses use to throw people out of unions, such as misclassifying them as "independent contractors" or arbitrarily promoting workers to be "supervisors" but without hire-and-fire and other key responsibilities. It narrows who's a supervisor, too.
Besides outlawing scabs, the new PRO Act restores the right to secondary boycotts. The GOP's Taft-Hartley Act of 1947 outlawed that, too, while legalizing right to work. And the new bill overturns a recent Supreme Court GOP-majority ruling allowing bosses to force workers to sign mandatory arbitration agreements which override even union contracts.
The video of the event is here: