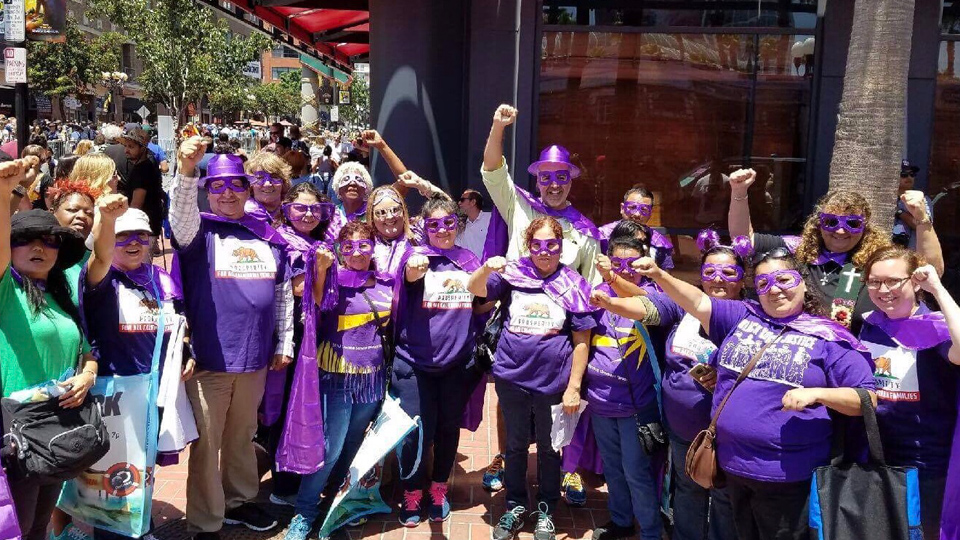 SAN DIEGO – Not all heroes wear capes, but occasionally true heroes put on capes to bring attention to the heroic everyday battles they are fighting. This was the case July 21, when security guards joined by union organizers and community supporters donned purple capes and masks to march through the busy streets of this city's Gaslamp Quarter district calling for union recognition and better pay for the more than 2,000 security officers employed by U.S. Security Associates (USSA) here.
The action took place as close to 150,000 people descended on the city for the 48th annual gathering of one of the world's largest entertainment conventions, San Diego Comic-Con.
This was the first year that USSA served as a sub-contractor with the popular Comic-con convention. Workers for USSA, which has 50,000 employees across the country, have won union recognition in other cities, including Los Angeles where contract negotiations are currently taking place, but the company has yet to agree to recognition in San Diego.
Beatriz Garcia, an organizer with the San Diego Security Officers Campaign, and SEIU United Service Workers West, explained to People's World that security workers in San Diego have been seeking a contract for four years.
"We're out here at Comic-Con to get our message out to the public about what's happening in the security industry of San Diego," Garcia said. She added that the union is calling on U.S. Security Associates, along with other local and national contractors, to come to the table, and negotiate with security officers to raise the standards of the industry. She called for the company to "raise wages [and] provide benefits and job security to the men and women who protect the biggest buildings and largest events in San Diego."
The Rev. Cheri Metier, with the Interfaith Worker Justice organization, said she was there to support the security officers, who have been hired by USSA "to protect all the patrons of Comic-Con." Metier continued, "I serve the Lord of Justice. That's why I'm here today, because these workers deserve to be unionized, and have a fair contract."
Security officer Greg Clark, a veteran of the armed forces and former Highway Patrol officer, said that security officers need to stand together and make improvements on the job. "Respect is critical to keeping folks safe and secure. We need to stand together in a union to clean up the industry and make San Diego the safest city it can be. The only way we will win respect on the job is with a union," Clark emphasized.
Demonstrators chanted "Corporate greed has got to go" and "Comic-Con! Escucha! Estamos en la lucha! ("Comic-Con! Listen! We're in the struggle!") and distributed fliers calling on "Comic-Con superheroes to encourage contractor U.S. Security Associates to do the right thing." The fliers encouraged supporters to call U.S. Security at (858) 560-8114 and press 4 to speak to manager Selita Hines.
Check out the video below for interviews and highlights from Friday's action.