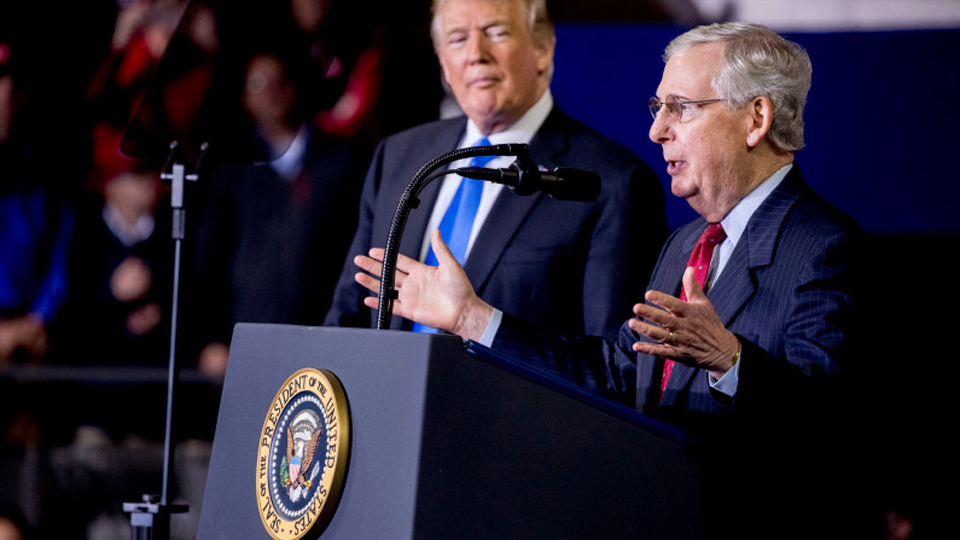 Our readers have been devouring our articles on the fight against Social Security cuts, especially an article from 2006 that cited some key historical markers from the AFL-CIO: "The Republican record on Social Security." We reprint the timeline below, after this update.
An Oct. 16 article in Newsweek by Nicole Goodkind stated: "After instituting a $1.5 trillion tax cut and signing off on a $675 billion budget for the Department of Defense, Senate Majority Leader Mitch McConnell said the only way to lower the record-high federal deficit would be to cut entitlement programs like Medicare, Medicaid, and Social Security."
McConnell said of the deficit: "It's disappointing, but it's not a Republican problem, it's a bipartisan problem," although the deficit has increased 77 percent since McConnell became majority leader in 2015.
On Oct. 15, U.S. Treasury Secretary Steve Mnuchin and Office of Management and Budget (OMB) Director Mick Mulvaney released details of the fiscal year (FY) 2018 final budget results. The deficit in FY 2018 was $779 billion, $113 billion more than in the prior fiscal year.
According to analysis by Reuters, much of the widening of the deficit came from more spending on interest payments on the national debt. Borrowing has increased over the past year, partially to make up for slower growth in tax revenues because of the tax cuts, while military spending has also risen.
The Bipartisan Policy Center called the report "a wakeup call" for policymakers to turn things around. "The fact that our government is closing in on trillion-dollar deficits should be a serious issue for voters and candidates," William Hoagland, its senior vice president, said of next month's U.S. congressional elections.
"The truth comes out! This was their deceptive plan all along," said Representative Lois Frankel of Florida.
"When Republicans in Congress said their tax cuts to wealthy multinational corporations would pay for themselves, they lied," wrote Ohio Congressman Tim Ryan on Twitter. "Now, they're going to try to come for hardworking people to foot the bill by slashing Medicare, Medicaid, and Social Security. We can't let them."
"Every Republican Senate candidate is on the hook for Mitch McConnell's plan to cut Medicare and Social Security. First it was jeopardizing pre-existing conditions coverage, then it was pursuing an age tax that would charge older Americans more for care, and now it's targeting the benefits Americans have paid into," wrote Democratic Senatorial Campaign Committee spokesman David Bergstein in a statement. "This platform is disqualifying, and just like taking away coverage for pre-existing conditions, it's exactly what GOP candidates don't want to be talking about weeks before the election."
One way to fight their plans is to make McConnell and the GOP pay a price at the polls in November for trying to cut Social Security to pay for their GOP tax scam.
Here is the report People's World published in 2006:
1935: Almost all Republicans in Congress oppose the creation of Social Security.
1939: 75 percent of Republicans in Senate try to kill legislation providing Social Security benefits to dependents and survivors as well as retired workers.
1950: 79 percent of House and 89 percent of Senate Republicans vote against disability insurance to defeat it.
1956: 86 percent of Republicans in Senate oppose disability insurance; program approved nonetheless.
1964: Republican presidential candidate Barry Goldwater and future president Ronald Reagan both suggest that Social Security be made voluntary.
1965: 93 percent of Republicans in House and 62 percent in Senate vote to kill Medicare.
1977: 58 percent of Senate votes against amendment to provide semiannual increases.
1977: 88 percent of Republicans in House and 63 percent in Senate vote against an increase in Social Security payroll tax needed to keep the system solvent.
1981: President Reagan proposes $35 billion in Social Security cuts over the next 5 years. The cuts would have included the elimination of student benefits, lump-sum death benefits, and a retroactive elimination of the $122 minimum benefit for three million recipients. (Congress ultimately enacted $24 billion of the proposed cuts.)
1981: Reagan administration begins a wholesale review of the Social Security Disability rolls, resulting in over 560,000 eligibility investigations in 1982 — 360,000 more than the year before. Ultimately, at least 106,000 families were removed from the rolls.
1981: 99 percent of Republicans in House and 98 percent in Senate vote for legislation containing $22 billion in Social Security and Medicare cuts.
1981: Reagan administration proposes a three-month delay in 1982 cost-of-living increases.
1981: Reagan administration proposes $200 billion in Social Security cuts between 1982 and 1990. The cuts include a reduction in early retirement benefit; tightened disability eligibility standards; delay in the 1982 cost-of-living adjustment and a 10 percent eventual reduction in benefits for all new retirees. (The U.S. Senate repudiated the President's proposals by a vote of 96 to 0.)
1982: President Reagan and Senate Republicans propose $40 billion in benefit cuts over three fiscal years.
1985: Reagan administration backs attempts by Republican Senate leadership to eliminate the 1986 Social Security COLA. Vice President Bush casts the tie-breaking vote to eliminate COLA. (House defeats it – it was never enacted.)
1990s: Efforts to end Social Security took the form of appealing to younger workers to put "their" Social Security insurance payments into the stock market.
2005: A Labor-led fight against privatization saved Social Security for the time being.
2006: President George W. Bush, once again, includes privatization of Social Security in his 2007 budget.
Source: AFL-CIO
Barbara Russum of People's World contributed to this article.