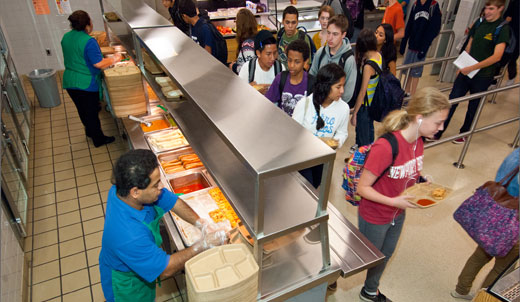 Actually it's not the pizza. It's the tomato paste on the pizza.
Earlier this year the U.S. Department of Agriculture, which oversees the National School Lunch Program, proposed new standards to improve the nutrition in school lunches by limiting the amount of french fries and pizza being served, lowering the sodium content, and boosting whole grains and vegetables. The proposed new standards included, for example, no longer counting the tomato paste on a slice of pizza as a vegetable serving.
This month, House Republicans blocked those efforts. Conservatives in Congress claim they are trying to prevent "overly burdensome and costly regulations," and some argue the government shouldn't be telling children what to eat.
Do the Republicans, and a few Democrats, have a thing about veggies? Did their moms force them to eat their vegetables before they could get dessert? Instead of blaming poor old mom, better follow the money.
In fact, the GOP-led action was "requested by food companies that produce frozen pizzas, the salt industry and potato growers," according to the Associated Press.
The agri-food industry – giants like ConAgra and others – went into lobbying overdrive to stop the USDA's efforts.
With regard to the hotly contested tomato paste issue, reports Minnesota Public Radio's Brett Neely, Congress "sided with one of biggest makers of frozen pizza for school lunches, the Schwan Food Co. of Marshall, Minn., a frozen pizza giant with more than $3 billion a year in annual sales. The privately held company was at the heart of the lobbying battle in Washington over pizza and convinced several members of Minnesota's congressional delegation to follow its lead."
Neely reports: "Schwan Food pizza brands include Red Baron, Freschetta and Tony's Pizza. Besides the products it sells to consumers, Schwan's does a big business selling frozen pizza to the federally-subsidized school lunch program.
"A recent press release from the company boasts that it has a 70 percent market share in the pizza category of the $9.5 billion school food service industry."
Says Neely, "Federal lobbying records show that Schwan and the American Frozen Food Institute, the industry's trade association, spent about $450,000 on lobbying this year, although the information available to the public doesn't say how much was spent on this issue alone."
Writing about the "school lunch lobby" a few years ago, Ron Haskins of the Brookings Institution noted that the "the major purpose of today's school-lunch program is to ensure that children, especially those from poor and low-income families, have nutritious food at school."
More than 30 million children get their lunch through the program on any given day.
Nevertheless, Haskins observed, "behind the overcooked vegetables and steam-table pizza that American children confront each school day is an industry that rivals defense contractors and media giants in its ability to bring home the federal bacon."
Amidst rising concern about soaring obesity rates among American children, Amy Dawson Taggart, director of Mission: Readiness, a group of retired generals advocating better nutrition as a national security issue, commented on the House move, "It doesn't take an advanced degree in nutrition to call this a national disgrace."
Photo: USDAgov CC BY- 2.0