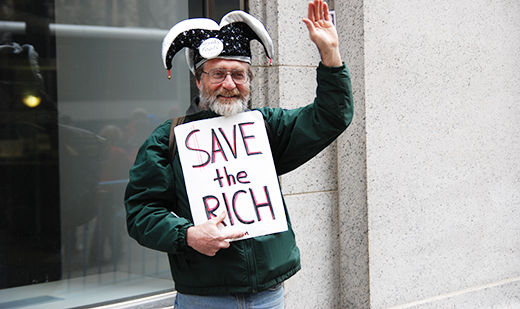 I recently read with dismay a Wall Street Journal article about the return of the estate tax. The article, titled 'Too Rich to Live?' claimed that the federal government – if it allowed Bush era estate tax-breaks to lapse – would be "incentivizing death."
According to the authors, this presents "a bizarre menu of options for wealthy older people – and their heirs." Apparently, estate taxes "incentivize death" just like health care reform creates "death panels."
One millionaire is quoted as saying, "You don't know whether to commit suicide or just go on living and working." This particular individual – whose estate tax is $0 this year -would pay an estimated $15 million in 2011.
The article then quotes an estate-tax attorney, who said, "At least in December 2009, people wanted to keep their relatives alive." Apparently, his clients are looking for ways to pull the plug on dying relatives in order to reap the full benefit of their multi-million dollar inheritances.
According to the Wall Street Journal, this is a "surreal situation." They explain: In 2001 the Bush Congress cut the estate tax rate to 45 percent from 55 percent and increased the exemptions from $675,000 to $3.5 million per individual. In 2010 the estate tax disappeared completely. However, the estate tax is set to revert back to the 55 percent rate in 2011, thus creating the "surreal situation" many wealthy individuals fear.
Obviously, the rich – and their heirs – are very concerned about money. They don't want to see a penny go to the federal government, as the Obama Administration will likely attempt to make the tax rate permanent, and spend the revenue it generates on social programs, jobs and rebuilding our infrastructure.
Making matters even more "surreal" other Bush era tax-breaks for the rich – on income taxes and capital-gains taxes – are also set to expire. Of course, the Republicans will use this issue leading up-to the November mid-term elections. They'll claim that taxes shouldn't be increased during a recession – despite their opportunistic concerns for the deficit.
In fact, they want to "fix" our economy by continuing the failed policies that got us into this mess in the first place. They want to cut social security, Medicaid, Medicare and other social programs. They want to cut pay for public employees, defund our public schools and hope no more bridges collapse.
In what may be depicted as a nightmare scenario for the wealthy, some law-makers are pushing for the estate tax to be retroactive to the beginning of 2010 – retroactively generating billions in tax revenue.
In summary: The rich are dying to avoid paying taxes.
Photo: http://www.flickr.com/photos/jonathanmcintosh/3436200924/sizes/o/in/photostream/