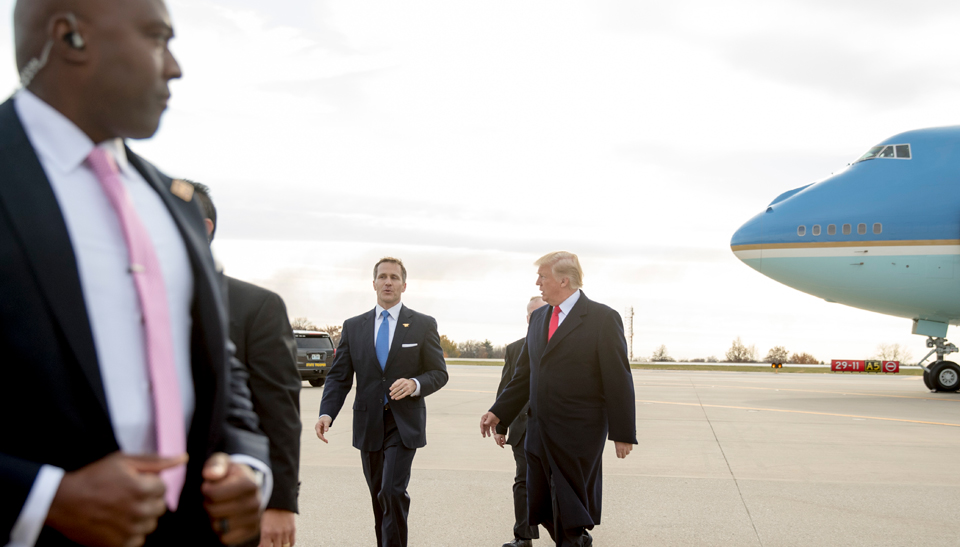 "I am pro-life. As a father of two young children, I believe that every life is precious. I very strongly believe that we must protect and promote the life of every Missourian." — Eric Greitens campaign statement
The meteoric fall of Missouri Gov. Eric Greitens (R) comes as quickly as his rise to conservative political fame. His undoing: the physical and sexual assault of woman a little over two years ago.
He hit her. Tied her up and blindfolded her against her own will. Then took photos in order to silence her through blackmail.
Yet, when questioned about the assault, he has the damn nerve to call it a "consensual relationship," denying all allegations of blackmail, while claiming his only mistake was that he "engaged in a consensual relationship with a woman who was not my wife."
But this shouldn't come as a surprise. Greitens, both on and off the campaign trail, likened himself to Donald Trump—a political outsider, a gun-slinging maverick that would end political corruption, and "drain the swamp." (Seems to me the only swamp scum needing to be drained are still sitting comfortably in Jefferson City, Mo., and Washington, D.C.).
Perhaps Greitens was right comparing himself to Trump, though. Trump is also under scrutiny for his treatment of women; in his case it is his questionable actions after an affair with Stormy Daniels, a former adult actress.
Greitens' gut-wrenching sexual assault details were found within the 24-page report commissioned by the state legislature.
The document is damning and vividly specific.
His now-former victim goes to great lengths in detailing the agonizing moments she experienced in Greitens' basement exercise room—something right out of the '90's horror film, American Psycho.
Greitens is now under indictment on a charge of invasion of privacy, with the trial set to begin mid-May. But with recent allegations of corruption and prosecutorial misconduct stemming from the St. Louis City Attorney's investigation into the Greitens scandal, there is a possibility that justice will not be served, that is, if St. Louis Judge Rex Burlison rules in favor of dismissal in Greitens' criminal case.
Amid the mounting calls for his resignation following the report's release, Greitens is again taking a page out of Trump's playbook in an effort to survive this apparent "witch hunt"—their words, not mine.
"Should the governor choose not to resign, I am persuaded that he has not only burned bridges, he has blown them up to where it will be impossible for him to effectively lead the state going forward," said Missouri Senate Majority Leader and highest-ranking Republican lawmaker Mike Kehoe.
Making it clear that he would not resign during a press conference Wednesday, April 11—hours before the release of the House special committee report—Greitens went on, saying that "in 33 days, this will all come to an end, because in the United States of America, you get your day in court.
"Let's call this what it is, a political witch hunt now based on the testimony of someone who said under oath that they may be remembering this through a dream," he continued. "We expected tonight's report will be full of more false, salacious accusations."
And there it is, a hat tip to Trump's favorite tweeting remark: "Fake News." It's a term that binds "alt-right" extremist politicians, strengthens their voter bloc's distrust of political institutions, and stokes hatred towards a common enemy—mainstream media—while further dividing a politically fragile nation.
With each sexual assault scandal that comes to light during the #MeToo era, it is utterly shameful that such criminal behavior is being normalized by a certain political party that prides itself on family values, truth, justice, and the "American Way."
Those politicians are nothing but sleazy used car salesmen, peddling BS to voters in the hopes that their blatant corruption will become white noise and eventually disappear completely.
Oh…and speaking of corruption, let's add one more criminal activity to Greitens' plate. Missouri State Attorney General Josh Hawley, a Republican, announced yesterday that his office had uncovered potential criminal wrong doing by Gov. Greitens.
During an investigation into Greitens' charity, "The Mission Continues," Hawley's office found "evidence of wrongdoing that goes beyond Missouri's charity laws."
"Mr. Greitens obtained an electronic donor list created by The Mission Continues for that organization's internal purposes," Hawley said. "Mr. Greitens used that list for political fundraising; he transmitted that list for political fundraising without permission of The Mission Continues."
That donor list included individuals who had given over $1,000 to the charity.
Though the state attorney general has no jurisdiction over the governor, Hawley obtained a court order Monday, April 16 to turn over all evidence to St. Louis Circuit Attorney Kim Gardner, since the crime occurred within St. Louis City limits.
But even after yet another bombshell revelation, Greitens continues to live in a political fantasy land, releasing the following statement Tuesday:
"Fortunately for Josh [Hawley], he's better at press conferences than the law. Anyone who has set foot in a Missouri courtroom knows these allegations are ridiculous. Josh has turned the 'evidence' he claims to have over to St. Louis Circuit Attorney Kim Gardner—a liberal prosecutor funded by George Soros who allegedly suborned perjury, falsified documents, and withheld evidence. We will dispense with these false allegations."
Late Tuesday, Missouri Republicans issued a biting rebuke of Greitens, again calling for his resignation as scandals continue to arise in his administration and threaten their whole party's public image.
"Leaders at all levels of government are entrusted with an incredible responsibility to the Missourians we represent," read a joint statement from House Speaker Todd Richardson, House Majority Leader Rob Vescovo, and House Speaker Pro Tem Elijah Haahr. "When leaders lose the ability to effectively lead our state, the right thing to do is step aside. In our view, the time has come for the governor to resign."
The political Grim Reaper now slowly makes the trek up capitol hill in Jefferson City, Mo., scythe in hand, ready to mark Greitens' political grave—be it through the courts, an impeachment, or a forceful removal at the hands of Missouri voters.