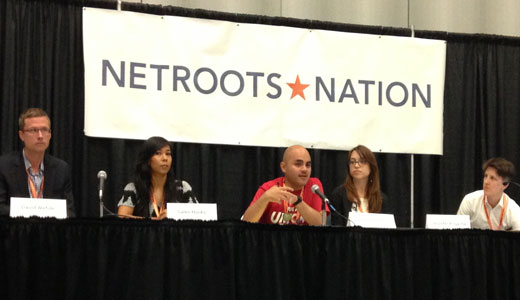 SAN JOSE, Calif. – The rapidly growing trend in innovative organizing among non-unionized and low-wage workers was showcased at several panels at this year's Netroots Nation conference here.
Among them was "The Rise of Alt-Labor: Organizing Outside Traditional Unions," moderated by Jess Hutch of Coworker.org, an online platform that helps launch such campaigns. She was joined by David Wehde, organizing director for Working America, Galen Hooks of Dancers' Alliance, Gregory Cendana, executive director of the AFL-CIO's Asian-Pacific American Labor Alliance, and Jennifer Angarita, coordinator of the AFL-CIO's national Worker Center Partnerships.
Decreasing union density in the United States has made traditional labor organizing difficult, but not impossible, as these new workers' organizations (also referred to as workers' centers) are proving. Working people have responded by creating new groups called "alt-labor," a term coined this year by progressive labor journalist Josh Eidelson. Groups such at OURWalmart, Restaurant Opportunities Centers, Dancers' Alliance and elements of the fast food organizing movement, such as Fight For 15, are taking on workplaces that were once considered totally impossible to organize. In turn, some die-hard anti-union corporations are beginning to cede to demands brought by the creative pressure brought by these new forms of resistance.
Eidelson, in a recent article, speculated that these alternative groups might supplant traditional labor unions, but the panel instead presented a picture of a deep working relationship between alt-labor and "trad-labor," building nurturing and productive collaborations able to bring the strengths of both groups to thorny labor problems with verve.
Galen Hooks of Dancers' Alliance, for example, related the stark facts of what dancers in the entertainment industry face. Dancers have been appearing in music videos for 30 years – since the medium exploded onto MTV – without union protection, unlike their film, television and theater counterparts. "Traditionally music videos have been the most difficult arena to work in … those are when you are working 20-hour days, dancing in 5-inch heels on Plexiglas and fire … for an artist who makes millions," explained Hooks. Dancers were often not given water, bathroom access, changing rooms, or breaks. One dancer even reported to Hooks having been told by her employer that she should bring her own chair if she wanted to sit down to rest between scenes.
The biggest challenge to organizing the dancers is the isolated nature of the job, with dancers being booked for jobs through their agents, working for several different employers who are in turn contracted by major record labels for jobs. A strategy that would bring the dancers together to work on labor issues, while also targeting the corporations that contract the employers, required a skillful campaign. Additionally, with dancers being a young demographic in a fast-moving industry, a fun and bold media blitz was needed that would attract both the dancers and the industry tastemakers needed as allies to boost the campaign.
Partnering with AFTRA (now SAG-AFTRA), the AFL-CIO union representing entertainment industry workers, Dancers' Alliance served as a liaison between the dancers and the union. The union provided a support department for organizing, and also legal aid for support across the table from record labels. With this structure in place, the alliance created a two-part campaign. The first part, called "It's About Time", staged a flash mob in front of Sony headquarters. When the record labels doubled down and came back with an even worse deal for workers, the second part, "The Time is Now," was launched as an effective work-stoppage threat.
After a "Do Not Work" order was agreed upon by SAG-AFTRA membership and the members of Dancer's Alliance, the labels capitulated. Hooks and her membership gained not only the basic workplace protections which they were seeking, including union contracts for music videos, but also retirement benefits and health care. There were two additional outcomes to the campaign, Hicks said, that were unexpected to her. The first was an alliance with the Restaurant Opportunities Center, who pledged solidarity even though there wouldn't seem to be much overlap between restaurant workers and dancers. The other was a shift from concern over labor issues being perceived as kind of old-fashioned among dancers, to the dancers now identifying with pride as members of Dancer's Alliance.
"Now it is cool!" she said. "We learned a lot in the last couple of years how to reach our audience and posting YouTube videos and using Twitter and doing things that speak to them was a major part of that."
Cendana and Angarita of the AFL-CIO spoke on the advantages for traditional labor in partnering up with alt-labor organizations. The AFL-CIO now works with five national workers' centers and the positive effects have been evident even over the last two years. Angarita cited the crucial role played by the Workers Defense Project in Texas. This organization highlights the dangerous jobs of unprotected workers in the construction trades, where 2.5 (often vulnerable and undocumented) workers die on the job every day from extreme heat exposure and not being allowed shade and water breaks. The Workers Defense Project has been successful in winning victories in the workplace and also in getting unions to see the immigration fight as their fight too.
Cendana highlighted labor's move to help create new leadership from the rank and file of alt-labor workers' centers, recognizing that the current AFL-CIO leadership does not reflect today's workforce, which is becoming younger, with a rising number of people of color. Alt-labor groups have also been behind many of the new shifts in unions to look beyond the concerns of their own membership and take on fights like voting rights and immigration reform. In addition Cendana explained, "I'm using the acronym ACT … we need to better utilize art, culture and technology in our campaigns and organizing."
The panelists uniformly acknowledged that sustainability is a challenge for alt-labor worker-led organizations. Presently progressive foundations rather than the traditional dues model of labor unions fund many of the organizations, and there is the double concern of the foundational support eventually moving on to the next "shiny object," and organizations having to struggle with collecting funds from a low-wage employee base.
In the meantime, labor is benefiting overall from the expansion of organizational density that alt-labor brings, along with an ability to take actions that unions are constrained from performing themselves because of labor laws. The AFL-CIO has created the Labor Innovation for the 21st Century Fund (LIFT) to help support alt-labor organizations, showing their commitment to an ongoing partnership. Working America, the AFL-CIO organization for non-union workers, is gaining more members every year and has recently launched a campaign called "Fix My Job" to reach out to mistreated workers in unorganized workplaces. "What is important about these examples, said Wehde of Working America, "is that they are examples and that the more visible they become the more they become something that other workers can aspire to."
"The Office Battle" via Fix My Job:
Photo: Netroots Nation 2013 panel, "The Rise of Alt-Labor: Organizing Outside Traditional Unions." Left to right: David Wehde, Working America; Galen Hooks, Dancers' Alliance; Gregory Cendana APALA-AFL-CIO; Jennifer Angarita AFL-CIO; and moderator Jess Kutch, Coworker.org. Michelle Kern/PW