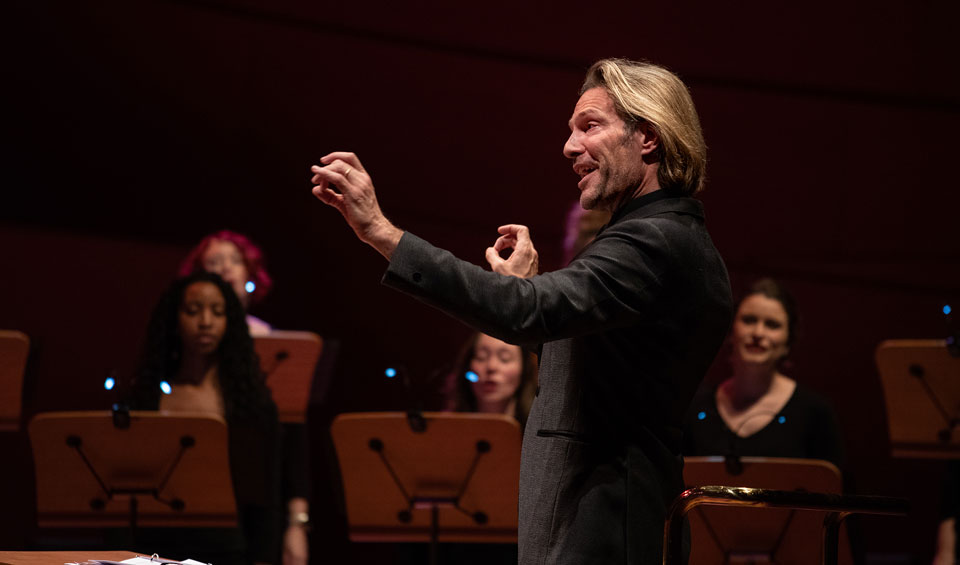 LOS ANGELES—Every culture has its ways of honoring the sacredness of life—and of death. Perhaps as individuals we often fail to recognize the daily wonderment and awe of renewed life, but when death comes we all adopt some way of coping, even if in denial.
Last weekend marked the latest world premiere for the Los Angeles Master Chorale when it performed its Artist-in-Residence Eric Whitacre's new almost hour-long cantata The Sacred Veil. The composer worked with his longtime collaborator of some 30 years, the poet Charles Anthony Silvestri. I attended the first of two performances, on Feb. 16.
People with strong religious loyalties often have an easier time of it if they follow the time-honored rituals of mourning, grief and remembrance. Somehow obeisance to their faith tradition sets individual loss within the larger framework of family, generations and belief in a way that creates solidarity in collective grief across the years. The arts, particularly music, have given us timeless requiems through which we solemnize death and affirm eternal verities.
Secular people often lack those prescribed formulas for dealing with loss. The humanistic movement struggles to find poetry, song or literary readings that provide solace in such times, often calling upon the force of nature and time to enfold both the dead and the living in an endless Darwinian continuum of conscious existence.
On the left, well-known songs such as Earl Robinson and Alfred Hayes's "Joe Hill" or "Beloved Comrade," by poet Lewis Allan (pen name for Abel Meeropol) and composer Fred Katz, "written in 1936 for the anti-fascists who were killed in Spain" according to The People's Song Book (1948), were sung at funerals. "Rest here in the earth," Allan writes, "your work is done. You'll find new birth when we have won. Sleep well, Beloved Comrade, our work will just begin, the fight will go on till we win."
If religious folk could find comfort in knowing their loved one now sat at the right hand of God, or at the feet of Jesus, the political militants knew that this life, as all our lives, was but one small tributary to that great stream of freedom that would lead ultimately to salvation, i.e., the Revolution.
The myth of Orpheus is worth recalling, for the Greeks were too worldly to believe in salvation either religious or secular. In his grief over losing his beloved new bride Eurydice—a story which artists, composers in particular, have been retelling in their own vocabulary for at least 2000 years—Orpheus returns to Earth from Hades and with his lyre pours out his lamentations in song. He is the primordial illustration for turning unspeakable loss into timeless art.
Speaking personally, I was thinking of my own beloved comrade Rick, an art gallery director and curator whom I lost to AIDS in 1993, when the opportunity arose for me by virtue of my employment as Southern California director of the secular Jewish organization The Workmen's Circle/Arbeter Ring, to establish an ongoing art gallery on our premises. We called it A Shenere Velt, Yiddish for "a more beautiful world," and for 15 years, averaging about six shows a year, we exhibited (and sometimes sold) work that was Jewish-inspired and/or socially relevant, in accord with our organizational mission. The spirit of Orpheus lived on in that project.
The Sacred Veil may be the single most important musical contribution in our time, perhaps in any time, to a non-religious, as well as non-political—perhaps we might say non-teleological understanding of death and loss. Its length and difficulty may preclude it from inclusion in your average funeral, but to experience it in performance with 40 singers, or perhaps in recorded form, may be transformative for those whose grief, recent or deep-seated, has never completely found closure.
"We realized that this is a powerful undertaking," Silvestri told program annotator Thomas May. "With The Sacred Veil, we've touched a third rail in our society, which doesn't do grief well." The project "allowed me to revisit my grief in a very powerful way. In a way, I understood I hadn't fully grieved, because I hadn't processed it in art."
In his own encounter with grief, he lost his young wife to cancer in 2005, leaving him with two small children. Working with Whitacre for over two and a half years on this piece provided Silvestri with his Orpheus opportunity, the chance to put into words and music the journey he and his wife Julie went through, the moment finally to wrestle with the big questions of life and death.
In twelve movements, set to poems limning the evolution of their attraction, love, romance, marriage, diagnosis, Julie's communications by email and in her journal, her passage through the "sacred veil" that separates life from eternity, and the poet's coming to terms with fate, the cantata in a parallel manner, using the almost limitless vocal resources of a professional choral ensemble (in this case accompanied by piano and cello), makes a musical statement that might one day be the go-to composition of secular consolation.
Whitacre's musical style is a kind of popular front modernity—for our time what the bold optimistic chords of Aaron Copland were for the 1930s and '40s—full of shimmering, shuddering, shifting harmonies that awaken the ear to a contemporary yet accessible voice. There is an emotional remove to much of the score, as though both poet and composer are filtering the events of more than a decade ago through a dense scrim of memory. Whitacre also does not go in much for obvious word-painting: For example, Julie, in recounting how her kids played with her fallen-out hair and her wig, writes, "They would laugh and laugh…they howled with laughter," yet the music remains solemn and even-keeled.
Not all the poet's words are so poetic. The sixth movement begins: "I'm afraid we found something… [Fifteen centimeter retroperitoneal cystic mass with complex internal septation… The patient is a twenty-eight-year-old white female, primagravida, in the third trimester of pregnancy]" and goes on in that diagnostic vein—showing, if nothing more, that any text can be successfully be set to music by a composer in command of their craft!
Other movements, though, are highly lyrical—concise rhymed epigrammatic evocations of precious moments. The ninth movement, for example, starts off: "In a dark and distant year / The wanderer weary, full of fear / Confronts a fated force more powerful than life. / A carriage made of sea / Has come to take his wife. / The waves too dark and deep to swim / He hears his love cry out to him, / Her piercing anguish rising high above the foam. / 'Please don't let go of me / For you, you are my home!'"
The eleventh movement is especially well thought-out musically. The poet remarks that "Your struggle ends as mine begins. You rise; I fall." The music describes a parabola in aural space. An excerpt can be heard here.
So far, the biographical, clinical and psychological notes have dominated the story and the score. Like many others in the audience, I too could relate to the pain of watching a loved one's life slip away and the feeling of helpless abandonment. But the artists were clearly leaving the most touching passage for the end, and that is where, for me and for my friend who accompanied me, the cathartic tears began, as the poet bids farewell. "Child of Wonder," movement 12, could well be recited at funerals for those who are not so sure God or Jesus has their hands open to receive the newly departed. In its entirety:
"Child of wonder / Child of sky / Time to end your voyage / Time to die.
"Weary waters beckon / Dark and deep / Child of soft surrender / Child of sleep.
"Child of sorrow / Child of rain / There is no tomorrow / No more pain.
"Turn your silvered sails / Toward the light / Child of mourning / Child of night.
"Child of iridescence / Child of dream / Stars and moons will guide you / Down the stream.
"Stretched on ocean waves / Exchanging foam / Welcome home my child / Welcome home."
The Master Chorale is known for incorporating theatrical elements into its productions, and The Sacred Veil was no exception, particularly as to lighting. In the sixth movement, cited above, the lighting turned from blue to a clinical, surgical white as the diagnosis became more specific. At just under an hour, The Sacred Veil was not quite enough music for a full program. Two earlier Whitacre compositions were also heard, Lux aurumque (Golden Light), which lent a somewhat monastic tone to the performance, and i thank you God for most this amazing day, set to an appropriately life-affirming e.e. cummings text.
Although acclaimed for many of his other works, Eric Whitacre might best be known for his Virtual Choir projects which have brought together voices from all over the world and have inspired millions of viewers on YouTube. Such was the case with his composition Sleep, originally written to Robert Frost's poem "Stopping by Woods on a Snowy Evening," but when the rights were unable to be obtained, he and Silvestri wrote a stunning new text to the same rhythmic design of the poem. The video of this composition is mesmerizingly fascinating.