LOS ANGELES—By now it's a common expression, considered an established piece of standard folk wisdom, but credit truthfully belongs to former Washington Post president and publisher Philip L. Graham for first describing journalism as "the first rough draft of history."
In our reporting on the results of the recent midterm elections in California, People's World was necessarily incomplete on a couple of statewide races because they were so tight and so many votes had yet to be counted. Up to 40 percent of votes cast in California this year were mailed in, and those were not counted in Election Night tallies from the precincts.
As Marilyn Bechtel wrote on Nov. 13, the race for Insurance Commissioner, between Democratic former state Senator and Assemblymember Ricardo Lara and former Insurance Commissioner Steve Poizner, a Republican now turned Independent, was simply too close to call.
The other close contest, for Superintendent of Public Education, pitted two Democrats against one another: Marshall Tuck and former state Assemblymember Tony Thurmond. A week after the Nov. 6 election, the heavily funded charter schools promoter Tuck was leading the African-American Thurmond by 50.6 to 49.4 percent.
By the time the final vote emerged, Lara was declared the winner for his race—the first LGBTQ person elected to statewide office. His voice will be an important one as California proceeds to ponder the possibility of establishing Medicare for All in the largest state in the country.
In the Public Education position, Thurmond's vote count consistently rose with each day's new numbers, until in the end he pulled off an upset by winning 50.8 to 49.2 percent. Tuck had been the top vote-getter in the June 2018 primary.
The nailbiter Congressional races
In a Nov. 8 article in PW on the Congressional races in California, this writer reported moderately successful results that fell short of the six or seven red-to-blue upsets that Democrats had hoped for in districts that Hillary Clinton won in 2016. We reported the wins of Katie Hill over incumbent Steve Knight, Harley Rouda over incumbent Dana Rohrabacher, and Mike Levin over Diane Harkey in the seat vacated by Darrell Issa's retirement.
But we also registered the disappointment that others, who ran conscientious campaigns against incumbent Republican representatives, failed to win, producing not the expected tsunami, but a blue "lap" on our state shores. That was history's "first rough draft."
Again, over the course of the weeks following Election Day, the numbers started shifting, as absentee ballots were tallied and provisional ballots evaluated. In Congressional District 45, Mimi Walters had appeared to be keeping her seat on Election Day, repelling a challenge by University of California Irvine law professor Katie Porter, with a solid advantage of 51.7 to 48.3 percent. But in the end Porter surged ahead with almost 4,000 votes and a 50.8 versus 49.2 percent win. Walters was among those shocked and angry Republicans who joined the man in the White House who came in second in the popular vote to decry "electoral fraud" that ousted so many right-wing members of Congress.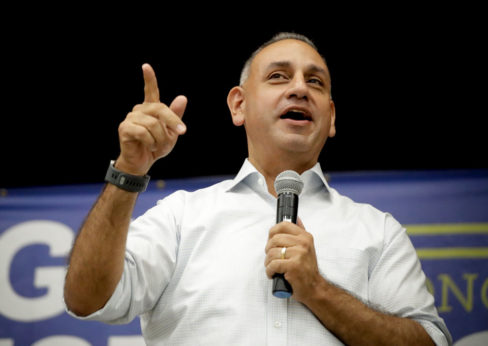 At the end of the day on Nov. 6, it appeared that Young Kim, an aide to 39th C.D. Congressman Ed Royce who also retired this year, had bested her opponent, Gil Cisneros, in C.D. 39 by an initially reported vote of 51.3 to 48.7 percent. It took a long two weeks, but day by day, Cisneros kept inching up to a final tally of 50.8 to 49.2 percent—curiously the same numbers as in the Porter-Walters and the Thurmond-Tuck races.
With that win, Cisneros cemented a ceiling-busting victory: For the first time, all of Orange County, home of the John Birch Society and a longtime conservative stronghold for Richard Nixon and Ronald Reagan Republicans, had achieved, like neighboring Los Angeles County, 100 percent Democratic representation in Congress.
The promising campaign by Ammar Campa-Najjar to unseat indicted Rep. Duncan Hunter in San Diego County's C.D. 50, did not succeed. The challenger lost by 54.2 to 45.8 percent in a fight characterized by Hunter's openly racist and dishonest religious attacks.
However, the Democrats did capture a sixth Congressional seat in the state, up north in the San Joaquin Valley's C.D. 10. Challenger Josh Harder appeared to have lost to incumbent Jeff Denham at the close of Election Day, by a difference of 1.2 points—50.6 to Harder's 49.4 percent. As the vote count proceeded, this race, too, went to the Democrat. Harder wound up with 51.3 percent to Denham's 48.7 percent, a 2.6 point spread.
The 53-member California delegation to the House had been 39 to 14 in favor of Democrats going into the election. They emerged with 45 to 8.
Repeal of the latest legislative gas tax that was on the California ballot failed by a sizable margin. It had been promoted by Republicans in order to pull out anti-government Tea Party voters who did not have a viable Republican gubernatorial candidate nor any Republican U.S. Senate candidate to vote for. The final tally indicates a certain maturity on the part of the California electorate, who understand that taxation is the price citizens pay for roads, repairs, and bridges.
The issues in California were overall not much different from those that moved voters in other parts of the country: Trump was on the ballot everywhere, with significant concerns also about civil and human rights, healthcare, Social Security and Medicare. As a result of the historic outcome of the 2018 midterm elections, new vistas for resistance and change have opened up on state and federal levels. It will be up to the active citizenry to keep the movement going on all fronts.