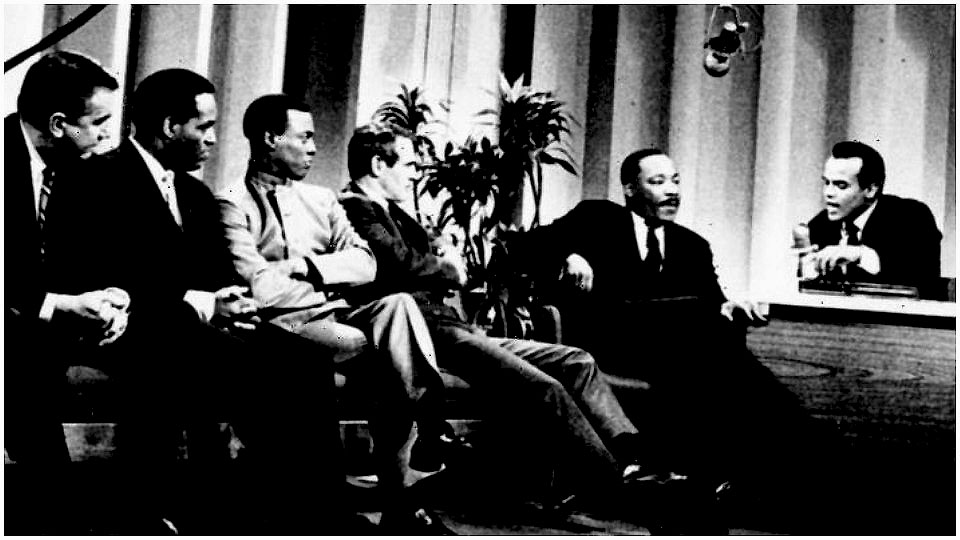 The camera sweeps over an applauding audience. Ed McMahon announces his familiar introduction—with a twist, "From New York, The Tonight Show starring Johnny Carson…and now, here's the fabulous Harry Belafonte." These are the initial images and sounds from Yoruba Richen's new documentary film, The Sit-In: Harry Belafonte Hosts The Tonight Show. During the week of February 5-9, 1968, The Tonight Show featured a week-long guest host for the very first time. The sit-in host was an African-American man who was then at the forefront of the Civil Rights Movement, Harry Belafonte. World-class actor, singer, and dedicated human rights activist would properly define Harry Belafonte. Entertainment and politics merged on mainstream network television in the form of a late-night talk show for one amazing week in 1968. This new documentary shares the story of how that week came to fruition.
Viewers will learn that complete video tapes of Belafonte's week hosting The Tonight Show no longer exist. The film explains how NBC routinely erased and reused tapes of many early broadcasts. What does remain, visually, are historic black and white segments featuring Belafonte interviewing Robert F. Kennedy and Dr. Martin Luther King, Jr., plus a performance of Leonard Cohen's "Suzanne" by African-American folk singer Leon Bibb. Thankfully, however, sound recordings of the first two nights were preserved (thanks to collector Phil Gries, appearing in the film, who recorded two complete shows on audio tape in 1968) that reveal Belafonte's interactions with additional guests that week. The line-up was nothing less than spectacular, partially including Lena Horne, Aretha Franklin, Diahann Carroll, Nipsey Russell, George Kirby, Sidney Poitier, Paul Newman, Bill Cosby, and Wilt Chamberlain. The Smothers Brothers, who at the time were in the midst of their own political stir at CBS, also appeared, bringing along their controversial humor. A fine moment in the film shows a present-day Belafonte perusing a list of the nightly guest line-ups on camera, smiling, and simply being amazed.
Referring to the invitation to appear as guest host, Harry Belafonte reflects, "I said no at first, because I couldn't do what Johnny did. I can't tell jokes and what not." What transpired, however, was Belafonte being given carte blanche to invite guests of his own choosing, and injecting his own personal style into the format. The week was set and history was about to be made. The television medium was not an outlet Belafonte always embraced. The documentary presents his daughter, Gina Belafonte, who explains, "If it wasn't going to be in an inclusive way that he envisioned both racially, but I think most importantly artistically, let alone politically…he didn't want that to be part of his legacy."
The Sit-In features contributions from a wide array of commentators who share admiration for Belafonte and eagerly discuss his landmark achievements. Questlove, drummer and joint frontman for the current Tonight Show house band, the Roots, states, "That was probably the most revolutionary move that mainstream television could have done at the time." Jason King, director of the Clive Davis Institute of Recorded Music, NYU, shares his thoughts, "Harry Belafonte takes an existing white institution in American culture and he turns it into something that represents his world, that it should be multi-cultural, that it should be politically engaged…it was something that was really inspiring, especially to a lot of black people who were watching who had not seen themselves necessarily represented in that way." Whoopi Goldberg adds, "Harry Belafonte, at eleven o'clock, late-night, was saying…we're here, we're Americans, we're part of this, we're not going anywhere."
The film describes Johnny Carson very favorably as he supportively offered the reign of The Tonight Show desk for a week, enabling Belafonte the opportunity to discuss political and controversial issues of the day. Belafonte makes it clear, "The Tonight Show was one of the most powerful platforms of communication in the world." Images of protests and civil unrest engulfing that era are shown, and the reality of how America was a divided nation, such as today, is clearly depicted. We get the sense Belafonte saw his guest hosting stint as a unique opportunity to bring together those things that can potentially unite us through conversation. Unfortunately, as the film explains, it would take a long time before an African American would be a permanent host of a late-night talk show, with Arsenio Hall arriving in the Eighties.
Although the original surviving Tonight Show footage shown in the documentary is minimal, due to its unavailability, The Sit-In keeps its enthusiasm going with commentaries from various guests who appeared that week. Indigenous Canadian-American singer-songwriter and social activist Buffy Sainte-Marie was thrilled to have been invited by Belafonte to perform on the show, "He always brought people from indigenous communities all over the world onto stage." The singer discusses the selection she chose to perform on The Tonight Show, "Now That the Buffalo's Gone," a song about the building of the Kinzua Dam, in which the government took land away from the Seneca. Additional reflections are included from Dionne Warwick, Freda Payne, and Petula Clark, who recalls the controversy surrounding a performance with Belafonte on her own television special.
The Sit-In starts out recounting the history of The Tonight Show and Belafonte's early career, encompassing the cultural atmosphere of those times. The documentary later becomes quite an emotional ride, detailing Harry Belafonte's relationship with Dr. Martin Luther King, Jr. and their commitment to civil rights. Robert F. Kennedy and Dr. King appeared on The Tonight Show merely months before they were both tragically assassinated. There is a poignant moment in which Harry Belafonte leans in and asks King if he fears for his life. Dr. King's sincere response, in his expression and words, will remain with viewers long after watching. The footage alone is historically priceless, and the film successfully puts it all into perspective. The filmmakers are clearly dedicated in telling the story of this unique week in TV history.
As nostalgic as The Sit-In may appear at first, the political reality of that moment quickly takes hold, giving it an all-too-contemporary feel. The racial, anti-war, and poverty issues Belafonte discussed over 50 years ago still remain in the news today. The ratings achieved during Belafonte's week hosting were the highest ever for The Tonight Show at the time. Despite his successful run, there were mixed reactions about politics entering into the show. Belafonte received a number of letters from viewers complaining they tuned in for entertainment and didn't want to be preached to. Although many talk shows embrace political discourse nowadays, the merging of artist and activist has often been met with backlash in America. Harry Belafonte's own thoughts are an essential part of this film, as he states, "The violence and the hostility is still in America, what have we missed in trying to reach those people with our message? I'm now 90 years old and I've been at this game since I was a teenager."
A month after Harry Belafonte's turn hosting The Tonight Show, Johnny Carson invited him back as a guest to discuss his experience. During the course of that interview, as shown in The Sit-In, Harry Belafonte tells the audience, "In a time when a nation is really struggling for its soul, on the heels of the President's report on the riots that took place in the summer…I believe that all of us [have] a responsibility to do everything we can to salvage the best that's in America, because there's a great deal that's good about it." These words were spoken in 1968, yet they are exceedingly poignant today.
There is no better time than now for this documentary to arrive. The Sit-In: Harry Belafonte Hosts The Tonight Show is directed by Yoruba Richen. The documentary is a Peacock original production and premiered online September 10. The film is now available for streaming free of charge at peacocktv.com. Don't miss it.