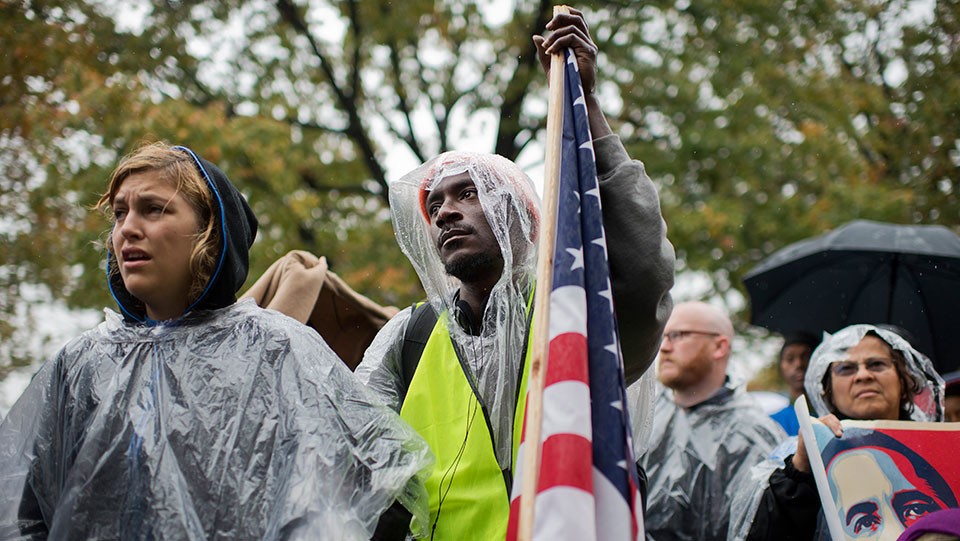 WASHINGTON—At first glance, and by economic numbers alone, the state of working America appears to be improving. But a second look shows it's unsettled, due to the coronavirus.
The official jobless rate hovers around 6%, still higher than it was by the end of former Democratic President Barack Obama's term. But it's down from the pandemic-produced highs of April and May 2020: Near 20%, with real rates above that.
That's also when GOP Oval Office occupant Donald Trump refused to admit the catastrophe and ordered "essential" workers to toil at their jobs, even without protective gear.
By now, millions of people have gone back to work since the economy started to reopen, even if their demographics are skewed: More men than women returned to work. More white-collar than blue-collar workers returned to workplaces (and fewer were laid off, proportionally). And more whites than workers of color, proportionately, returned to work.
Now come the caveats. Among them:
Racism, misogyny, xenophobia, and historic exclusion from labor law coverage combined to hold down the wages of home care and child care workers far below a living wage, the Economic Policy Institute recently reported. "The average hourly wages for home health care and child care workers are $13.81 and $13.51, respectively, which is roughly half the average hourly wage for the workforce as a whole," EPI said.
Democratic President Joe Biden's plan to raise their wages, part of his follow-up $3.5 trillion recovery legislation, faced strident GOP foes, again tinged with racism and sexism, since most child and home care workers are women of color.
Congress won't raise the federal minimum wage, which EPI calculates has lost 21% of its purchasing power since the last phase of the last hike occurred in 2009. So states and cities have. Eighteen states have that $7.25 federal hourly minimum. Two more, Georgia and Wyoming, impose it only on firms in interstate commerce. Their other firms have $5.15 hourly minimums. The other 30 states and D.C. are above the federal minimum.
The Senate GOP's filibuster is an existential threat to comprehensive labor law reform via the Protect The Right To Organize Act. So EPI pointed out states are stepping into the breach, with laws extending collective bargaining to public workers in Virginia and to all community college faculty and staff in Maryland and with "Bills of Rights" protecting domestic workers in New York and farmworkers in Colorado, among other measures.
But the big uncertainty hanging over workers' heads, and the country's, is still the coronavirus pandemic. By Labor Day, its cumulative death toll was projected to pass 625,000.
The virus's Delta variant—mutation—is spreading more quickly than the original coronavirus did. Even vaccinated people can catch slight symptoms, but also with double the probability they could transmit it to the unvaccinated, the Centers for Disease Control says.
Calculations were underestimates
A joint university consortium constructing computer models of the virus's spread calculated in August that based on Delta's spread and data through Independence Day, the U.S. would rise to 60,000 new coronavirus cases per day, 80%+ of them Delta, in October. The U.S. hit that figure the last week of July.
And unvaccinated people, workers and non-workers, are the big hazard.
"We have 100 million people in this country who are eligible to be vaccinated, who are not vaccinated," Dr. Anthony Fauci, longtime director of the National Institute on Allergies and Infectious Diseases, said on Face The Nation on August 1.
"We've really got to get those people to change their minds, make it easy for them, convince them, do something to get them to be vaccinated because they are the ones that are propagating this outbreak."
That includes workers—enough of them that major firms, both unionized (Disney) and anti-union (Walmart) are now mandating all their workers be vaccinated before coming back to physical employment sites, be they theme parks, warehouses, or offices.
Other firms are delaying workers' return to job sites due to the fast-moving Delta variant. Teachers, their unions, school kids, and their parents all want to return to in-person learning. Doing so would not only make learning more normal, it would free up working women to resume their jobs and their careers.
But Delta's fast spread gives many schools pause, and Teachers President Randi Weingarten declares health standards in schools, to prevent the virus's spread, are a mandatory bargaining subject.
"We need more people vaccinated," CDC bluntly says. "Vaccination coverage by county ranges from 9% to 89% and remains below 40% in over half" of all 3,014 counties. "Areas of low vaccination coverage have rapidly increasing cases." Alabama, Arkansas, Louisiana, Mississippi, Wyoming, and Puerto Rico also have adult vaccination rates under 40%.
CDC says vaccination cut death rates by 70% compared to a year ago, but "healthcare systems are being strained in many states with surging cases, imperiling providers' ability to deliver care not only for patients with Covid-19 but also those with other healthcare needs."
"We are at another critical crossroads in this pandemic," Sandy Reding, California Nurses Association/ National Nurses Organizing Committee president, warned in a recent union podcast. "With the Delta variant dominating, vaccination rates stagnating and pretty much no more public restrictions" requiring masking, gathering, and social distancing, "I fear we're setting ourselves up for another major surge."