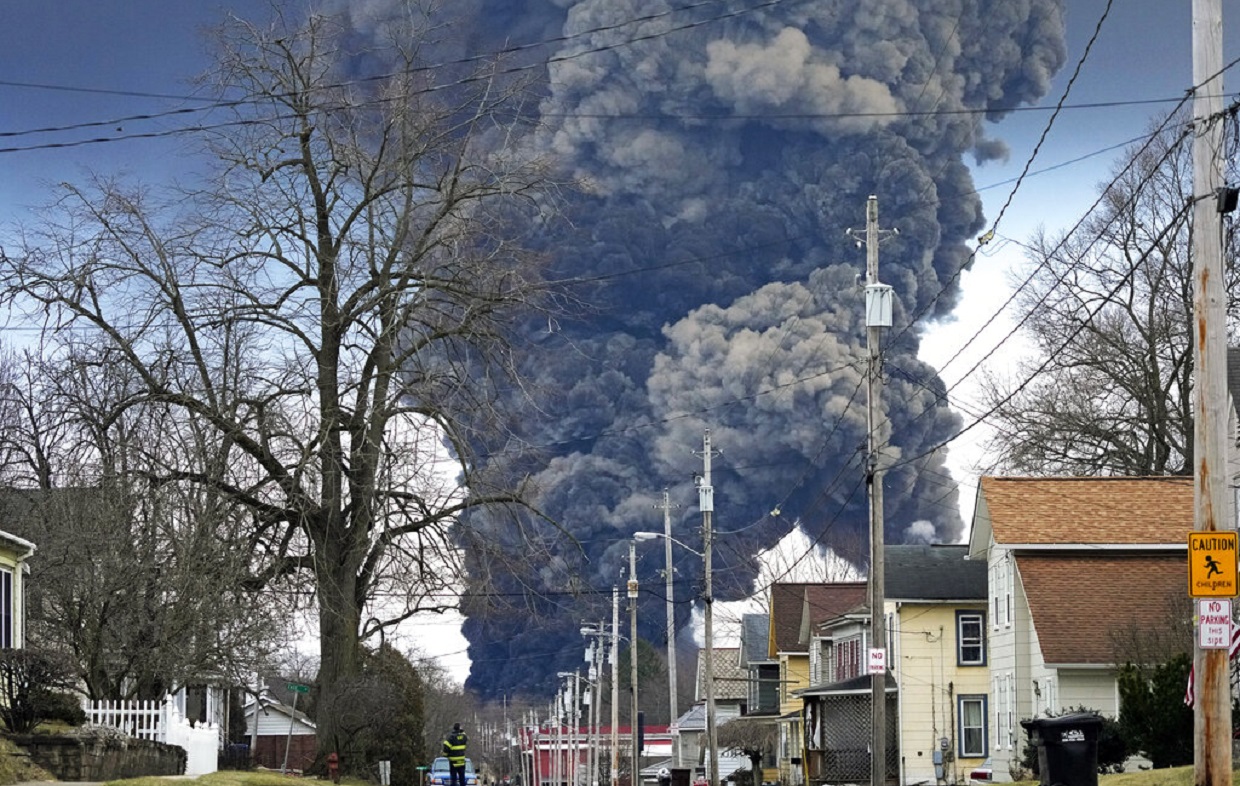 EAST PALESTINE, Ohio—The more people learn about the great freight train wreck in East Palestine, Ohio, the worse the story gets.
The controlled burn of toxic chemicals here filled the air the residents breathe and covered the waters in and around town and the soil too with chemicals. Dead fish are floating in the creeks and a frightening smell hovers in the air around town.
The story unfolding here is shot through with corporate greed, as the executives of the criminally negligent railroad, Norfolk Southern, manipulated the political system to maximize profits from that train—and others—to satisfy their Wall Street investors, at the expense of safety, workers and now a small town in Ohio.
It's a story not just of the wreck of the 150-car, 9,300-foot freight train, where 50 cars jumped the tracks, but the widening variety of toxic chemicals that escaped from them. It's a story of dying plants, 3,500 dead fish in an Ohio River tributary, and a mass evacuation of the town of 4,700 people.
It's a story of residents afraid for good reason to come back to their homes. Some haven't. It's a story of a town meeting in East Palestine where stricken people vented their frustration and where representatives of its cause, the Class I freight railroad Norfolk Southern, were no-shows.
It's a story of government turning a blind eye to Norfolk Southern's abuses, notably not classifying the freight as a "high-hazard flammable train," which requires extra precautions and inspections in advance.
That's on Biden administration Transportation Secretary Pete Buttigieg's watch, though prior deregulation which let NS get away with its excesses occurred under Republican Donald Trump's Transportation Secretary, Elaine Chao.
And it's a story of NS turning its own blind eye to workers' warnings of problems even before the train reached Ohio after it began its run in Madison County, Ill., workers are saying. It broke down at least once long before it ever reached East Palestine, they said.
Here, courtesy of various sources, most notably Railroad Workers United (RWU), the leading rank-and-file organization of railroad workers crossing all rail crafts, are further details about the East Palestine wreck. RWU has a team of 15 rank-and-file trained rail workers probing the wreck scene and gathering information.
The list of chemicals escaping from the wrecked train cars dedicated to carrying hazardous liquids includes vinyl chloride, phosgene and hydrogen chloride.  All were in large plumes of smoke that hung over East Palestine and rose into the air.
The railroad told the Environmental Protection Agency that other chemicals released by the wreck included ethylene glycol monobutyl ether, isobutylene, and ethylhexyl acrylate.
The Centers for Disease Control said the last two cause skin, eye, nose, and throat irritation and burning. The ethylhexyl acrylate is also a carcinogen. The monobutyl ether can cause dizziness, drowsiness, blood in the urine, headaches, and vomiting, CDC adds.
After officials lifted the evacuation order, calling the air and water in East Palestine safe, returning residents reported sore throats, burning eyes, and respiratory problems, and wildlife was found dead, RWU co-chair Ross Grooters said. Ohio officials reported the 3,500 dead fish but whether the number is higher cannot be verified.
EPA also reported "a controlled burn" to get rid of the chemicals after they leaked from the NS tank cars. Since then, "there have been no concerning levels of toxins in the air," the agency says.
That's an eerie echo, though the corporate media is not saying so, of what Republican President George W. Bush's EPA told residents of the New York City metro area and recovery workers in the days immediately following the Sept. 11, 2001, al-Qaeda attack which destroyed the Twin Towers.
The flaming jet fuel and the collapse of the buildings released millions of tons of toxic chemicals, asbestos, and particulates into the air. The unionized workers digging through "The Pile," or surviving unionized New York Fire Fighters, are still suffering and dying of rare diseases as a result.
The Ohio EPA says some of the released chemicals reached tributaries of the Ohio River, which serves 25 million people. The agency claims the river's volume dilutes any chemicals so much that they're not a downstream hazard. The people of Ohio and Pennsylvania, have good reason to be skeptical.
East Palestine is a stone's throw from the Ohio-Pennsylvania border, south of Youngstown and midway between there and the Ohio River point where Ohio, West Virginia, and Pennsylvania meet.
The head of the EPA came here Thursday, 14 days after the disaster, with promises of federal help but was faced with angry local residents, many of whom did not believe him.
He was faced with questions from residents demanding to know if he would allow his children to drink the water in the town. The state and local officials surrounding him assured the disbelieving residents that the testing showed the water was safe. It was difficult for people to accept that. Only days earlier Republican Gov. DeWine had told them not to drink that water.
A customer at the town pizza shop said by cellphone that he did not expect the visit from the EPA to result in anything. "We are getting headaches and have to deal with strong odors and I saw dead fish in the creek near my house," he said.
The pizza shop and other businesses in town were closed last week but some have reopened.
People in town are heard telling younger people to pack up and leave permanently and to make a life somewhere else.
There was an angry gathering at a town meeting where residents literally begged town leaders to help them after they were jilted by the railroad which failed, as promised, to appear at the meeting. After having little concern for the safety of the residents along its route, the railroad said it failed to show because it was concerned about the safety of its representatives.
NS got the Republican Trump regime to repeal rules governing the quality of train brakes—rules that, no matter how low their prior standards, could have prevented the disaster.
Safe train brakes, one progressive watchdog says, "failed the cost-benefit analysis" Trump Transportation Secretary Elaine Chao imposed in deciding to abolish federal rules. If costs are greater than benefits, at least according to calculations agencies made, Chao and other Trump Cabinet officers eliminated rules or stopped them from even being considered.
The Class I freight railroads, including Norfolk Southern, have cut 30% of their workers—tens of thousands of jobs, including safety jobs—starting in 2015, all in pursuit of ever greater profits. The result in East Palestine, one worker told CBS: "The workers are exhausted, times for car inspections have been drastically cut, and there are no regulations on the size of these trains."
While cutting corners on workers and leaving safety short-staffed, Norfolk Southern invested billions in profits in stock buybacks and high executive pay, again at Wall Street's command.
But Norfolk Southern is getting a blind eye, too, from current Biden's Transportation Secretary, Buttigieg, whose department regulates both rail traffic and rail safety.
Progressives, safety advocates, and social media commenters all accuse Buttigieg of being slow to respond to the wreck and, more importantly, refusing to restore, or better yet, strengthen safety rules Trump repealed. NS exploited the lack of rules and East Palestine is paying the price. Rep. Ilhan Omar, DFL-Minn., seeks a congressional investigation of the wreck and its aftermath.
As if Norfolk Southern didn't have enough exposure of its corporate greed, now it must handle a second smaller wreck of 31 railcars, in Van Buren Township, Mich., on Feb. 16. The difference, so far, is it's a smaller train, with one hazardous material car.
So says the lawmaker for that area, Democratic Rep. Debbie Dingell. She's very familiar with rail safety issues from her own House service and from that of her late and progressive husband, Rep. John Dingell (D), who often rode herd on corporate honchos from his chair of the House Energy and Commerce Committee.
Quoting the EPA, she tweeted "the majority of the derailed cars were empty" and the hazmat car "was decoupled from them and moved further down the tracks."
All this has led RWU to renew its dual goals for the future of U.S. railroads: Tighter regulations to protect workers and communities and nationalization of the freight railroads as "public utilities" to put an end to their Wall Street-driven corporate greed.
"We hope to build support for safety regulations and legislation to stop the carriers' worst excesses and abuses," said RWU, which has 15 members—all experienced rank-and-file railroaders–investigating the East Palestine wreck.
"At a minimum, the wreck and its aftermath should mandate a standard two-person crew, which NS and other big freight railroads want to cut to one, the engineer," RWU adds. The wreck could have been fatal, as the fiery Lac Megantic, Quebec, downhill wreck was a decade ago—killing 47 and destroying that town's downtown—had the NS train had only an engineer.
The NS freight had three crewmembers: The engineer, the conductor, and a trainee, who together were able to decouple the three engines from the freight cars, preventing an even worse explosion.
Other safety measures would restrict train length, provide "adequate time off work to mitigate fatigue and adequate and proper staffing to get the job done safely and efficiently" and mandate the installation of new, tighter brakes on all railcars and trains. The brakes that failed on the Norfolk Southern train did so because a 19th-century brake assembly could not handle 21st-century conditions on a downhill slope.
Reforms must also include  "real safety programs that pinpoint hazards, not worker behaviors," RWU adds.
"Achieving any of this ambitious program will be tough. That's just one of many reasons why the railroads need to be publicly owned and run in conjunction with the railroad workers themselves."
People's World has an enormous challenge ahead of it—to raise $200,000 from readers and supporters in 2023, including $125,000 during the Fund Drive, which runs from Feb. 1 to May 1.

Please donate to help People's World reach our $200,000 goal. We appreciate whatever you can donate: $5, $10, $25, $50, $100, or more.