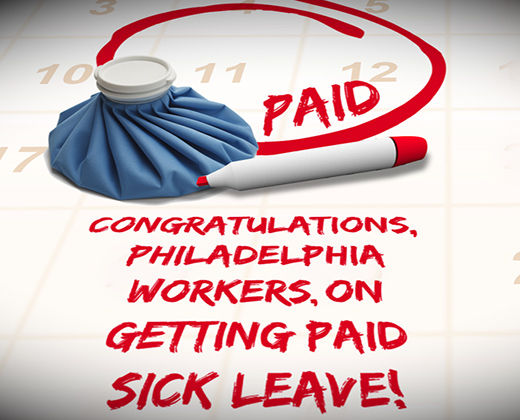 PHILADELPHIA – Finally, Philadelphians have the opportunity to earn paid sick days, enabling them to stay home when they're sick, take care of ill children and family members, and transport elderly parents and children to doctors' appointments – and still get paid. Not many of us can afford to lose a day's pay, and for low-wage workers it's especially true. Losing a day's pay can mean a trip to the local food pantry for food that would otherwise be purchased, putting off buying the sneakers a family member needs, skipping gassing up the car, not buying needed medication, or not paying any one of a number of bills.
For the public, a paid sick day means your morning coffee will be served without a side of the flu, a gastrointestinal infection, a bad cold or other contagious disease. It means being able to go to work and not worry that one of your co-workers will show up sick and infect everyone in the work place because they can't afford an unpaid day or two off.
Under the new law every business that employs ten or more people must allow its employees to accrue 1 hour of sick leave for every 40 hours worked. A unique aspect of the law allows victims of domestic violence to use their accrued time to cover leave for court appearances. The only "no" votes on the City Council came from Republicans David Oh and Brian O'Neal.
Philadelphia joins two other cities, San Francisco, Calif., and Tacoma, Wash., and several states, in enacting earned paid sick leave. Since most of the developed world has had paid sick leave for several decades, this is just the beginning of bringing the U.S. into the 20th, not to mention the 21st century. However, it's a victory, and victories, even small ones, inspire confidence and can be built on.
A broad coalition led by Pathways PA doggedly and tirelessly worked on the issue in Philadelphia and brought about this victory. The coalition managed to get paid sick leave bills through City Council in 2011 and 2013, only to have the mayor veto them. The votes necessary to override the veto just weren't there. Finally, Philadelphia workers have less to worry about when it comes to job security, and the public has more confidence that encounters with wait-staff, service workers and co-workers will not result in being on the receiving end of a contagious illness.
Photo: Philadelphia AFL-CIO via Twitter