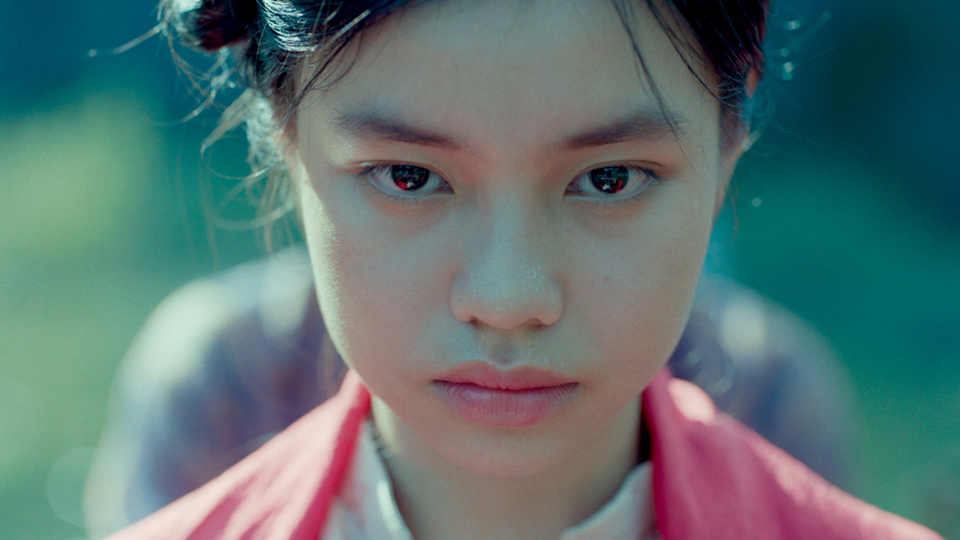 Filmgoers have a very special treat awaiting them in debut film director Ash Mayfair's The Third Wife, a sensuous and sumptuously photographed coming-of-age drama set in rural 19th-century Vietnam. Fourteen-year old May (Nguyen Phuong Tra My) is selected by a wealthy landowner to be his third wife. The marriage is arranged, and in short time May understands the sacrifices required of her to maintain her position. All the social forces conspire to deprive her, and just about any woman, of her free will and personal agency. Her husband is under some pressure, too, because so far his wives have not produced a male heir.
Mayfair has spent more of her years outside of Vietnam than inside, where she was born. But in her formative years she heard all the family stories starting with her great-grandmother, whom she knew and loved well into her nineties. The Third Wife is a loose adaptation of some of those memories of a time now long gone.
Mayfair appeared by Skype before a small audience at USC recently for a Q&A after the screening. Her grandmother, too, she said, entered an arranged marriage. Her mother belonged to the first generation of women who could freely choose their partners. Even now, Mayfair said, while polygamy is illegal in Vietnam, a certain number of men are married to one woman yet also maintain other households with different women.
I'm not clear as to whether Mayfair had a whole authentic rural village built for her set, or whether she used existing sites. My impression of the locale was a kind of well-kept rural village museum where visitors could learn about architecture, social class arrangements, occupations (silk farming was the principal one featured in the film), landscape, food preparation, animal husbandry, and so forth. There is also much footage in surrounding forests and hills, which offer a place for privacy and intimacy not available in the central compound.
Mayfair's timeless tale, which takes place in Northern Vietnam (the waters of beautiful Ha Long Bay are seen), seems as though it could have been told no differently in the 18th century or the 17th. There is almost no intrusion of modern, urban life, not even the distant Vietnamese monarchy. That somewhat claustrophobic focus is obviously intentional. In fact, in the Q&A I asked why she chose not to refer in any way to French colonialism. She answered that she and her team indeed did debate that question but decided in the end it opened up too many other issues that there would be no space to deal with adequately in one film.
The film points its lens most concentratedly on the suffocating hardships of women, who are the majority of the creative leads. Yet Mayfair also gives her women some room to explore their own individuality, their emotions and desires apart from what is dictated to them by tradition. The film is R-rated not just for May's scenes with her husband, but also for other scenes of passion and seduction that await the viewer. As a filmmaker she is able to uncover the entrancing, melancholy poetry in almost any situation, and while there is no overarching sense of joy, nevertheless she wastes no time wallowing in despair.
Dialogue is scant and minimal. Thoughts and feelings are often conveyed by glances and gestures where words are unnecessary. For the viewer this is enormously freeing, as the eye is not persistently drawn to the subtitles to figure out what is being said.
This is a confident, evocative and elegant piece of work that filmgoers, I hope, will take a chance on and not dismiss as too much of a hothouse "art-house" indulgence. In its restraint, it is not overtly political in the sense of stressing class conflict, imperial ambitions and native resistance. Yet its sense of empathy and compassion sets the scene for the better-known struggles of the 20th century.
Chananun Chotrungroj, the director of photography, deserves special mention for her extraordinary painterly sensitivity from close-ups to long-range shots in bringing this faraway place and time into our consciousness and hearts.
The Third Wife is the Vietnamese submission for the 77th Golden Globe Awards. It has already won various film festival awards at Toronto, San Sebastian, Chicago, Kolkata, Minsk, Cairo, Fribourg, Sarasota, and ImagineIndia.
The film's running time is 94 minutes. The language is Vietnamese, with English subtitles. It is currently available on Amazon. The only announced forthcoming public screening is at the Asian International Film Festival Arizona in Mesa, Dec. 6-8. The trailer can be viewed here.