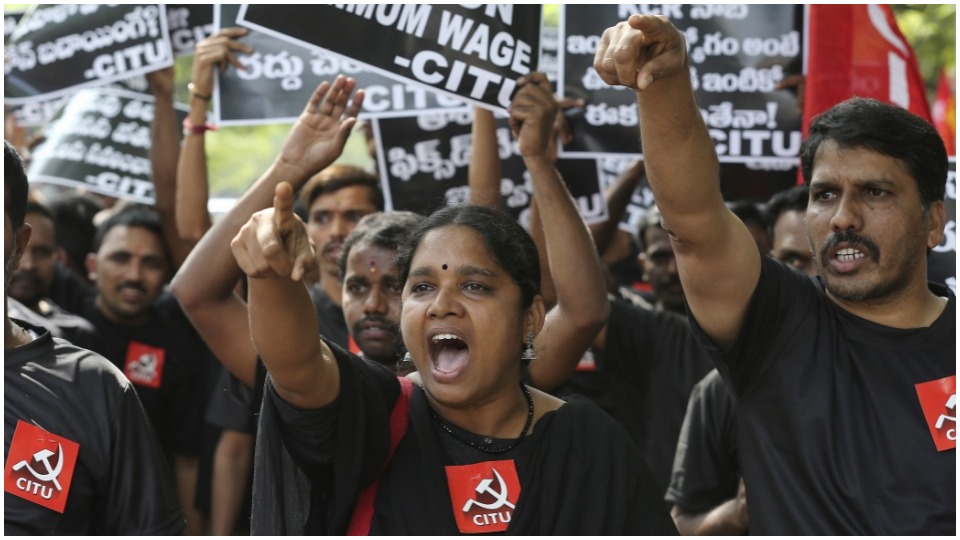 About a fifth of India's huge population are believed to have taken part in strike action today in a stunning display of strength against the government's "anti-people policies." The Centre of Indian Trade Unions (CITU), representing 250 million workers, coordinated the action, which it said was directed against the "anti-worker" Prime Minister Narendra Modi.
The unions are angered over the BJP government's neoliberal program, which includes the privatization of public services and worsening the terms and conditions of workers.
Soaring unemployment and a deepening economic crisis, coupled with anger over citizenship laws, prompted huge support for the action across the country, though rallies and protests were attacked by police.
In a joint statement, CITU blasted the government for showing "contempt towards labor" and failing to give assurances on any of the workers' demands made in a meeting last week. The unions presented a list of 12 demands, including measures to tackle unemployment, improved welfare support and improved trade union rights.
The government hit back with a heavy-handed response in an attempt to break the strike. It mobilized security forces to clear roadblocks and swooped to arrest striking workers. Bhubaneswar police official Anup Shanoo confirmed: "Five hundred protesters belonging to trade unions and supporters of [opposition party the Indian National] Congress have been detained. No untoward incident has been noticed in the city yet."
The Indian National Congress condemned the government's "anti-people" policies. "The economy is in freefall, unemployment is rampant, the country is burning, and the BJP is completely clueless," a party statement said.
The Communist Party of India (Marxist) congratulated workers for the "magnificent strike across the country despite large-scale arrests and oppression." It said the new feature of the all-India strike was the large participation of rural and agricultural workers, highlighting "the severity of agrarian distress."
In a statement, the CPI(M) said the workers and students would redouble efforts against the "fascistic onslaughts" of the Modi government with yesterday's action "paving the way for even broader unity … through mightier struggles."
CITU general secretary Tapan San congratulated workers for "rising as one." He said the strike "warns the Modi government that it can neglect the huge anger of the people against its policies of selling people's and the nation's interests to the corporations, domestic and foreign, at its own peril.
"The toiling people are rising and they won't rest till they achieve their demands."
Morning Star