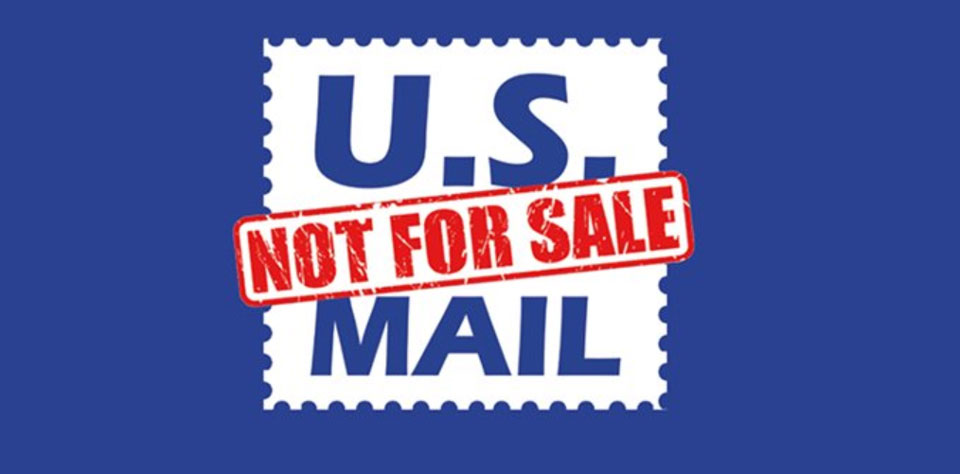 WASHINGTON—Declaring "The U.S. Mail is not for sale!" – also the name of the website they created – the Letter Carriers and the Postal Workers launched a big ad and social media campaign against a GOP Trump administration plan to privatize the U.S. Postal Service.
That plan, the unions note, would eliminate delivery to millions of households, end Saturday service, trash workers and turn over USPS' billions in revenue to private industry, which salivates for it.
The ads, entitled "Keep It. It's Yours!" refer to the fact that USPS and its workers – members of NALC, APWU, the Rural Letter Carriers, and the Mail Handlers – serve all 157 million U.S. postal addresses six days a week, and at the same rates.
Unions rolled the ads out on Nov. 16, just in time for the start of the holiday shopping season, when USPS has its heaviest volume and when consumers rely on it the most.
"Heard how the government wants to sell off the U.S. Postal Service?" the voice-over of the ad campaign begins.
"A corporate post office could mean you don't get your mail every day."
"Maybe every third day.  Even for medicine. And packages."
"You could pay more, too. In rural areas, a lot more…The end of delivering everywhere – to 157 million addresses – at the same price."
"Tell your member of Congress 'No way.'"
"The U.S. Postal Service. Keep it. It's yours."
"We're about to enter the holiday season when families will be mailing cards and gifts and ordering packages for home delivery on Cyber Monday and every other day," said Letter Carriers President Fredric Rolando. "It's a great time of year. Will future holiday seasons feel the same if the cost of sending a package through a privatized postal service rises and the options for delivery decrease along with the number of post offices? The U.S. Postal Service: Keep it – it's yours."
Meanwhile, the Postal Service itself, which is not involved in the ad drive, reported it lost $1.95 billion in its last fiscal year, which ended Sept. 30. That's the smallest loss in more than a decade. Rolando reiterated that congressional mandates, imposed by the GOP-run Congress and the GOP George W. Bush administration in 2006, caused that "red ink."
Those mandates are a $5.5 billion yearly USPS pre-payment for future retirees' health care costs and legislated caps on postage hikes. A related provision kicked in two years ago, cutting a first-class stamp's price two cents. That cost USPS $1.9 billion this past fiscal year.
Without the stamp price cut alone, USPS would have earned $49 million, Rolando said. NALC and the other unions have lobbied lawmakers for years, so far unsuccessfully, to ease the postage rate hike cap and to eliminate that health care prepayment.
Now, with the ad campaign, they're turning to the public for help on an even bigger cause: Preventing Trump's scheme to privatize the Postal Service.
Trump named a three-person commission of administration officials earlier this year, freezing out USPS customers and workers, to come up with what he called a "reform" plan for the service. But his budget, released in February, provided pre-judged conclusions: For privatization, for service cuts, for slowdowns in delivery and for trashing workers and benefits.
So the unions didn't wait for the panel's now-overdue report. They launched their ad campaign on Nov. 16.
Privatizing the USPS would particularly hit rural areas, Rolando noted. He called rural service elimination "the kiss of death" for families and businesses due to high transportation costs and lack of broadband service. Though he did not say so, big package carriers FedEx and UPS also rely on the Postal Service to deliver their parcels "the last mile" in rural areas.
"Selling off the postal service would be a gift to Wall Street and a setback to everyone in this country who receives mail," APWU President Mark Dimondstein elaborated.
"This is the people's Post Office, older than the nation itself, enshrined in the Constitution, with the highest favorability rating of any federal agency. We need to send a clear message to the White House that the U.S. Mail is not for sale."
He also noted USPS delivers 40 percent of all global mail, and without taxpayer subsidies. Meanwhile, Trump – with no evidence other than citing the annual deficit – claims USPS "can no longer support" universal daily service. Trump doesn't mention the health care pre-payment mandate, or that the GOP imposed it in 2006.
Trump also didn't mention rate hikes and unequal rates if USPS is privatized. The unions did. "Because the United Kingdom privatized postal services, for example, rates rose 76.4 percent over a decade, and many post office branches were closed," they noted.
Past U.S. postal management tried that, too.
In its rush to stanch the red ink the health care prepayments cause, prior Postmasters General closed hundreds of post offices, let thousands of workers go by attrition, hired part-timers, lengthened routes so many carriers deliver after nightfall, consolidated sorting centers – thus slowing delivery, even within the same city – and even tried to privatize stamp sales, via low-paid non-union Staples workers. Labor-led public protests and union legal challenges killed that Staples scheme.