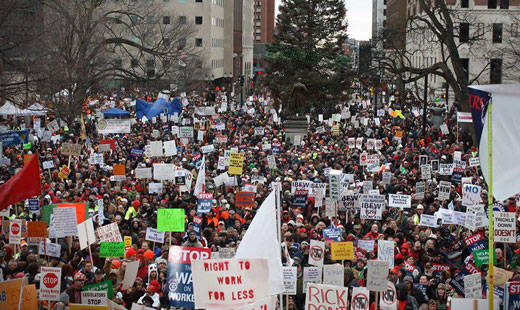 The victory for so-called "right-to-work" legislation in Michigan, the heartland of industrial unionism in America, has spurred talk of expanding efforts to pass similar laws to weaken unions in other states, such as Kentucky and even New Jersey. Washington Post columnist Charles Krauthammer goes so far as to suggest that the spread of such anti-union laws is "inevitable," given economic globalization-a conclusion that might surprise Germans, who have strong labor laws and collective bargaining agreements yet nevertheless manage to compete quite well.
Most of the discussion has centered on the political and economic effects of right-to-work laws-which allow workers to benefit from collective bargaining but withhold dues or agency fees to support the bargaining process. E.J. Dionne correctly notes that Republicans in Michigan were trying to weaken unions for political reasons. In Michigan in 2012, Dionne writes, "Obama won union households 66 percent to 33 percent, the rest of the electorate by 50 percent to 49 percent." And the Economic Policy Institute finds that workers-whether or not they are in unions-earn about $1,500 less per year on average in right-to-work states, as the policy essentially transfers wealth from workers to employers and stockholders.
But as other states consider such laws, it is important also to remember the ugly racial history of right-to-work legislation. A key driver of the right-to-work movement beginning in the 1930s was Texas businessman and white supremacist Vance Muse, who hated unions in part because they promoted the brotherhood of workers across racial lines. As author Mark Ames notes, Muse bluntly outlined the thinking behind "right to work," declaring, "From now on, white women and white men will be forced into organizations with black African apes whom they will have to call 'brother' or lose their jobs."
Read the rest of this article here.
Richard D. Kahlenberg is a senior fellow at the Century Foundation and Moshe Z. Marvit is a civil rights and labor attorney. They are coauthors of Why Labor Organizing Should Be a Civil Right: Rebuilding a Middle-Class Democracy by Enhancing Worker Voice (2012). This article is reposted with permission from Dissent.
Photo: Day of action at the Michigan state Capitol in December 2012, protesting passage of "right-to-work" law. Working Michigan