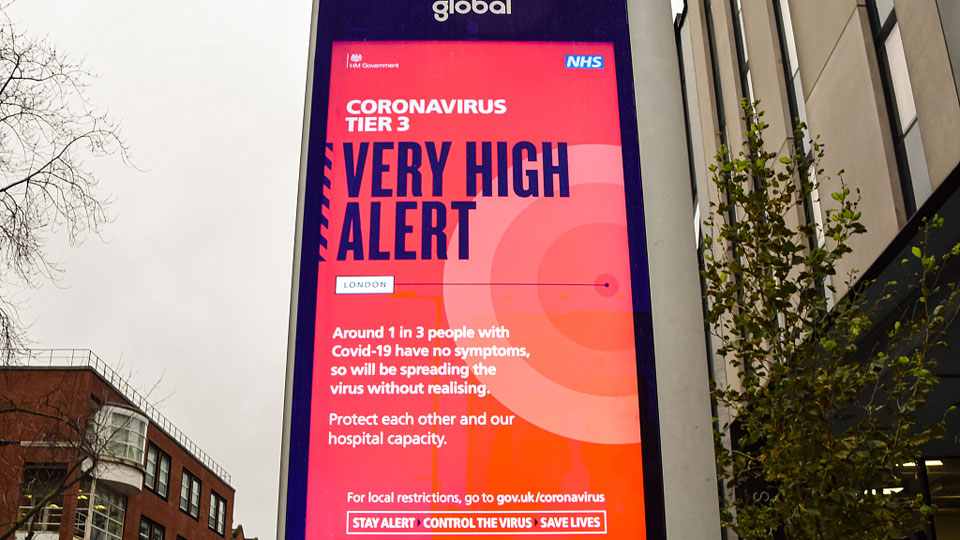 UNITED KINGDOM—This time last year, and up to the end of 2020, the threat of coronavirus overtaking the whole island was a constant concern, but never a conceptual reality. Yet, reality came crashing down without warning—there were no sirens, or readymade shelters for those sick and injured.
The U.K's official death toll in the coronavirus pandemic passed 100,000, Tuesday, Jan. 26. The government confirmed 100,162 people have died in the pandemic after testing positive for the virus, including 1,631 new deaths reported Tuesday.
"I offer my deepest condolences to everyone who has lost a loved one: fathers and mothers; brothers and sisters; sons and daughters and the many grandparents who have been taken," said a somber, more subdued Prime Minister Boris Johnson.
"And, to all those who grieve, we make this pledge: that when we have come through this crisis, we will come together as a nation to remember everyone we lost, and to honor the selfless heroism of all those on the front line who gave their lives to save others," he continued.
The toll of coronavirus here, besides being a grim statistic, also marks the worst civilian loss of life here since World War II by a substantial number. Around 70,000 civilians died in the 1940s—with a majority killed from Sept. 1940-May 1941 during Nazi Germany's bombing campaign.
Britain is the fifth country in the world to record 100,000 virus-related deaths, after the United States, Brazil, India, and Mexico. The U.S. has recorded more than 400,000 coronavirus deaths, the world's highest total, but its population of around 330 million is about five times the size of Britain's 67 million.
Opposition party leaders and public health officials accuse Johnson's Conservative government of being too slow to act throughout the viral outbreak when it comes to lockdowns and strict travel restrictions.
"This is a national tragedy and a terrible reminder of all that we have lost as a country," said Kier Starmer, Leader of the Labour Party. "We must never become numb to these numbers or treat them as just statistics. Every death is a loved one, a friend, a neighbor, a partner, or a colleague. It is an empty chair at the dinner table.
"To all those that are mourning, we must promise to learn the lessons of what went wrong and build a more resilient country. That day will come, and we will get there together."
During a televised news conference Tuesday, Johnson said he "took full responsibility for everything the government has done."
"What I can tell you is that we truly did everything we could, and continue to do everything that we can, to minimize loss of life and to minimize suffering in what has been a very, very difficult stage and a very, very difficult crisis for our country," he said.
Johnson has promised a public inquiry into Britain's handling of the outbreak, once the outbreak is contained, and the crisis mitigated.
Following the news conference, Johnson met with senior government officials Tuesday evening to consider tighter border measures. U.K. citizens and residents returning home from most of Southern Africa, South America, and Portugal, will have to self-isolate in a hotel for 10-days at their own expense.
Nick Thomas-Symonds, the law-and-order spokesman for Britain's opposition Labour Party, said only a "comprehensive hotel quarantine system" would be strong enough to keep new strains of the virus from spreading in the U.K.
"It cannot be restricted to only a handful of countries, leaving gaping holes in our defenses against different strains of the virus emerging around the world," he said.
For now, Britain is placing all hope in a successful vaccination program to help suppress the spread of coronavirus and ease lockdown measures. To date, over 6.8 million people have received their first jab of a two-dose vaccine, and the government aims to give 15 million people, including everyone over 70, a jab by Feb. 15.