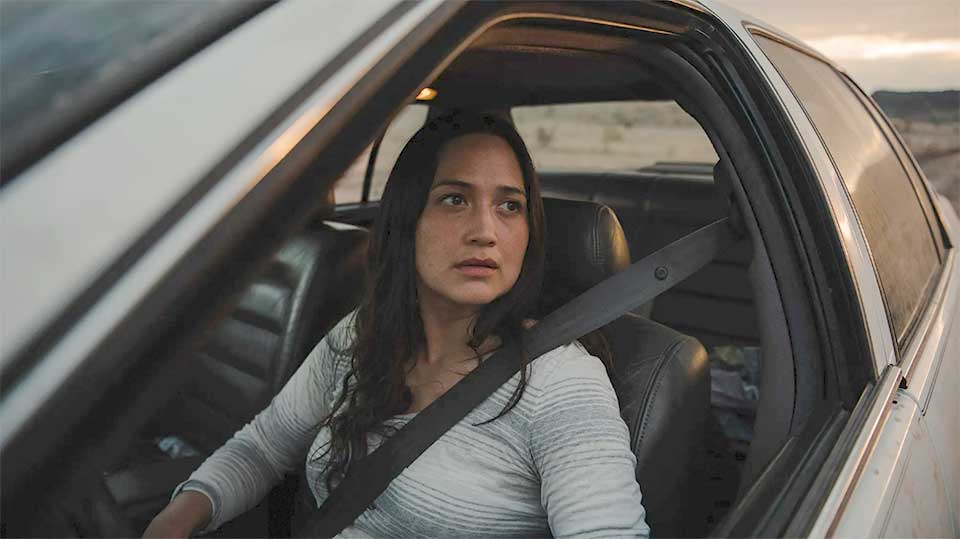 NASHVILLE—The Belcourt Theater, for the second week in a row, showcases another Indigenous film. This showing on Sept. 14, entitled The Unknown Country, by writer/director Marissa Maltz, was a reflective, humanistic rendering that is a combination of soul-searching and reconnecting.
The viewer follows the travails of a young Indigenous woman on a thought-provoking road trip that goes through the Indian Country of South Dakota and culminates in a surreal ending in the rugged climes of south Texas. Interspersed in the film are real-life interviews with real people, giving it a documentary flavor.
The story begins with Tana, played by Lily Gladstone, who is Blackfeet and Nez Perce (she also stars as the female lead in Martin Scorsese's upcoming and much acclaimed film, Killers of the Flower Moon). Tana is grieving over the loss of her grandmother. She leaves Minnesota and embarks on a road trip to South Dakota after being invited to her cousin Lainey's wedding to the love of her life, Devin.
This is her Lakota family whom she hasn't seen since she was a child. Tana's relating to her extended family is very poignant and joyful. She revels in playing with Jasmine, the couple's young daughter, and there is the celebration at a local bar drinking beer with her relatives. This vignette flies in the face of the stereotypes of drunken, fighting Indians. Everybody is just having a good time. That sequence reminded this writer personally of similar gatherings where everyone just felt bonds of camaraderie and closeness over some rounds of alcohol.
Then, there is the tribal wedding ceremony itself, which is again, a very moving and evoking reflection. Devin breaks into tears while saying his wedding vows.
There is also the visit to Lainey's grandfather, who is Tana's great uncle, being the brother of Tana's deceased grandmother. He tells Tana that she looks "just like" her grandmother and gives her a suitcase full of her grandmother's belongings. It is a very reflective scenario filled with sentiment.
Tana finds a photo of her grandmother taken in Texas years earlier. Hence, Tana's trip takes her south to Texas, and she winds up at an outdoor bar, where she makes new acquaintances as her journey continues.
Among the interesting encounters with real-life folks is an engineer who left a successful career to run a lonely motel with his wife. There is also a Texas dance hall owner who bought the hall just so Flo, a 90-year-old woman, would have somewhere to dance every Friday night.
What comes through in the film—indeed, the common thread winding its way along in the production—is the humanity of it all, the very human stories encompassed in this documentary, and the narrative aspect of the lives of some everyday people.
Other salient mini-episodes striking this writer's senses included a scene where Tana is made obviously uncomfortable by two palpably drunk white guys who want to get too friendly with her.
Another sketch that really hit home was when Tana is driving in the right lane going the speed limit and is passed by another vehicle in the left lane obviously speeding. Shortly, Tana sees the blue flashing lights of the highway patrol behind her. The officer gets out of his vehicle and menacingly asks Tana for "driver's license, registration, and insurance."
In both of these instances, my mind was flooded with images of the dangers faced by Native females traveling alone and of Missing and Murdered Indigenous Women (MMIW). What the film does in these instances is to take the viewer to the brink of imagined, potential disaster and then moves on to the next sequence, which is a good thing.
Ultimately, the film travels to the surreal with Tana searching for further meaning in her grandmother's life in the rugged terrain of south Texas. Keep in mind the grandmother's solitary photo taken in Texas. What does it mean?
The film is a very reflective, thought-provoking, and evocative rendering that provides poignant glimpses into Indigenous life and the lives of others through the lens of a young Native woman searching for answers in the wake of great loss.
This film was conceptualized and written by Gladstone, Maltz, editor Vanara Taing, and Lainey Bearkiller Shangreaux, who appears in the film as Tana's cousin. Throughout the film, Gladstone comes in contact with persons playing either a version of themselves or just themselves.
The film is well worth seeing and reflecting upon.