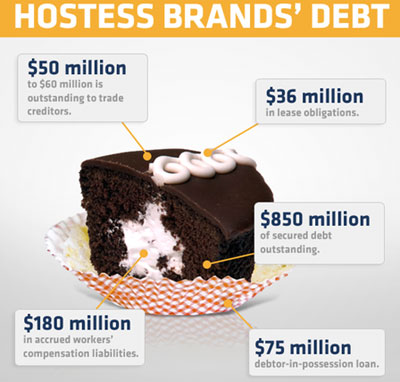 Saturdays I'd park myself in front of the TV to watch H.R. Pufnstuf and the whole morning line up with a box – yes, a box – of Hostess Ding Dongs. Sometimes Ho Hos, but never Twinkies. As a chocolate fiend, I just wasn't into sponge cake.
Welcome to morning in America, circa 1970. Delicious boxed treats from a factory not too far from where I lived in Chicago, and watching the golden age of cartoons and kid shows. What could be better than unrolling the aluminum foil wrapper to find a delightful chocolate covered chocolate cake puck full of creamy goodness while listening to the tunes of Josie and the Pussycats?
The makers of these childhood memories are going out of business. Hostess announced its liquidation and county fairs everywhere are pivoting from deep-fried Twinkies to deep-fried something else.
The brand that is indelibly imprinted on my brain, along with its hydrogenated fats, is kicking to the curb some 18,000 workers, and blaming a few hundred of them for the company's demise. It seems that despite their end cap status on grocery stores everywhere, Hostess was in big financial trouble. Their profit margins weren't large enough. Like corporations everywhere, they wanted the workers to pay for it. They demanded salary and pension cuts. But members of the bakery workers union disagreed, and voiced their disagreement by exercising their rights. They went on strike.
Hostess quickly blamed the workers for its demise. Here's a company with management expiring quicker than their cupcakes dodging any responsibility. Was it the workers' fault that the brand never adjusted to the reality of America today? Hostess kept churning out Twinkies and Ho Hos like it was 1969.
It's 2012. Obesity is a health issue for the country. People are trying to eat healthier. Parents are following the First Lady's lead and getting themselves and their children moving. Where was the innovation from Hostess management? Why didn't they keep up with the times?
This is Hostess' second bankruptcy in eight years. During the first one in 2004, workers and members of the Bakery, Confectionery, Tobacco Workers and Grain Millers agreed to significant concessions to save the company. At that time, Hostess shut down 21 plants and laid off thousands of workers. Management "promised" that the money "saved" from job losses and concessions would be used to make a 21st century Hostess.
That's not what happened. BCTGM President Frank Hurt said despite management's commitment, it never materialized. "Management refused to invest in modernizing its bakeries or devote necessary resources to advertising and marketing, product development, and new technology. Business plan after business plan failed, leaving the company ever deeper in debt," Hurt said.
Hostess followed another kind of business plan. Not one that creates goods and jobs, but one that creates great wealth for the hedge funds and kings of Wall Street. It's a Bain Capital-esque business model. Pile on debt, demand concessions from the workers, then – in the words of Mitt Romney – "harvest" it for plenty of dough.
That is "vulture" capitalism's business plan. It doesn't take Scooby Doo and Mystery Incorporated to figure out who the villains are.
Credit for infographic: Via AFL-CIO Now Blog http://www.aflcio.org/Blog/Organizing-Bargaining/Hostess-Pattern-of-Mismanagement-and-Debt-Caused-Its-Collapse