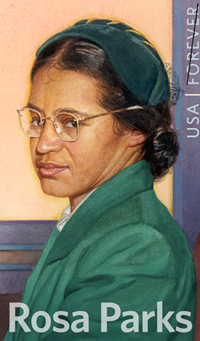 "I am leaving this legacy to all of you … to bring peace, justice, equality, love and a fulfillment of what our lives should be. Without vision, the people will perish, and without courage and inspiration, dreams will die – the dream of freedom and peace."
– Rosa Parks
Rosa Parks' vision for freedom and peace continues to inspire our nation and the ongoing movement for social justice in the 100th year of her birth. The struggles to protect and expand the Voting Rights Act and for immigrant rights draw upon her legacy.
The Rosa Parks postage stamp and national statue remind us of the power of Rosa Parks and the movement she courageously dedicated her life to.
Rosa Parks grew up in Alabama and witnessed the racist terror of the Ku Klux Klan first hand. She said that the first time she met a white person who treated her with respect was at the Highlander School in Tennessee where she attended a workshop on labor rights and met the Rev. Martin Luther King and Pete Seeger.
Rosa Parks was trained as a teacher but due to racism worked as a seamstress. She understood, from her own life experience, the need for workers to organize to achieve a better life. She also understood the need for unity.
Her act of civil disobedience on December 1, 1955, refusing to give her bus seat to a white passenger, sparked the Montgomery bus boycott and expanded the scope and size of the entire civil rights movement.
The struggles that Rosa Parks embodies are far from over. Days after the national statue was unveiled, Supreme Court Justice Scalia stunned the world by labeling measures in the Voting Rights Act as "racial entitlements." In so doing, he dismissed the contributions of Rosa Parks and millions of others who tirelessly marched and sat in and picketed and sacrificed to secure the basic right to vote.
The struggles of Rosa Parks go on as well in the growing movement, embraced by labor, to win an end to deportations and a path to citizenship and voting rights for the millions of immigrant workers without documents in our country today.
Rosa Parks was a warm person who cared about her community. After her death in 2005, New Havener Dorthula Green was moved to found a group called Thank You Rosa Parks because she "sparked a revolution that has resounded around the world to this day." Their mission is to keep the story of her life alive and further the current struggle for social justice.
This year the group, now called Rosa Parks Legacy, hosted a 100th birthday pancake breakfast and concert featuring Rosa Parks' peanut butter pancakes and awards for neighborhood activism. The celebration was one of many local events across the country, large and small.
When President Barack Obama declared February 4, 2013 as the 100th Anniversary of the Birth of Rosa Parks, he said "I call upon all Americans to observe this day with appropriate service, community, and education programs to honor Rosa Parks's enduring legacy.
To honor Rosa Parks' courage and vision of freedom and peace requires turning outrage into organizing and action to protect and expand the Voting Rights Act, and achieve immigration reform with a path to citizenship and voting rights for all.
Photo: USPS.com